I-70 Mountain Corridor Context Sensitive Solutions (CSS)
Your guidance for building the I-70 Mountain Corridor

---
I-70 Mountain Corridor Guidance


CDOT has committed to using Context Sensitive Solutions (CSS) on the I-70 Mountain Corridor.
The guidance on this site includes the context statement, the core values, a decision-making process, stakeholder comments, background information, maps, plans and legal commitments, and other tools to implement CSS throughout the corridor.


Start a Project with the 6-Step Process


Understand the 6-Step Process, the heart of CSS.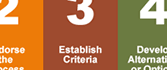 Life Cycle Phases


Understand the Life Cycle Phases, from concept to completion.