Firestone-Longmont Mobility Hub
About the Project
Colorado Department of Transportation is reorganizing and expanding resources to create more multimodal options statewide.  Adding the Firestone-Longmont mobility hub will enable greater use of Bustang, the statewide transit system, to encourage ride sharing instead of single-occupant vehicle use.
Benefits of Project
The hub will improve multimodal access to promote regional transit and include:
A northbound pedestrian pick-up and drop-off platform along the I-25 off-ramp

A new platform on southbound Frontage Road just before the entrance of the southbound on-ramp

A sidewalk and pedestrian underpass to connect users from the Park-n-Ride on the east side of I-25 to the station platforms on the west side of I-25

Greater capacity with 269 parking spaces




Large sidewalks and bicycle storage racks allow for multiple modes to utilize the hub and enhance multimodal connectivity

Bus shelters will be installed with an electronic public information board with real-time Bustang departure and arrival schedules.
Work this Week & Lane Closures
Firestone Mobility Hub
Project Facts
Cost: $

13.1 Million

Contractor:

Zak Dirt

Timeline:

Project to be completed by August 2024

Location:

I-25 and CO 119

City:  Firestone/Longmont
Mile Points: 240 to 240.5
County: Weld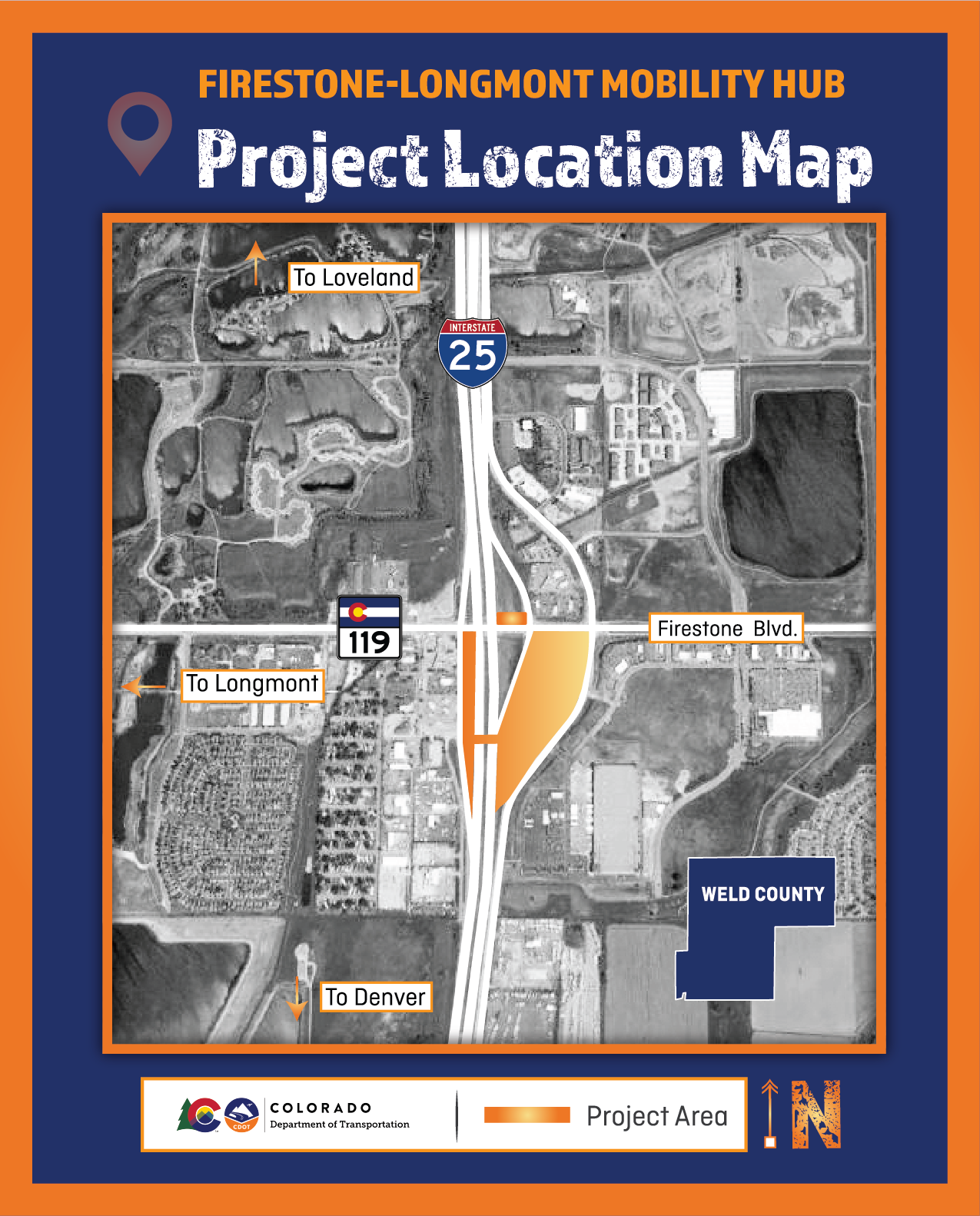 Location map for Firestone Mobility Hub at I-25 and CO 119
---
Work Schedule
Daytime work hours are expected between the hours of 7 a.m. to 7 p.m., Monday through Friday

Periodic overnight work between the hours of 7 p.m. and 7 a.m. will include lane closures on the off-ramp, on-ramps, and on I-25.
---
Traffic Impacts
Northbound I-25
3 northbound lanes remain will remain open with a traffic shift to the left, 24/7 until spring of 2024.




Northbound off-ramp at CO 119 has a new lane configuration.  There is one lane of traffic with shift to the east lane.