I-25 Operational Improvements | Fillmore Street to Garden of Gods Road
Design Study
About the Project
Increased traffic from community growth and business development has created the need for the Colorado Department of Transportation to initiate design and development of I-25 Auxiliary/Continuous Merge Lanes in Colorado Springs from the Fillmore Street to Garden of the Gods Road exits. Improvements are in accordance with the previously completed environmental assessment.
Location
Fillmore Street (Exit 145) and the Garden of the Gods Road (Exit 146) in Colorado Springs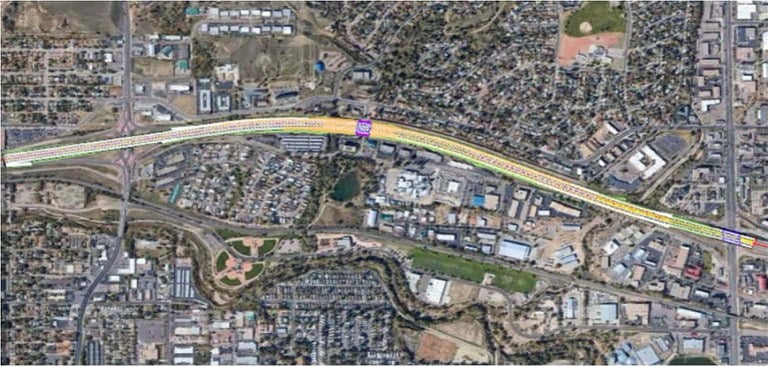 Study Schedule
Technical Analysis and Preliminary Design: Summer 2021 – Fall 2021
Public Open House: Fall 2021
Final Design: Winter 2021 - Summer 2022
Anticipated Construction Start: Summer 2022
Anticipated Project Completion: Winter 2023
---
Functionality and operational deficiencies of this section of I-25
Slowing of traffic where on-ramp merge lanes transition to regular traffic through
lanes
Wait times from traffic congestion
Safety concerns or crashes from side swipes, fixed objects and wildlife
Ease congestion along the approximately one-mile stretch of I-25 by adding auxiliary/continuous merge lanes on the outside in both north and south
directions between the Fillmore Street (Exit 145) and the Garden of the Gods Road (Exit 146). During construction three through lanes will be maintained in each direction, except during the occasional off peak or night time lane closure. 
Reconstruct the aging Ellston Street Bridge overpass structures
Hot Mixed Asphalt (HMA) repaving within project limits, approximately two miles
Improvements where possible at ramp metering station on northbound
Fillmore acceleration ramp
Permanent water quality changes (as needed)
Intelligent Transportation System (ITS) infrastructure upgrades as needed (fiber optics and ramp meter station)
Preservation of the existing recreation trail and sidewalks at the Ellston Street overpass
Potential improvements to wildlife crossing protection
Guardrail repairs and pavement marking improvements
Concurrent design work on an associated by separate project includes:
Bridge deck rehabilitation at Garden of the Gods Road overpass