I-70 West Vail Pass Auxiliary Lanes - Construction Phase
Winter Shutdown
From November 2021 until spring 2022, crews will stop work for the winter season. There is the potential for minor work along the shoulders but no lane closures, night or weekend work are expected. Motorists are encouraged to drive with caution, especially during the winter with unpredictable weather and road conditions.
From August to November 2021, crews reconstructed the emergency truck ramp at Mile Point 182 to remove a sharp right curve that was difficult for truck drivers to safely navigate. The new ramp is straight to help prevent rollovers and hazardous spills.
Should a rollover still occur, however, crews installed a containment system under the ramp that includes a geomembrane to prevent potential fuel, oil or hazardous material spills from entering the soil or impacting Gore Creek. Materials will funnel to a settling basin for safe removal, protecting the surrounding environment.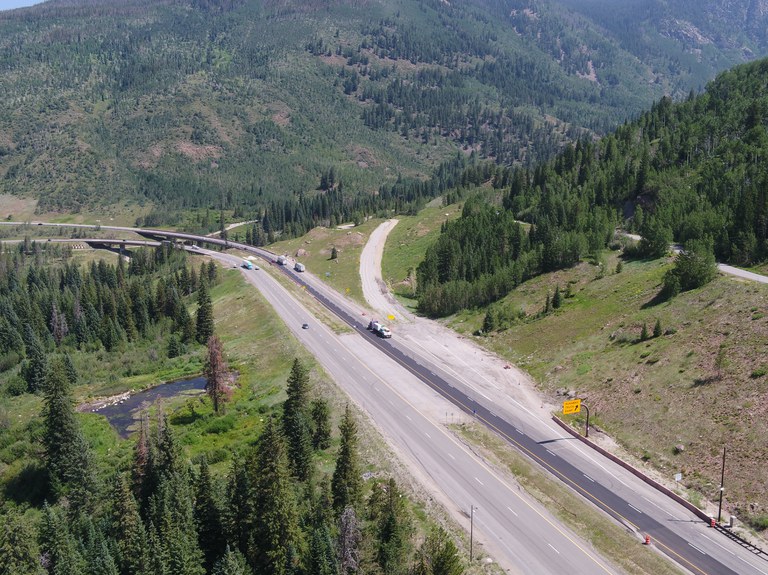 July 2021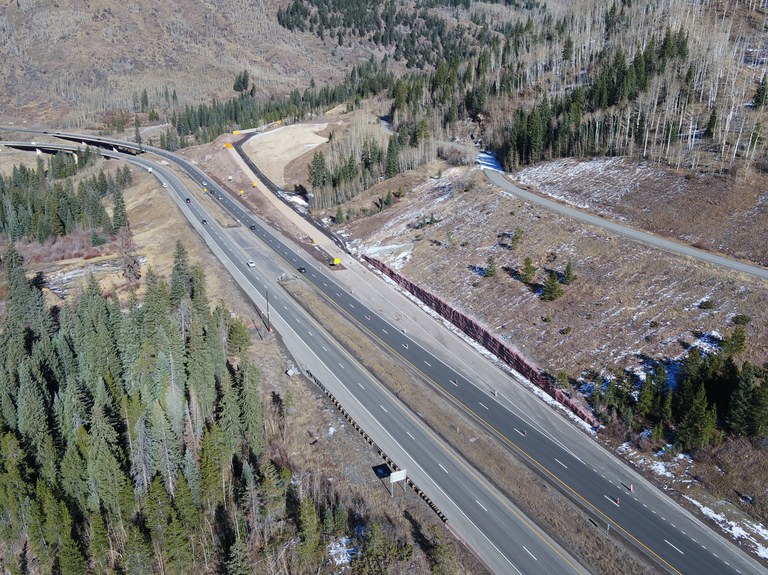 November 2021
About the Project
The I-70 West Vail Pass Auxiliary Lanes Project is designed to improve safety and operations in both directions of the highway on West Vail Pass. The project limits extend from the East Vail Exit at Mile Point 180 to the Vail Pass Rest Area at Mile Point 190 and include a wide range of improvements to address the unique nature of Vail Pass. This stretch of I-70 includes steep grades and tight curves and the intermingling of faster-moving passenger vehicles with slower-moving trucks that often results in inconsistent and slow travel times along the corridor.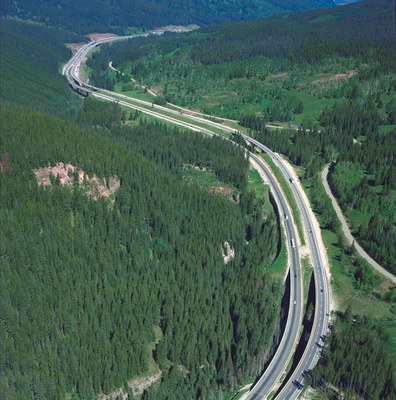 Aerial view of W. Vail Pass Auxiliary Lanes
---
Project Facts
Total Cost:

$164.2 million project

Federal INFRA grant: $60.7 million
CDOT contribution: $75.2 million
Other federal sources: $4.5 million

Contractor: 

Kiewit Infrastructure

Timeline: Construction begins August 2021 with work on the funded improvements

scheduled for completion in 2025

. 
Location: East Vail Exit at Mile Point (MP) 180 to the Vail Pass Rest Area at MP 190
Project Map (Click image to enlarge)
---
Construction Schedule
Initial construction activities off the I-70 corridor began in August 2021 with work on the funded improvements scheduled for completion by the end of 2025. There will be no construction activities taking place along the I-70 corridor from late November to early April to minimize impact on the ski season.