I-70 West Vail Pass Auxiliary Lanes - Construction Phase
Notice to Proceed on Construction Package 3
Notice to Proceed on Construction Package 3
Progress continues on both the design and construction of the West Vail Pass INFRA Phase I Improvements. CDOT and contractor partner Kiewit Construction Inc. have negotiated the next construction package, allowing for additional improvements and preparatory work to begin this summer. These activities include:
Relocation of two short segments of the recreation path near Mile Point 185.5.




To construct the future eastbound auxiliary lane from MP 185 to MP 190, crews will begin westbound detour paving for use next season.




There will be preliminary substructure work at the MP 185.2 westbound bridge, with the complete reconstruction of the bridge scheduled for 2023.




This construction package also includes retaining wall work to facilitate the trail and bridge construction.
When work begins on the Construction Package 3 improvements, motorists can anticipate additional lane and shoulder closures along westbound I-70.
Work this Week
August 14 - 20, 2022
Sunday, Aug. 14
Eastbound I-70 — From MP 185-186, there will be a right-lane closure from midnight to 9 a.m. and again from 6 p.m. to midnight. There will be a right shoulder closure from 9 a.m, to 6 p.m.
Monday, Aug. 15 – Friday, Aug. 19

Eastbound I-70 — Morning, evening and overnight right-lane closures, daytime right-shoulder closures from MP 186-187.




Westbound I-70 — Various daytime and nighttime right- and left-lane closures from MP 185-186 and MP 190-192.
Saturday, Aug. 20
No scheduled lane impacts for the I-70 West Vail Pass Auxiliary Lanes project.
Vail Pass Auxiliary Lanes Project
Click an icon on this map for an audio-guided tour of West Vail Pass.
---
About the Project
The I-70 West Vail Pass Auxiliary Lanes Project is designed to improve safety and operations in both directions of the highway on West Vail Pass. The project limits extend from the East Vail Exit at Mile Point 180 to the Vail Pass Rest Area at Mile Point 190 and include a wide range of improvements to address the unique nature of Vail Pass. This stretch of I-70 includes steep grades and tight curves and the intermingling of faster-moving passenger vehicles with slower-moving trucks that often results in inconsistent and slow travel times along the corridor.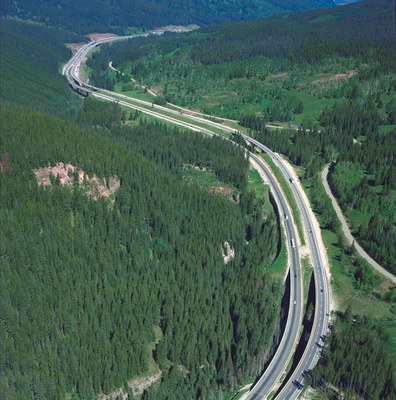 Aerial view of W. Vail Pass Auxiliary Lanes
---
Project Facts
Total Cost:

$170.5 million

Federal INFRA grant: $60.7 million
CDOT contribution: $

101.4 million

Other federal sources: $

8.4 million

Contractor: 

Kiewit Infrastructure

Timeline: Construction begins August 2021 with work on the funded improvements

scheduled for completion in 2025

. 
Location: East Vail Exit at Mile Point (MP) 180 to the Vail Pass Rest Area at MP 190
---
Construction Schedule
Initial construction activities off the I-70 corridor began in August 2021 with work on the funded improvements scheduled for completion by the end of 2025. There will be no construction activities taking place along the I-70 corridor from late November to early April to minimize impact on the ski season.