I-70 Eastbound Auxiliary Lane | Frisco to Silverthorne
This project is in design phase.
About the Project
The eastbound I-70 corridor between Exit 203 and Exit 205 is a steep grade and often experiences heavy downhill congestion in the right lane. This issue created by the mix of driver and vehicle characteristics including local, recreational, delivery and commuter drivers in passenger cars, vehicles towing campers and boats, freight vehicles and tractor-trailer combinations. The congestion issue becomes worse during inclement weather events because of conditions and use of the scenic overlook east of Exit 203.
Project Facts
Cost: TBD
Contractor: TBD
Design Complete: October 2021
Location: I-70 corridor between Exit 203 & Exit 205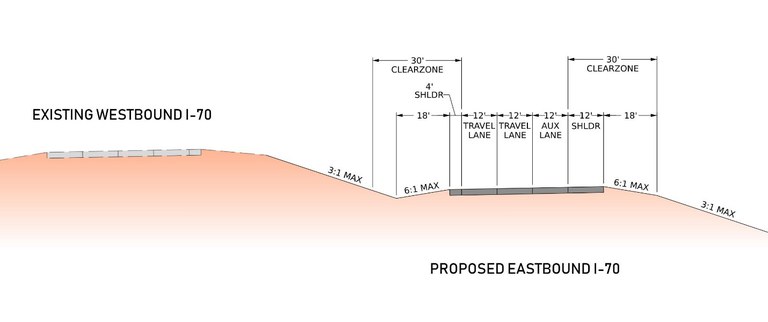 The addition of the eastbound auxiliary lane will reduce congestion and potentially reduce rear end crashes.
The project's areas of focus are:
Eastbound third lane (auxiliary lane) between Exit 203 (Frisco) and Exit 205 (Silverthorne) on I-70
Widen Structures over the Blue River and US 6
Evaluate improvements to the scenic overlook
Investigate the use of wildlife fencing to reduce vehicle wildlife collisions
---
Background
In June 2011, the Federal Highway Administration (FHWA) signed the Record of Decision (ROD) for the I-70 Mountain Corridor Final PEIS, a Tier 1 National Environmental Policy Act (NEPA) document. This document focuses on a high-level vision of the I-70 mountain corridor for the horizon year of 2050. The PEIS notes that the segment of I-70 between Exit 203 and Exit 205 requires further study for safety purposes and calls I-70 EB from Frisco to Silverthorne for "auxiliary lane improvements" as part of the Minimal Action Alternative. 
In response to the PEIS, CDOT prepared a feasibility study to identify possible solutions for ongoing safety, mobility, and operational issues on the two-mile eastbound segment of I-70 between CO 9 (Exit203) and Silverthorne (Exit 205). The feasibility study was finalized June 3, 2020, which also investigated improvements to Exit 203.  The website for the feasibility study can be found here https://www.codot.gov/projects/i70-exit203-interchange-frisco/about.  The feasibility study identified the need for an eastbound auxiliary lane.