US 50 Westbound from RR Bridge to West of Pueblo Boulevard
Work This Week
September 9 - 10
Expect overnight westbound alternating left and right land closures
Project Facts
Cost: $11 million
Average Annual Daily Traffic: 48,000
Contractor: Lawrence Construction Company
Timeline: June 2017 - Spring 2019
Percentage Complete: 93%
---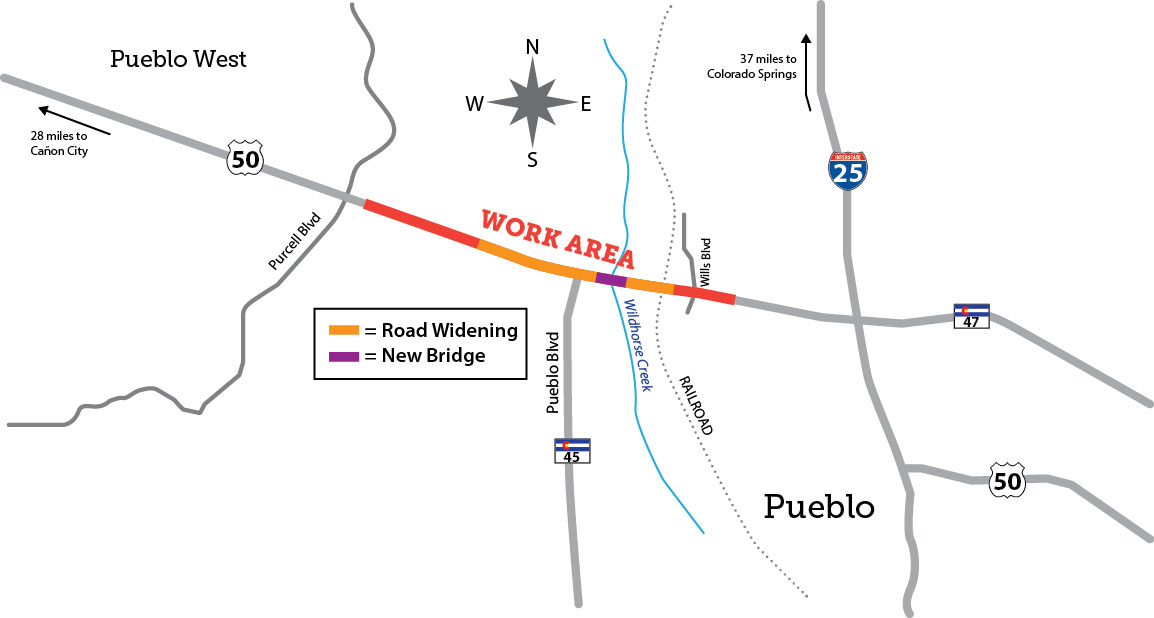 Since June 2017, crews have been widening the US Highway 50/Colorado 45 interchange, and replacing the westbound bridge over Wildhorse Dry Creek. Project work is scheduled to be completed by the end of 2018.
---
Progress
Crews are installing new arrow symbols at US 50 and CO 45, as well as an LED "No Left Turn" sign on the mast arm of westbound US 50 at Pueblo Boulevard.
All lanes are now open and accessible in the new alignment.
No left turns are allowed at the intersection of Pueblo Boulevard (CO 45) and the new westbound US 50. To access southbound Pueblo Boulevard from westbound US 50, use the new off-ramp.
While the new off-ramp to Pueblo Boulevard has been used as part of the westbound US 50 main line for several months, it will now be used only to and from Pueblo Boulevard.
Northbound traffic on Pueblo Boulevard will remain in the same configuration that it is in now.
---
Schedule
Working hours will be from 7 a.m. to 5 p.m., Monday through Thursday. The project has been/will be completed in the following phases:
Phase 1: June 2017 – January 2018

grading and dirt excavation;
cross pipes installation; and
new bridge construction/installation (old bridge unaffected)



Phase 2: January 2018 – April 2018

utility relocations; and
bridge demolition



Phase 3: April 2018 – August 2018

highway widening (to ultimately connect to new bridge); and
roadway paving



Phase 4: August 2018 – October 2018

outside lanes construction;
shoulder installation; and
on-ramp construction



Phase 5: October 2018

construct shoulder and on-ramps



Phase 6: December 2018

remove and replace asphalt; and
project-wide mill and overlay


UPDATE December 2018 - project is off the road during winter months and will return in spring for final pavement markings.
---
Travel Impacts
Expect speed reductions to 45 mph in work zones. The speed limit on the new on- and off-ramps have also been reduced to 35 mph.
Slow down, observe speed limits, avoid distractions and allow extra time for your commute.
An alternative route is advised.