US 50 Westbound from RR Bridge to West of Pueblo Boulevard
Latest Updates
From 7 a.m. to 5 p.m., Monday through Friday, there will be shoulder closures on US 50 between mile points 311.2 and 312.9. Please watch for flaggers when driving through the construction area.
Project Facts
 
Cost:
$11 million
Average Annual Daily Traffic:
48,000
Project Team
Contractor(s): Lawrence Construction Company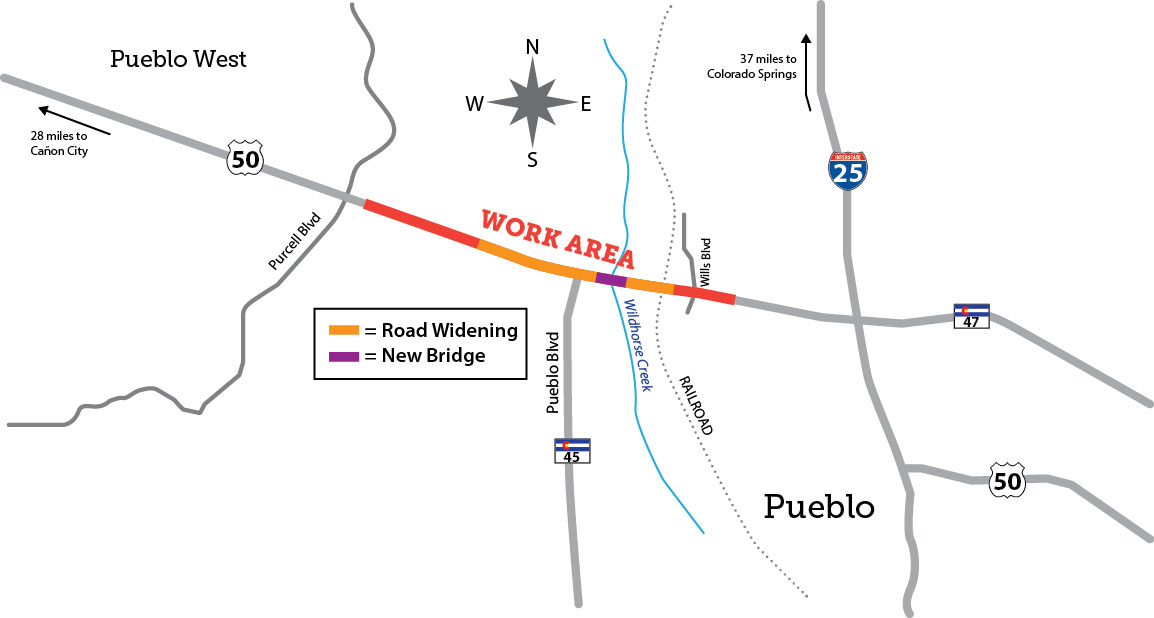 On Monday, June 19, crews began work to widen the US Highway 50/Colorado 45 interchange, and to replace the westbound bridge over Wildhorse Dry Creek. Project work is scheduled to be completed by the end of 2018.
Project work will include:
widening lanes.
removing and extensively reconstructing existing westbound US 50 lanes at two separate bridges.
adding a third lane to westbound US 50 and aligning it to be parallel with eastbound US 50.
intersection improvements at CO 45/Pueblo Boulevard.
converting the westbound lanes into an exit ramp for CO 45 and US 50 entrance ramp.
enhancing the existing storm sewer system.
---
Schedule
Working hours will be from 7 a.m. to 5 p.m., Monday through Thursday. The project will be completed in the following phases:
Phase 1: June 2017 – January 2018

grading and dirt excavation;
cross pipes installation; and
new bridge construction/installation (old bridge unaffected)



Phase 2: January 2018 – April 2018

utility relocations; and
bridge demolition



Phase 3: April 2018 – August 2018

highway widening (to ultimately connect to new bridge); and
roadway paving



Phase 4: August 2018 – October 2018

outside lanes construction;
shoulder installation; and
on-ramp construction



Phase 5: October 2018

construct shoulder and on-ramps



Phase 6: December 2018

remove and replace asphalt; and
project-wide mill and overlay


---
Travel Impacts
Expect speed reductions to 45 mph in work zones.
Slow down, observe speed limits, avoid distractions and allow extra time for your commute.
An alternative route is advised.