US 50 Westbound from RR Bridge to West of Pueblo Boulevard
Project Facts
Cost:
$11 million
Average Annual Daily Traffic:
48,000
Contractor(s): Lawrence Construction Company
Percentage Complete: 25%
---
Traffic Alerts
US 50 westbound bridge travelers can expect slight traffic shifts along the existing alignment. For travelers' safety, the shift is at either end of the project as crews work widen the highway.
Expect single-lane and shoulder closures, and eastbound traffic impacts.
Expect minor delays through the construction zone.
There are no height or width restrictions.
---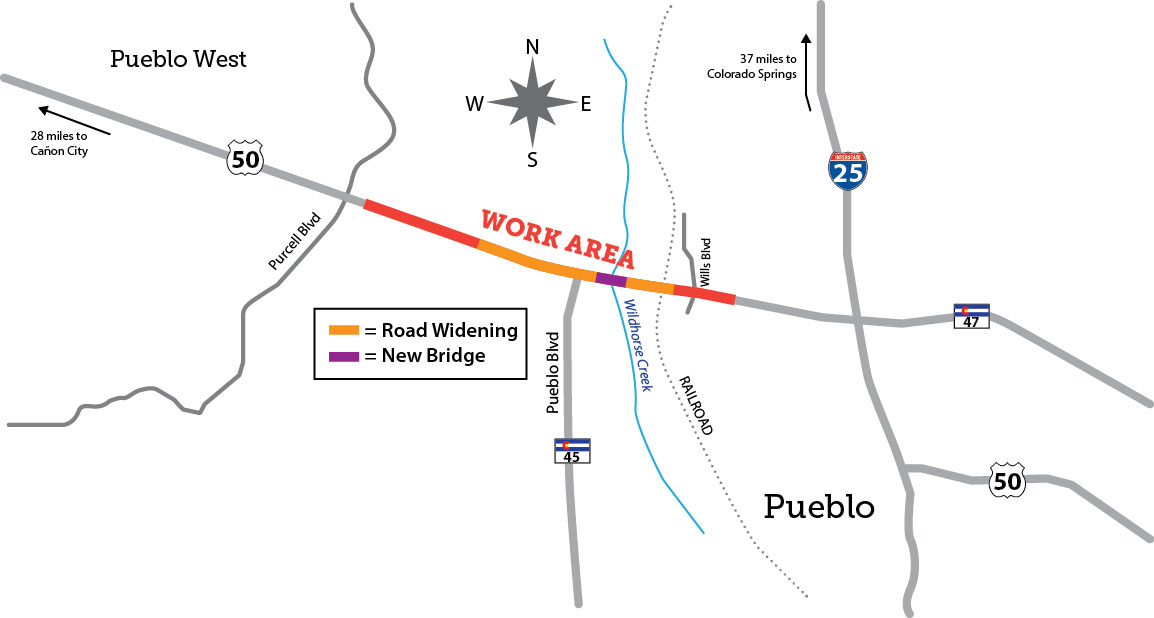 Since June 2017, crews have been widening the US Highway 50/Colorado 45 interchange, and replacing the westbound bridge over Wildhorse Dry Creek. Project work is scheduled to be completed by the end of 2018.
---
Progress
Crews have built and installed the US 50 westbound bridge alongside the existing bridge.
The team is working on placing the concrete box culvert extension, which will aid the existing drainage system and accommodate the new design of Pueblo Boulevard.
Upcoming work:

building lanes to assist with the traffic switch onto the new alignment
demolishing the original bridge
widening the highway
paving the roadway
constructing shoulders and on-ramps
Crews backfull the concrete box culvert
---
Schedule
Working hours will be from 7 a.m. to 5 p.m., Monday through Thursday. The project has been/will be completed in the following phases:
Phase 1: June 2017 – January 2018

grading and dirt excavation;
cross pipes installation; and
new bridge construction/installation (old bridge unaffected)



Phase 2: January 2018 – April 2018

utility relocations; and
bridge demolition



Phase 3: April 2018 – August 2018

highway widening (to ultimately connect to new bridge); and
roadway paving



Phase 4: August 2018 – October 2018

outside lanes construction;
shoulder installation; and
on-ramp construction



Phase 5: October 2018

construct shoulder and on-ramps



Phase 6: December 2018

remove and replace asphalt; and
project-wide mill and overlay


---
Travel Impacts
Expect speed reductions to 45 mph in work zones.
Slow down, observe speed limits, avoid distractions and allow extra time for your commute.
An alternative route is advised.