Transit and Rail Advisory Committee (TRAC)
Transit & Rail Advisory Committee Overview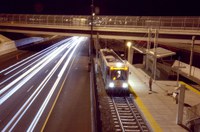 The Transit and Rail Advisory Committee (TRAC) was formed in January 2011 to provide advice to the Division and on the needs of the transportation system in Colorado.  The Committee is comprised of 17 members with representatives from public and private transit providers, Class I and Shortline railroads, interest groups, transportation planning regions, counties, cities and the general public.
The TRAC will work with DTR staff to develop and promote the Division's vision, policies, and priorities for transit and rail services in Colorado.
The TRAC is currently meeting every other month, held the second Friday of the month from 12:30 pm to 3:30 pm.  Meetings are held at CDOT headquarters at 2829 W. Howard Place, Denver, CO 80204.  The agenda can be found on this website prior to the meeting date.
The next meeting date is:
July 10, 2020 (1:00 p.m. - 3:00 p.m.) Colorado Dept. of Transportation - Meeting will be held via Google Meets:  Call in# 1-828-365-8282  (PIN) 635 801#  
Transit & Rail Advisory Committee Vision
"To preserve and enhance the quality of life and the efficient mobility of people and goods, throughout and beyond Colorado, through the development of safe, reliable, environmentally sensitive, economically sound, with the responsibility to plan, develop, operate and integrate transit and rail into the statewide transportation system and customer-responsive transit and rail networks."
Transit & Rail Advisory Committee Vision Values
Accessibility
To serve the entire state, recognizing mode may change (and transfer locations are important)
Provide transit opportunities for all populations
State-wide and nation-wide passenger and freight connections
Community access (local) improvement: connection to regional systems from the start/end point, requires a strong local system to get travelers to the regional system
Include and expand passenger and freight rail
Mobility
Provide transit opportunities for all populations (ease of access)
Seamless connectivity (ease of connections from passenger viewpoint)
State-wide and nation-wide passenger and freight connections
Reduce auto dependency
Travel-time, cost, frequency, competitiveness, and reliability (especially competitiveness)
Integrate regional connectivity in all transportation projects (accommodate other modes in projects)
Create passenger-friendly environment
Safety
Ensure a safe and secure system
Economic Development
Marketing consideration: educating the public about rail vs. truck vs. transit vs. auto
Preserving potential intermodal hubs and right-of-way (focus on potential)
Economic development and vitality (Transit Oriented Development, impact of short line railroads and passenger rail on economy)
Include and expand passenger and freight rail
Environmental and Resource Conservation
Economic and energy efficiency (less energy used)
Reduce auto dependency, as related to fuel consumption and pollutant emissions
Include and expand passenger and freight rail
Efficiency
Thoughtful passenger and freight intermodalism
Economic and energy efficiency (more people and goods transported per unit of energy used)
System Preservation and Expansion
Preserving existing infrastructure
Prepare and protect future infrastructure and right-of-way
Include and expand passenger and freight rail, with a focus on preservation and allowing expansion when economically feasible