CDOT Begins Fiber Optic Installation on US 160 East of Wolf Creek Pass
Speed limits to be strictly enforced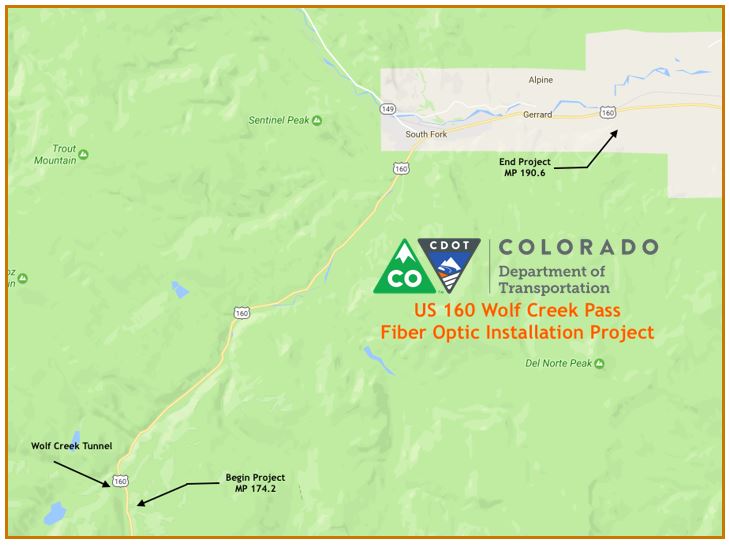 SOUTHWEST COLORADO—Starting Monday, April 17, crews from CDOT and contractor Main Electric will begin installing fiber optic cable on US Highway (US) 160 east of Wolf Creek Pass. The project will take place between mile point (MP) 174.2 and MP 190.6, from the Wolf Creek Pass east tunnel to the east side of South Fork. The project has an anticipated completion date September 2017.
The project team will install conduit, fiber optic cable and manholes along a 16-mile stretch of the US 160 mountain corridor. They will also work on electrical signs in Monte Vista and Alamosa, and on La Veta Pass.
The fiber optic installation project will benefit CDOT and the general public by optimizing digital controls within the Wolf Creek Tunnel, and by expanding high-speed telecommunications to all areas of the state.
Travel and Access Impacts
The project will be in operation from 7 a.m. - 5:30 p.m., Monday through Friday. Local residents and businesses within the work zone will always have access to their property.
As the project begins, motorists can expect brief delays with one-lane, alternating traffic during the day and night, with reduced travel impacts on the weekend. Motorists should be aware of flaggers who will guide traffic during construction hours, as well as a temporary light signals that will control traffic during non-working hours and at night. Motorcyclists are urged to use extreme caution. As project work progresses, motorists can expect shoulder closures.
Stay Informed
Project hotline: 719-695-0112
Project email:

[email protected]

Get real-time road conditions on COtrip, or by dialing 511 from anywhere in the state.