Northbound & Southbound I-25 Closed Over Indiana Avenue Overnight Aug. 2
Closure moved due to inclement weather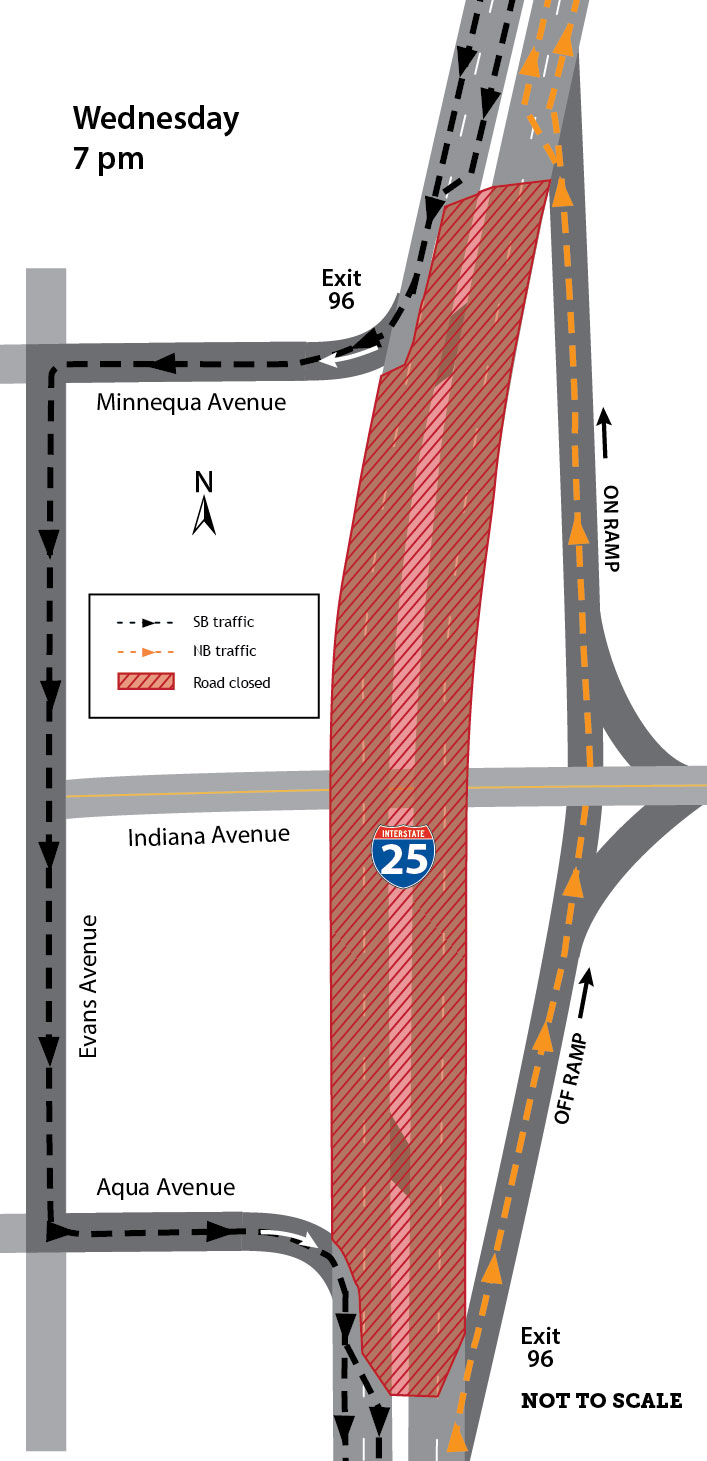 PUEBLO—From 7 p.m. Wednesday, Aug. 2 through 7 a.m. Thursday, Aug. 3, crews will close northbound and southbound Interstate 25 at Indiana Avenue—work that was postponed from this past weekend due to inclement weather. During the closure, crews will remove barrier and stripe the roadway.
When I-25 opens Thursday morning, traffic will be in its final configuration, but there will be a temporary lane closure in each direction through Wednesday, Aug. 23.
Detours
Traffic will be detoured at Exit 96.
Northbound traffic will detour at the Indiana Avenue off-ramp and return to I-25 via the on-ramp after crossing Indiana Avenue.
Southbound traffic will detour on the Minnequa Avenue off-ramp, then turn left on Evans Avenue to the Aqua on-ramp.
Access to the Indiana Avenue northbound on- and off-ramps will be maintained. Flaggers will be present at all intersections to guide motorists through the detour.
Traffic Impacts
Expect delays and a speed-limit reduction to 45 mph. Please use extra caution while traveling the new traffic pattern.
Project Info
The I-25 Ilex Street to City Center Drive project is the first project of the New Pueblo Freeway: the reconstruction of I-25 between City Center Drive (1st Street) and Ilex Street through downtown Pueblo. Construction includes upgrading several bridges south of downtown. The project began in July 2015, and is scheduled to be complete by spring 2019.
Stay Informed
Project hotline: 719-470-2270
Project email:

[email protected]

Get real-time road conditions on COtrip, or by dialing 511 from anywhere in the state.