Colorado Transportation Commission Preliminarily Approves Funds for Southwest Colorado US 550/160 Connection
Dec. 5, 2017 - U.S. Department of Transportation also grants FASTLANE dollars toward project

SOUTHWEST COLORADO―The Colorado Transportation Commission recently gave a sound nod toward a planned highway construction project in Southwest Colorado. At the commission's monthly meeting in November, members approved $54.4 million for the US Highway (US) 550 connection to the US 160 Grandview interchange.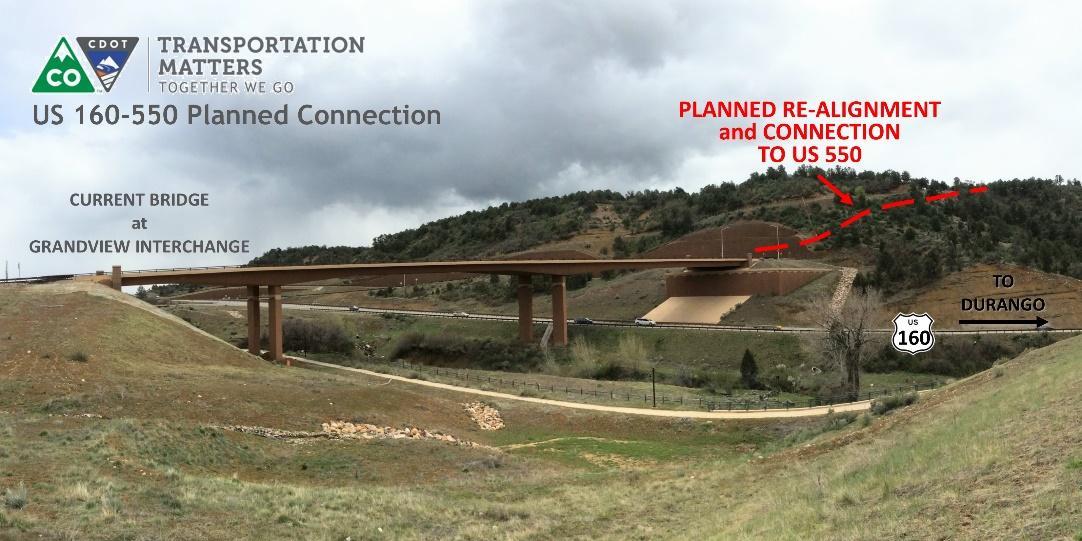 The funding approval is a provisional commitment made by the Transportation Commission using Senate Bill (SB) 267 state funds. The Colorado Legislature passed SB 267 in May 2017.
CDOT officials hope to solicit requests for proposal by the end of 2018, with a goal of breaking ground on the project in 2019.
Commission Chairwoman Sidny Zink said that 11 projects were awarded funding statewide.
"These projects were identified for their ability to leverage other funds from federal and local partners," explained Zink. "The US 550 connection project, which is expected to cost just under $100 million, has garnered tremendous support from local governments and the feds. Most significant is La Plata County's successful grant application to the U.S. Department of Transportation."
La Plata County obtained official notice of a FASTLANE grant award in November. The federal Fixing America's Surface Transportation (FAST) Act provides FASTLANE funding support for critical transportation projects to ease congestion and facilitate the movement of freight on interstate systems and major roads.
"We were very pleased to learn from Sen. Michael Bennet that our $12.3 million FASTLANE grant was approved," said La Plata County Commissioner Brad Blake. "Our grant application was among almost 200 submitted by communities nationwide. To be one of 10 projects awarded this (small project) funding speaks to the importance of building the 550/160 interchange."
Additional Project Funding
Several other area agency and government partners have stepped forward to offer funding toward the US 550/160 connection project. Funding sources thus far include:
| | |
| --- | --- |
| $12.3 million | FASTLANE Federal Grant (awarded to La Plata County) |
| $54.4 million | State of Colorado (SB 267 funds) |
| $1.98 million | Tribal Employment Rights Organization (TERO) Fee waiver from Southern Ute Tribe |
| $500,000 | Southern Ute Growth Fund |
| $250,000 | La Plata County |
| $250,000 | City of Durango |
| $29.9 million | CDOT Region 5 Project Funding |
| $99.58 million | TOTAL |
Project Info
The planned project south of Durango would allow abandonment of the current Farmington Hill route and realign US 550 along a ridge directly into the existing Grandview interchange. The realignment will improve mobility by providing a safer and more efficient connection of Highways 550 and 160.
The planned connection to the interchange is part of long-range planning for enhanced mobility for the entire Southwest Colorado region, with the interchange a key component for growth and connectivity to the Three Springs and Grandview communities. The new development has been significant residential and commercial growth in recent years. The interchange bridge structures have seen increased use over the past year since Wilson Gulch Road was completed, providing a more direct route to the area's regional hospital, police substation, residential and business development.
US 550 and US 160 have also been identified as critical corridors for local commerce. The highways provide significant truck and freight mobility for oil and gas, agriculture, and other industries. The project enhancements will ensure the safe and reliable transport of critical goods and services to and from New Mexico and the Four Corners region.
SB 267:
In the coming spring of 2018, the Transportation Commission will revisit tentative SB 267 priorities based on grant decisions and additional project information gathered at that time. Other projects from across the state of Colorado also awarded the provisional commitment by the Transportation Commission include:
US 50 Little Blue Canyon ($9.5 million)
I-25 South ($250 million)
I-25 North CO 402 – CO 56 ($200 million)
I-70 Westbound PPSL ($80 million)
CO 13 Reconstruction ($60 million)
US 160 Towaoc Passing Lanes ($9 million)
US 50 West of Pueblo ($36 million)
CO 9 North of Frisco ($10 million)
I-70 East Failing Pavement ($55 million)
Americans with Disabilities Act (ADA) improvements($25 million)