Full Overnight Closure of Northbound I-25 Off-Ramp Tonight
COLORADO SPRINGS—From 9 tonight (Wednesday, Feb. 1) to 5 a.m. Thursday, Feb. 2, the northbound I-25 off-ramp to US 24/Cimarron Street will be closed for overhead sign foundation work.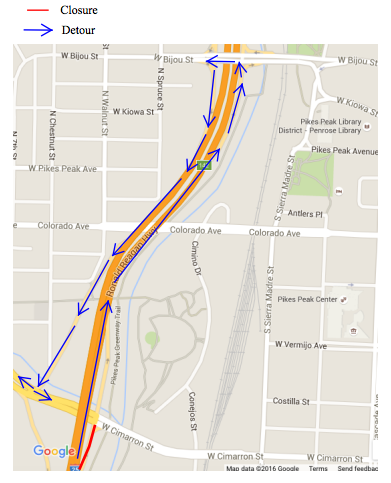 Alternate route: Take Bijou Street to southbound I-25 and head back to the US 24/Cimarron Street exit.
Slow Down and Pay Attention.
Speed limits will be reduced to 55 mph on I-25 between Colorado Avenue and south Nevada Avenue/Tejon Street, and 30 mph on US 24/Cimarron Street between 8th Street and I-25.
Pay close attention when driving near the I-25/Cimarron Project. Slow down, observe speed limits, avoid distractions, and allow extra time for your commute. Alternative routes are advised.
Warning to Media Personnel
The I-25/Cimarron project is an active construction area. Access on the project site is restricted unless accompanied by a CDOT or Kraemer representative. Your safety is important to us so please coordinate access requests in advance with the project team. A safe area for interviews, b-roll footage, etc., and a project team member will be designated for escort, and will coordinate the appropriate personal protective equipment. We appreciate your cooperation.
Find project information and updates, or call the project hotline at 719-302-6781. You can also get updates by emailing the project team.