CDOT Launching Bustang® Pilot Bus Service for Skiers and Snowboarders
SnowStang will run on Feb. 11 and Feb. 25

DENVER—The Colorado Department of Transportation (CDOT) is introducing a pilot program to bring Front Range skiers and snowboarders to and from the mountains this winter.
SnowStang, part of the CDOT Bustang® interregional bus service, will offer express round-trip service to six resorts on two Saturdays next month: Feb. 11 and 25. It will serve A-Basin, Beaver Creek, Breckenridge, Keystone, Vail and Winter Park with round-trip prices starting at $45.
"Providing transportation solutions along the state's most traveled corridors remains a department priority," said CDOT Executive Director Shailen Bhatt. "CDOT is fulfilling a need for public transportation that serves our resort communities. In the process, taking a few extra vehicles off the road helps alleviate congestion along I-70."
The SnowStang pick-up and return drop-off point will be at the RTD Park-n-Ride at the Federal Center in Lakewood, just southeast of the 6th Avenue Freeway and Union Avenue Interchange.
"SnowStang goes directly to each resort, plus our drivers have the ability to access the shoulder for bypassing eastbound traffic congestion," explains CDOT's Division of Transit and Rail Director Mark Imhoff. "Day trippers taking SnowStang won't have to stress about driving or parking. Instead, they'll arrive ready to hit the slopes and know they'll have a safe ride home at the end of the day."
Bustang Schedule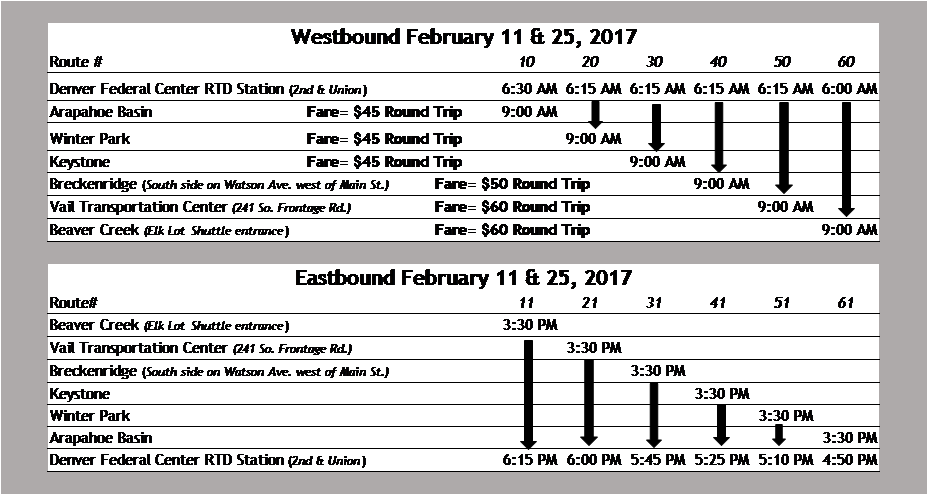 This pilot program will test the viability of, and interest in, SnowStang as a transportation option. If SnowStang is successful, CDOT will look at fully implementing the service next winter.
Bus service to Copper Mountain Resort and Loveland Ski Area is already provided by Front Range Ski Bus, running Wednesday through Sunday from Denver Union Station (7 a.m.) and the Wooly Mammoth Park-n-Ride (7:30 a.m.) at Morrison Road (Jeffco 93) and U.S. 40. Learn more.
Along with this trial service to the resorts, Bustang offers daily coach service through the I-70 corridor between Glenwood Springs and Denver (new stop added in Idaho Springs), and along I-25 between Fort Collins and Colorado Springs. Bustang's climate-controlled coaches are equipped with WiFi access, USB outlets and bathrooms.
Ace Express of Golden operates Bustang and SnowStang for CDOT.