Expect Traffic Impacts for Guardrail Project on I-25 South of Fountain
Project completion scheduled for spring 2017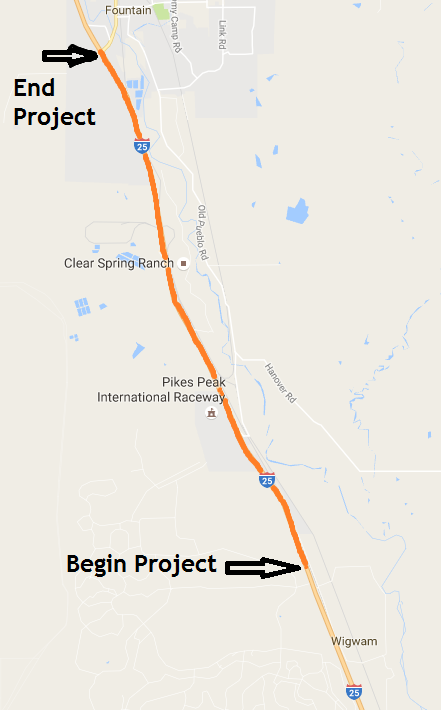 COLORADO SPRINGS—The Colorado Department of Transportation (CDOT) is reminding drivers to slow down in the construction zone on Interstate 25 south of Fountain and expect possible delays as it places guardrail in the area. The construction zone speed limit has been reduced to 55 MPH for the safety of the public and construction workers.
The purpose of this project is to install median cable barriers and guardrail to improve the safety of the roadways. Working hours are 8 a.m. - 4 p.m., Monday through Thursday, and from 8 a.m.- 3 p.m. on Fridays.
Single Lane Closures

Monday – Wednesday: I-25 southbound, mile marker 122-123
Wednesday – Friday: I-25 northbound mile marker 122-123
Construction Zone Safety Tips
Stay alert and give full attention to the roadway.
Pay close attention to signs and work zone flaggers.
Be patient. Work zones improve roads and make them safer.
Turn on headlights so workers and drivers can see your vehicle.
Do not tailgate; leave plenty of room for sudden stops.
Do not speed. Slow down to the posted speed limits.
Thank you for your patience during our important work. Remember to obey all traffic signs and flaggers and please go slow for the cone zone.
---
Project Information