CDOT, Law Enforcement Kick Off Rural Seat Belt Enforcement Campaign
CDOT Unveils "Close the Gap" Seat Belt Display in Weld County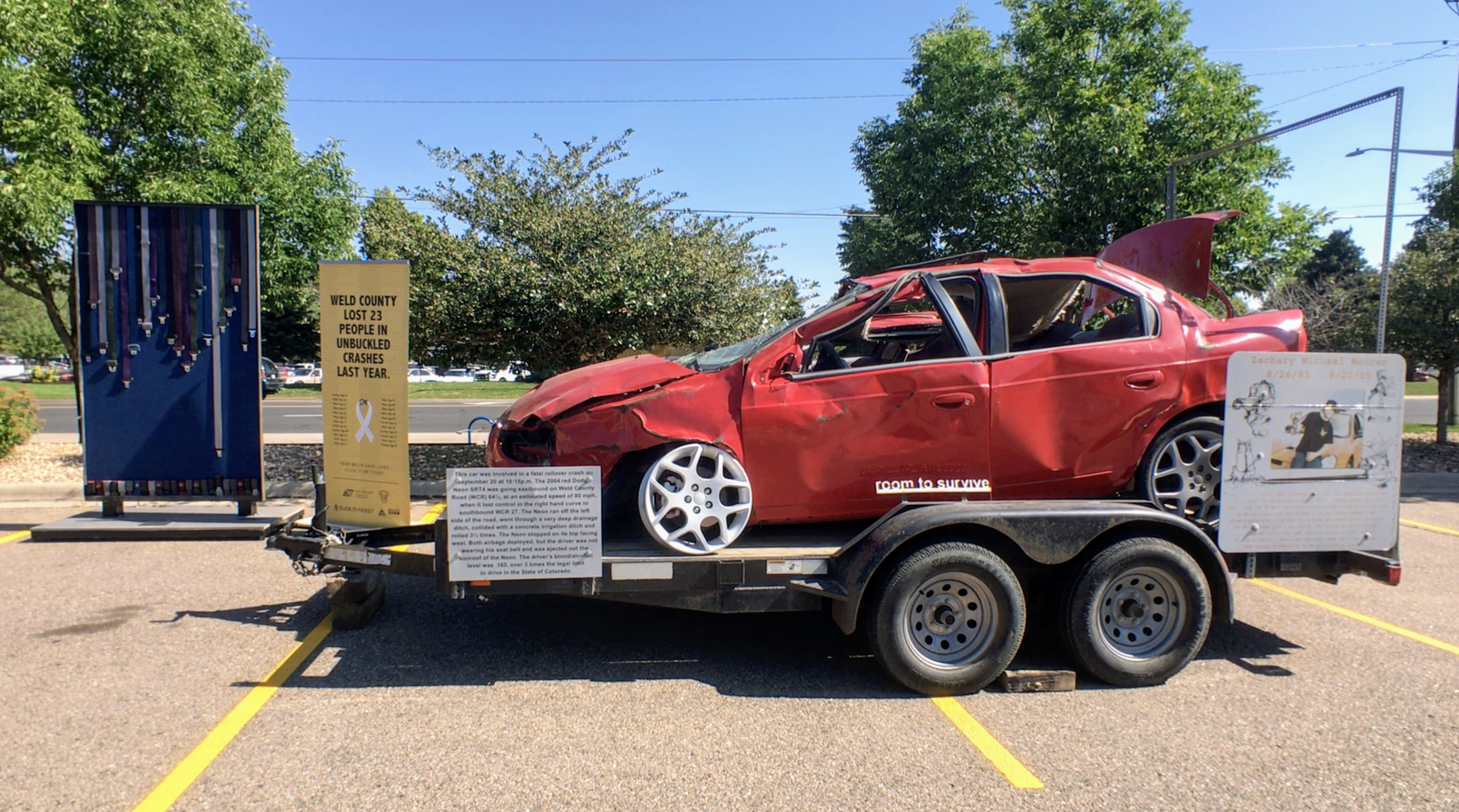 STATEWIDE—On Monday, July 17, CDOT, the Colorado State Patrol (CSP) and local law enforcement agencies across the state launched a weeklong Click It or Ticket seat belt enforcement period targeting rural areas. The enforcement period will last until July 23.
In support of the enforcement period, CDOT and the North Colorado Medical Center in Greeley hosted an event to raise awareness about the seat belt crisis in Weld County, which had more unbuckled fatalities than any other county in Colorado. Therefore, CDOT is encouraging residents in Weld County to "close the gap" in seat belt use by buckling up.
Weld County's seat belt use rate (82.2 percent) is far below the national average (90.1 percent) and state average (84 percent). The event featured an 8-foot tall seat belt display, dubbed "Close the Gap," which represents last year's 23 unbuckled deaths in Weld County. The display uses real seat belts and buckles to illustrate the "gap" between the belt and the buckle when drivers and passengers go beltless. The display was constructed by Colorado artist Beth Stade.
"The 23 unbuckled fatalities in Weld County last year [were] the highest in the state, including counties with much larger populations," said Darrell Lingk, director of the Office of Transportation Safety at CDOT. "Data shows that the Weld County unbuckled fatality rate is more than six times higher than Denver's rate. There is a seat belt crisis in Weld County, so it is imperative that everyone buckle up—every trip, every time."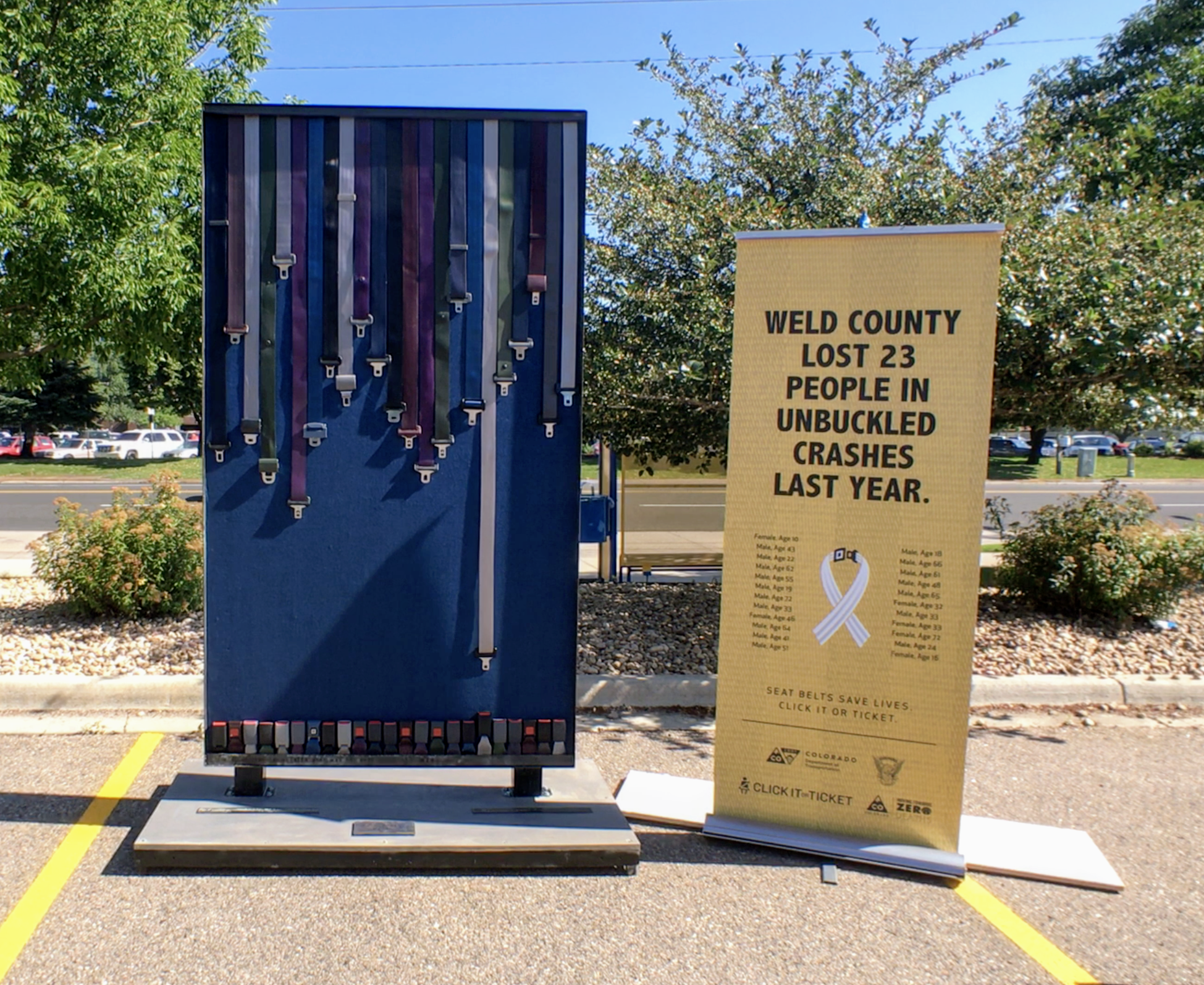 Also on display at the event were two vehicles involved in serious car crashes, accompanied by storyboards detailing the fate of the two drivers. One driver was belted and survived; the other was unbuckled and was killed.
Two women who lost family members to fatal car crashes told their stories at the event—and representatives from CDOT, North Colorado Medical Center and the Fort Lupton Police Department spoke to the dangers of not buckling up.
Jennifer Tracy, a crash survivor, was one of the speakers and can attest to the importance of wearing a seat belt. In 2004, Tracy lost her husband, Brian, and her 9-year old daughter, Brittany, when an impaired driver struck the family's car on Weld County Road 45. Her other two daughters, McKayla and Amber, survived.
"My youngest daughter Amber had a habit of unbuckling her seat belt while we were driving," said Tracy. "One day, I flagged down a Weld County Sheriff who took Amber to her patrol car and talked to her about the importance of buckling up. So Amber was wearing her seat belt the day of the crash. I am so thankful for that and for the way the officer treated us."
In 2015, seat belts saved an estimated 13,941 lives nationwide, including 200 in Colorado. Last year, 180 unbuckled drivers and passengers were killed in Colorado, accounting for nearly half of all passenger vehicle traffic crashes. Learn more about seat belt safety and enforcement citation numbers by visiting SeatBeltsColorado.com.
Colorado's Seat Belt Laws
Adults—Colorado has a secondary enforcement law for adult drivers and front-seat passengers. Drivers can be ticketed for violating the seat belt law if they are stopped for another traffic violation.
Teens—Colorado's Graduated Drivers Licensing (GDL) Law requires all drivers younger than 18 and their passengers, regardless of their age, to wear seat belts. This is a primary enforcement, meaning teens can be pulled over simply for not wearing a seat belt or having passengers without seat belts.
Children—Colorado's Child Passenger Safety Law is a primary enforcement, meaning the driver can be stopped and ticketed if an officer sees an unrestrained or improperly restrained child younger than 16 in the vehicle.