CDOT, Law Enforcement Invite Public to Safety Expo Saturday, June 10
Event to feature "paint the snowplow" activity for kids and safety resources.

DENVER—CDOT is kicking off the summer travel season by inviting Coloradans to a Public Safety Expo from 10 a.m. - 5 p.m. Saturday, June 10, at Regis University. The Expo will feature the latest information on safely traveling the state's roadways, as well as fun activities for kids.
Event Details
Public Safety Expo
10 a.m. - 5 p.m.
Saturday, June 10
Regis University
3333 Regis Boulevard
Denver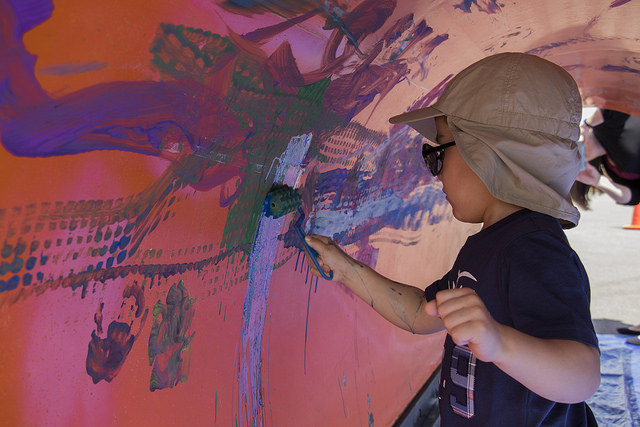 A boy paints a snowplow at CDOT's 2016 event.
The event—a collaboration among CDOT, the Denver Police Department and the Colorado State Patrol—will have exhibits and handouts about:
motorcycle safety;
impaired and distracted driving;
teen driving; and
cone zone safety.
In addition, attendees will be able to:
Paint snowplow blades (children only).
Get child car seats checked for proper fit by a certified technician.
Find information about the upcoming Central 70 project (between Interstate 25 and Chambers Road).
Learn about potential career opportunities at CDOT.
"Teaming up with the Denver Police and the Colorado State Patrol is a great opportunity to get information out to the public about enhancing their safety while traveling our roads and highways," said CDOT Deputy Executive Director Michael Lewis. "Building and maintaining highways is a big part of what we do, but the safety of the traveling public is our first priority. Please come out and spend some time with us on Saturday."