CDOT Installs Kuss Memorial Signs on CO 3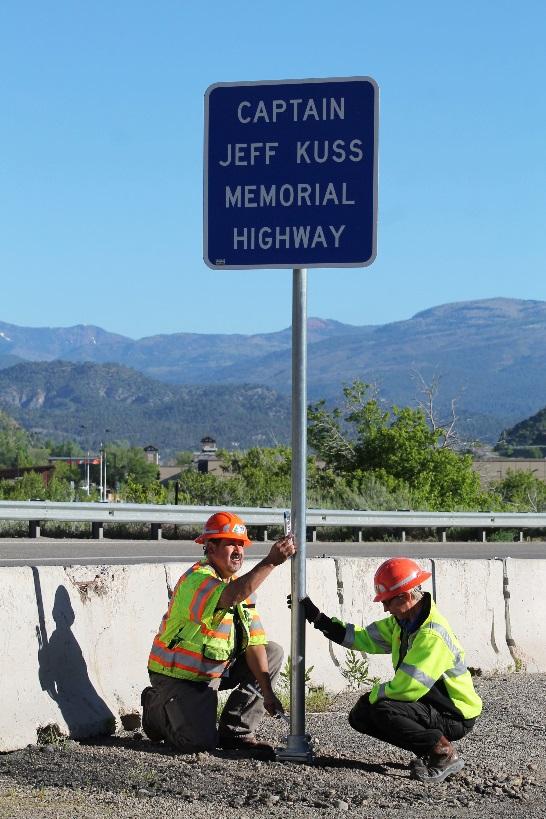 SOUTHWEST COLORADO—Signs were erected today along Colorado Highway (CO) 3 to honor fallen U.S. Navy Blue Angel pilot Capt. Jeff Kuss. CO 3 has been given the honorary designation of "Captain Jeff Kuss Memorial Highway."
A former Durango resident, Capt. Kuss died when his plane crashed during a practice exercise before a Tennessee air show in June 2016.
Earlier this year, the Colorado legislature passed a resolution giving CO 3 the honorary name. House Joint Resolution 1015 was sponsored by Colorado Rep. Barbara McLachlan of Durango, and was passed unanimously in both the House and Senate on March 14.
CO 3 is a short state highway, just over two miles long, south of Durango. CO 3 begins at the junction on US Highway 160-550 near the "high bridge" and Walmart, and it ends at its north end at the junction of Santa Rita Drive. The highway was the original major access into the city of Durango before construction of US 160-550 through Bodo Park was completed in 1980.
CDOT assures businesses and residents on CO 3 that there is no need to change any addresses or contact information; the renaming of the highway is an honorary designation only.