Work to Begin on New Traffic Signal at US 24 and Crossman Avenue in Buena Vista
Nov. 14, 2017 - Community invited to public information meeting
BUENA VISTA—Starting on Monday, Nov. 20, crews will begin installing a new traffic signal at the intersection of US Highway (US) 24 and Crossman Avenue. The work is expected to take four to five weeks, but is highly weather dependent.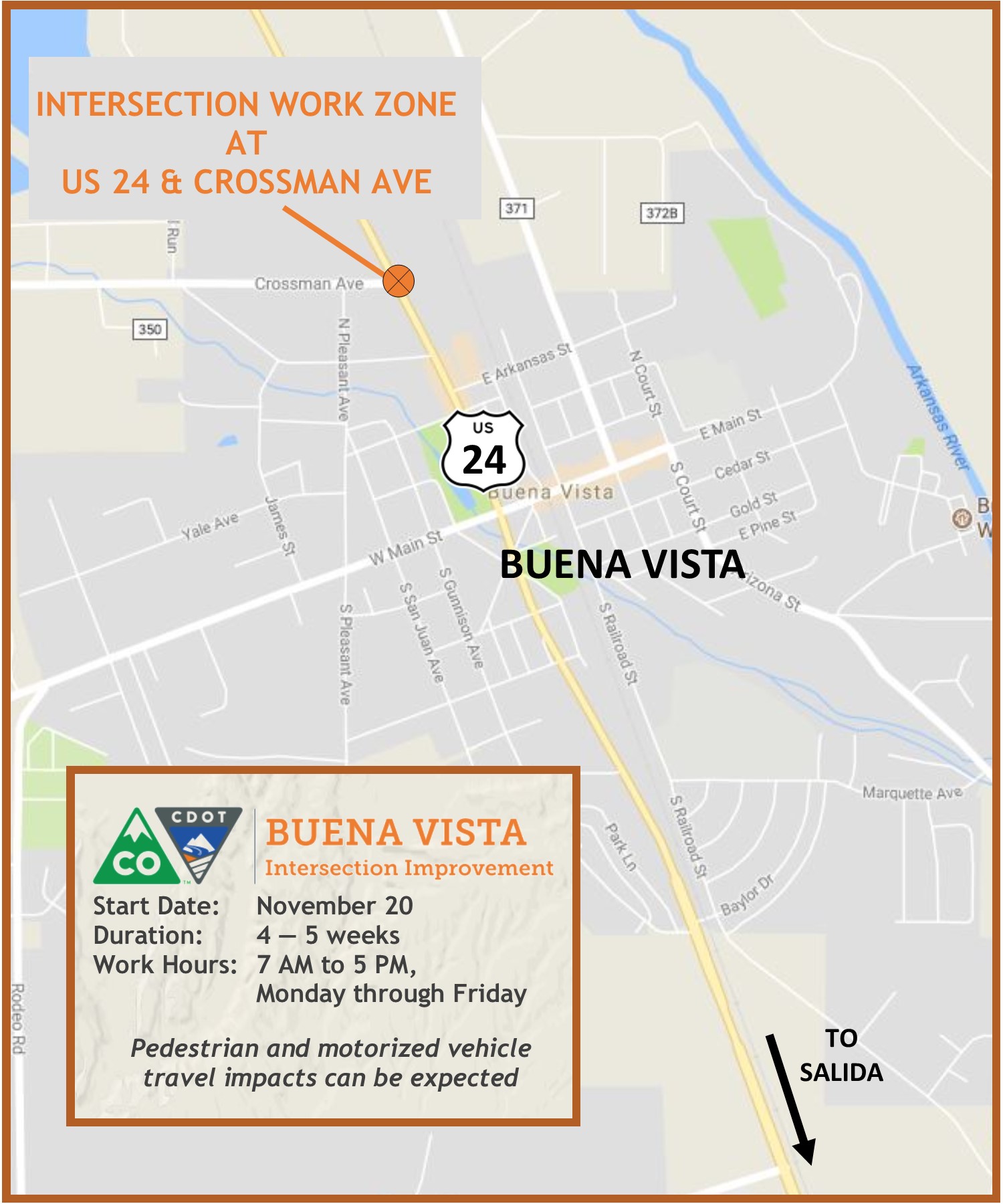 Project Info
The new signal stems from a regionwide intersection priority study that was conducted in 2014 and 2015. Local agencies nominated over 100 locations across Southwest Colorado for the study. The intersection of US 24 in the vicinity of Crossman Avenue sees as many as 11,000 vehicles per day, and Crossman sees approximately 1,400 vehicles per day.
Due to the traffic volumes and crash history, the town of Buena Vista, San Luis Valley Transportation Planning Region and CDOT included US 24 and Crossman in the study. The study analysis determined US 24 and Crossman eligible to receive some safety funding to build a new traffic signal.
The addition of this new traffic signal is a continuation of the intersection reconstruction project from last year on US 24. In addition to the pavement reconstruction and left turn lane striping, underground infrastructures such as electrical conduit were put in place to minimize the amount of rework necessary to install the new traffic signal.
Improvements will include pedestrian crosswalks, pedestrian signals activated by push button, handicapped accessible curb ramps in compliance with the American with Disabilities Act (ADA), and vehicle detection capable of detecting both motorized and bicycle traffic. The new traffic signal, itself, will have similar circular light heads and left turn arrow indications, similar to the signal at US 24 and Main. Construction of this traffic signal will enhance the safety for motor vehicles and multi-modal users along this busy corridor.
Public Meeting
The project team will hold a public meeting at 6 p.m. Thursday, Nov. 16, at the Buena Vista Community Center, 715 E. Main St. CDOT Traffic Engineer Tommy Humphrey, will be on hand to answer questions, as well as members of the project team, including contractor Technology Constructors, Inc.
Schedule
Work on US Highway 24 is scheduled to begin Monday, Nov. 20.
Normal working hours will be 7 a.m. to 5 p.m., Monday through Friday. In special cases these hours may be extended.
Weekend work also may occur if a need is determined and agreed upon.
If winter weather prevents progress of the expected four- to five-week work schedule, the project location will be left in a safe and usable condition until work can resume.
Travel Impacts
All pedestrians and motorized vehicles should expect travel impacts throughout the construction project. Detailed information will be disseminated on a weekly basis and updated when more significant impacts are expected.