Expect Overnight Ramp Closures Dec. 9-10 from I-225 to I-25 and C-470, and E-470 to I-25
Dec. 7, 2018 -

ARAPAHOE COUNTY—From 11 p.m. to 5 a.m. overnight on Sunday, Dec. 9 and Monday, Dec. 10, crews will close the off-ramp from southbound I-225 to northbound I-25, as well as the connector ramps from C-470 and E-470 to northbound I-25 northbound. The closure allows crews to move barriers from the I-225 off-ramp to the C-470 and E-470 ramps.
Barriers will be set on the 470 ramps in preparation to complete ramp widening for CDOT's Smart 25 project. This project will upgrade ramp-metering systems to better manage the flow of vehicles.
Detours will be in place rerouting traffic during the full-ramp closures on Sunday and Monday night.
Other Travel Impacts
Expect various lane closures in both directions of I-25 from 8 p.m. to 5:30 a.m., Sunday through Thursday. Weekend work may occur as needed.
There is a speed reduction through the project zone to 55 mph during work hours.
Guardrail and other work will also take place on I-25 from 470 to Belleview Avenue, requiring various overnight lane closures in the work zone.
Detours
Motorists will be rerouted to exit southbound I-225 at southbound I-25, exit southbound I-25 at Belleview Avenue, and re-enter northbound I-25 at Belleview Avenue.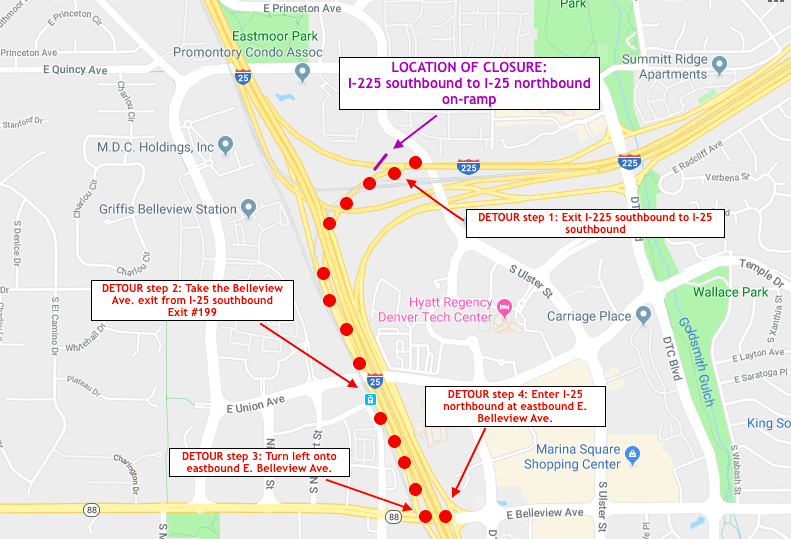 Motorists driving on DTC Boulevard wishing to access northbound I-25 via the southbound I-225 on-ramp will be rerouted to enter I-25 at Hampden Avenue or Belleview Avenue.
DTC Boulevard southbound detour: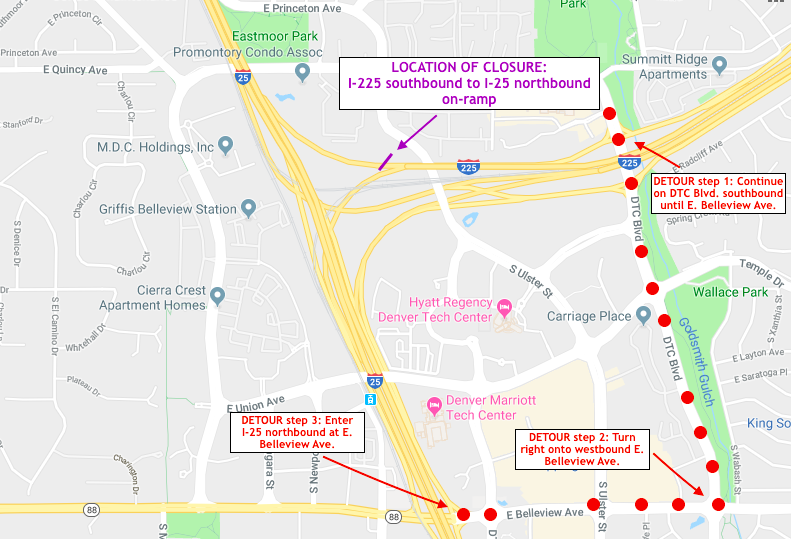 DTC Boulevard northbound detour: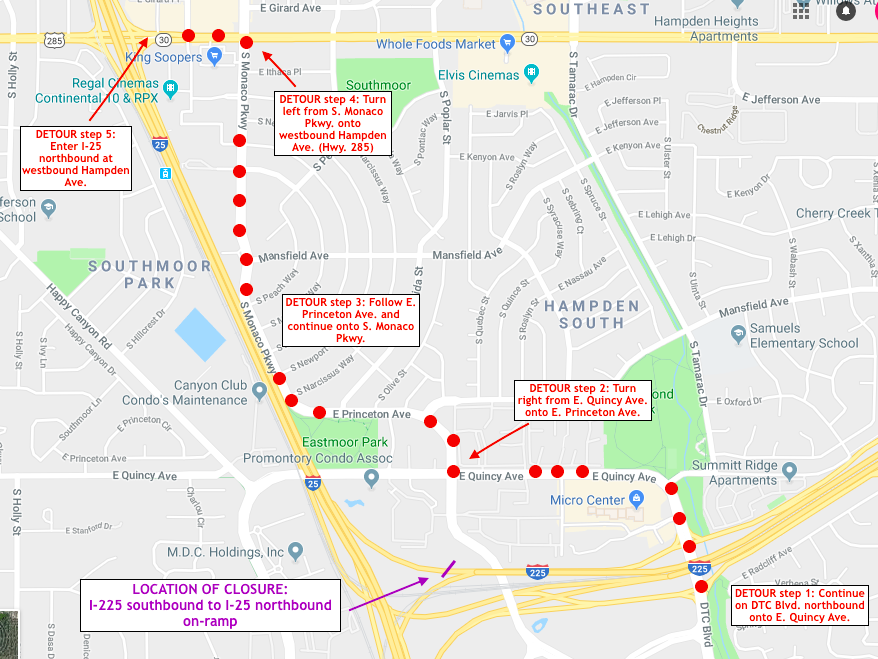 To access northbound I-25 from C-470 and E-470 during the full-ramp closures, motorists will be rerouted from southbound I-25 to the Lincoln Avenue exit to re-enter northbound I-25.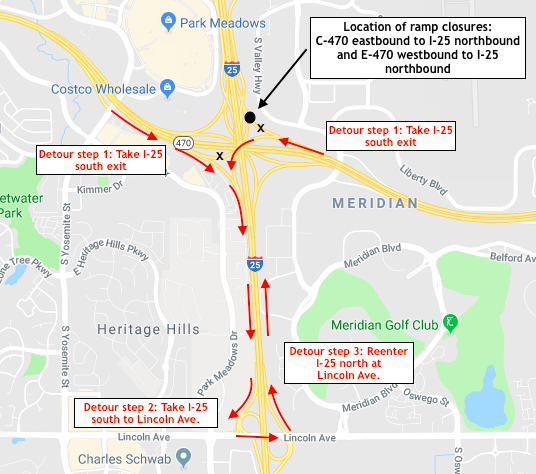 Project Info
Since April, crews have been conducting bridge deck and median barrier repairs, and milling and paving on five miles of I-25 between C-470 and Belleview Avenue. Key benefits of this project include a better, smoother driving surface for motorists.