Crews to Close East Orchard Road On-Ramp to Northbound I-25 Overnight June 8
June 8, 2018 -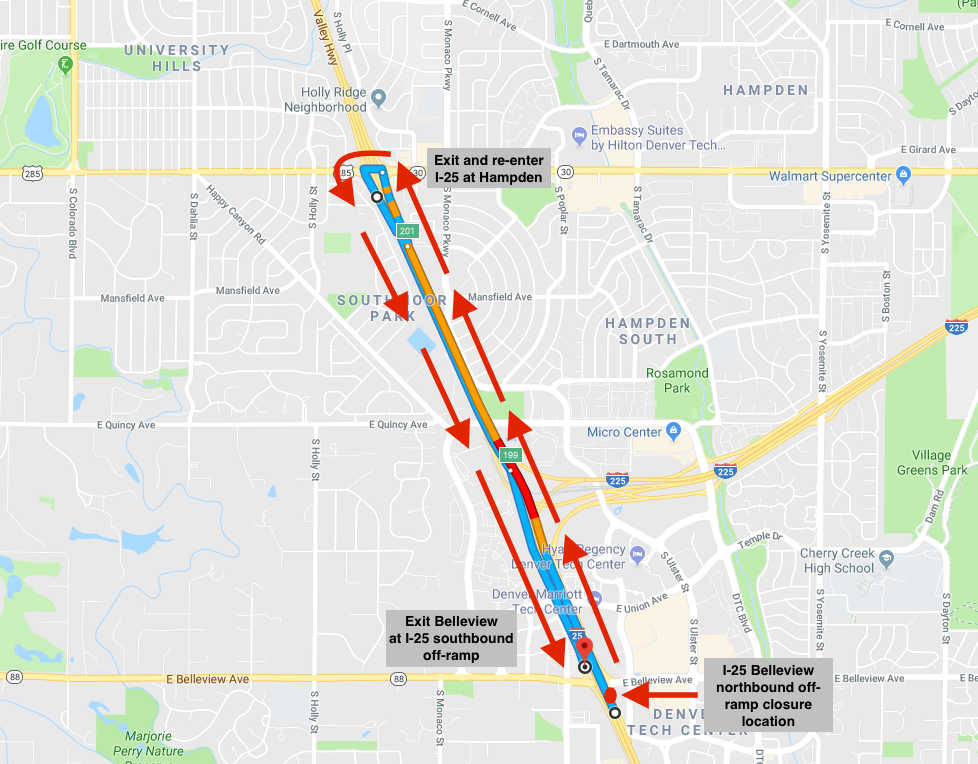 ARAPAHOE COUNTY—Crews will work from 9 p.m. Friday, June 9 through 9 a..m. Saturday, June 9 to pave the northbound lanes of I-25 between East Arapahoe Road and Belleview Avenue. This work is part of the I-25 Overlay: C-470 to Belleview Avenue project.
Motorists should also expect a temporary full closure of the East Orchard Road on-ramp to northbound I-25, as well as the northbound I-25 off-ramp at Belleview Avenue on Friday.
Detour
A detour will be in place rerouting traffic from East Orchard Road to access northbound I-25 at the Belleview Avenue on-ramp via Quebec Street or DTC Boulevard during the full-ramp closure. A detour will also be in place rerouting traffic to Hampden Avenue to re-access I-25 and exit at Belleview Avenue from southbound I-25 during the northbound I-25 Belleview Avenue off-ramp closure. These closures will be in affect at different times during work hours.
Various lane closures on I-25 northbound between Belleview Avenue and East Arapahoe Road will be in effect while crews are paving in the project zone. The full-ramp closure will only last for a few hours on Friday night during work hours and will be open to motorists during the day.
Since April, crews have been conducting bridge deck and median barrier repairs on I-25 between C-470 and Belleview Avenue. Work is expected to last through winter 2018 on this project.
Travel Impacts
Expect various lane closures on northbound and southbound I-25 during work hours on this project. Typical hours will be between 8 p.m. and 5:30 a.m. Sunday through Thursday. Weekend work may occur as needed. There will be a speed reduction through the project zone to 55 mph during work hours.