US 550 South Closure for "416 Fire" Moves to Hermosa
June 7, 2018 - Highway to remain closed until evacuation is complete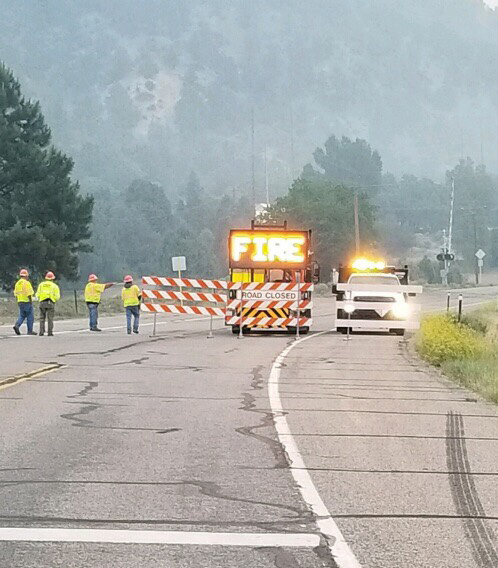 SOUTHWEST COLORADO—A closure point put in place due to a fire on US Highway 550 has moved further south to accommodate a new evacuation notification. The new south closure point is at mile point (MP) 32.2, where the train tracks cross the highway just north of Cometti/Mead Lane, in Hermosa.
The southern relocation will provide needed access for those in Hermosa affected by the mandatory evacuation notice—residents and businesses from Cometti/Mead Lane, north to County Road 250 and US 550.
US 550 will remain closed Thursday until evacuations are complete.
The north closure point on US 550 remains at Electra Lake, just south of Purgatory, at approximately MP 43.5.
Once US 550 is re-opened to through traffic, the highway should remain open until 6 p.m. However, if fire activity increases, US 550 could close again at any time.
Travelers are reminded:
When US 550 is temporarily opened, travel is limited to through traffic only.
Follow the law enforcement escort vehicle and remain in the east lane. This is a one-lane, alternating traffic configuration. It is important to stay with the escort vehicle so that you do not encounter oncoming traffic or emergency/fire vehicles and equipment.
Do not pass other vehicles.
Do not stop in the burn area. Do not stop to take photos.
No access is available for recreation at lakes, streams or trails in the closure area.
A vehicle-width restriction of 10 feet is in place.
Motorists departing Silverton should allow for ample time to reach the north closure point before the road is closed at the end of the day.
When the closure is implemented, travelers may want to consider the westerly alternate route through Colorado Highway 145, Lizard Head Pass.
The "416 Fire" continues to burn on the west side of US 550, about 10 miles north of Durango. The fire has grown to more than 4,000 acres and is 10 percent contained.
416 FIRE INFORMATION RESOURCES
Fire information hotline: 970-403-5326
Fire email:

[email protected]

Fire incident social media: @416Fire and @SanJuanNF
Evacuation Information: @LaPlataCounty
CDOT ROAD INFORMATION RESOURCES