Southbound I-25 at Crossroads to Switch to New Bridge Thursday Night
March 6, 2018 - Work has been rescheduled due to weather

LARIMER COUNTY—From 9 p.m. Thursday, March 8 through 5 a.m. Friday, March 9, CDOT and contractor RL Wadsworth will switch traffic on southbound Interstate 25 at the Crossroads Boulevard exit to the final alignment.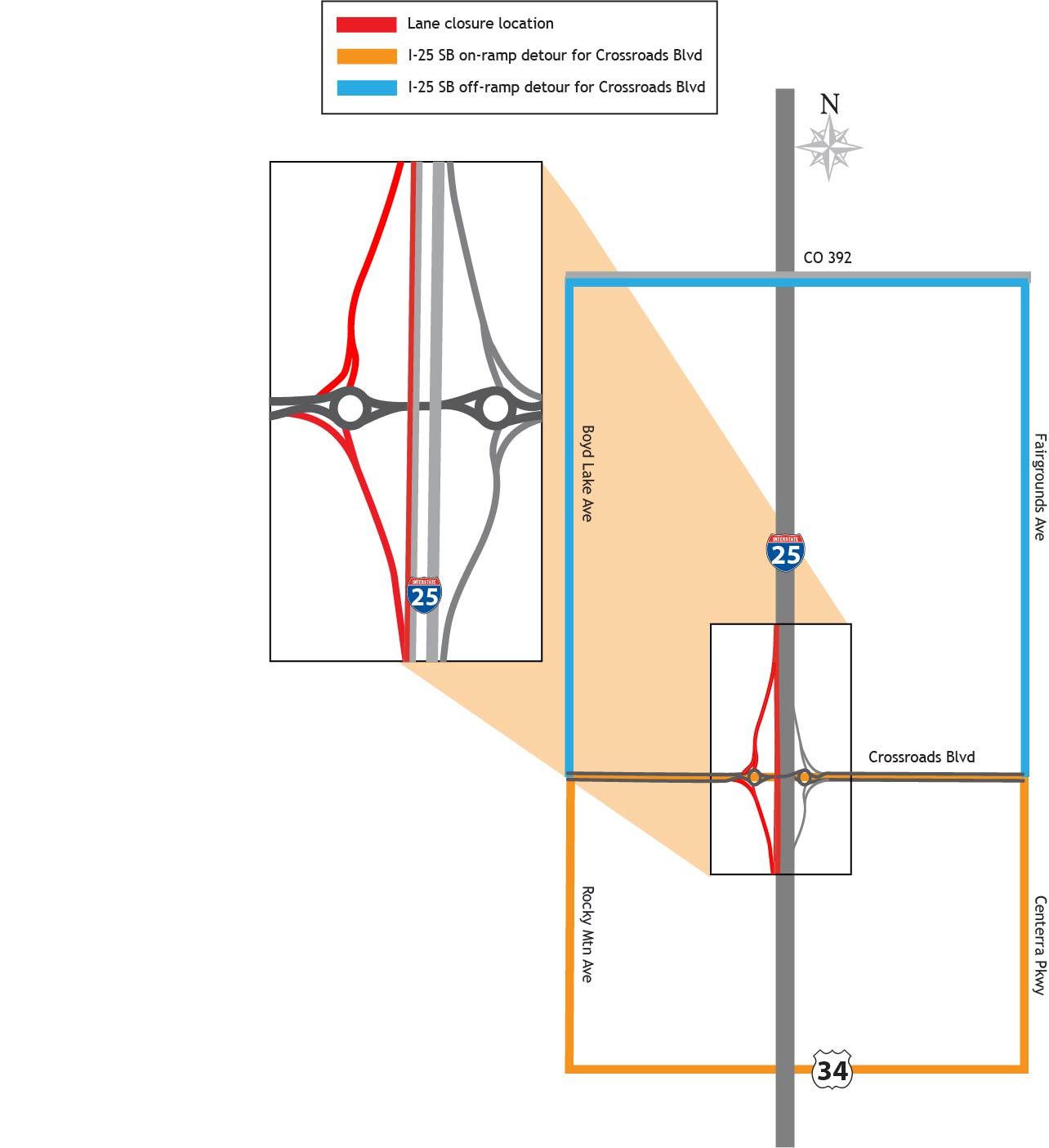 Expect alternating lane closures on southbound I-25, as well as closures of the southbound I-25 off-ramp for Crossroads Boulevard and the Crossroads Boulevard on-ramp for southbound I-25.
The traffic switch is weather dependent for the work to be completed. The interstate must be restriped with new reflective lines so motorists can clearly see the defined lanes when traveling. To apply new stripes to the ground, it needs to be at least 30 degrees Fahrenheit and have a dry surface area for a full 24 hours prior to striping. The striping and traffic switch can only happen at night due to the significant traffic impacts affecting the traveling public on southbound I-25.
Two previous attempts to switch the traffic were thwarted by Mother Nature.
"The contractor and CDOT are working diligently together to open the new southbound I-25 alignment as quickly and safely as possible to the motoring public, given the winter weather conditions." says CDOT Resident Engineer Chris Boespflug.
This will be the final alignment for I-25 for this project, which replaced both the northbound and southbound bridges with wider bridges that will accommodate the upcoming expansion of I-25, and widen the area under the bridges for Crossroads Boulevard.
Traffic Impacts
Detour:
Access Crossroads Boulevard via southbound I-25:

Exit at CO 392 (Exit 262) and take either Boyd Lake Avenue or S. CO Road 5/N. Fairgrounds Avenue south to Crossroads Boulevard.

Access southbound I-25 from Crossroads Boulevard:

Take either Rocky Mountain Avenue or Centerra Parkway south to US 34.
From 9 p.m. Thursday, March 8 to 5 a.m. Friday, March 9, there will be alternating right -and left-lane closures on southbound I-25. During this time, crews will be removing the crossover markers and concrete barriers along this section. Motorists could expect 10- to 15-minute delays. Please plan accordingly.
Motorists should plan additional travel time to pass through the construction zone. Speed limits will be reduced in the construction zone for the safety of the traveling public and construction crews in the area.