I-25 Lane & Ramp Closures Start Nov. 8 in Pueblo for Ilex Project
Nov. 7, 2018 -

PUEBLO—By 7 p.m. Thursday, Nov. 8, 2018, crews will shift southbound I-25 west, just south of I-25 over the Union Pacific Railroad bridge. At this time, the southbound off-ramp at Santa Fe Avenue - US 50/exit 98A will re-open.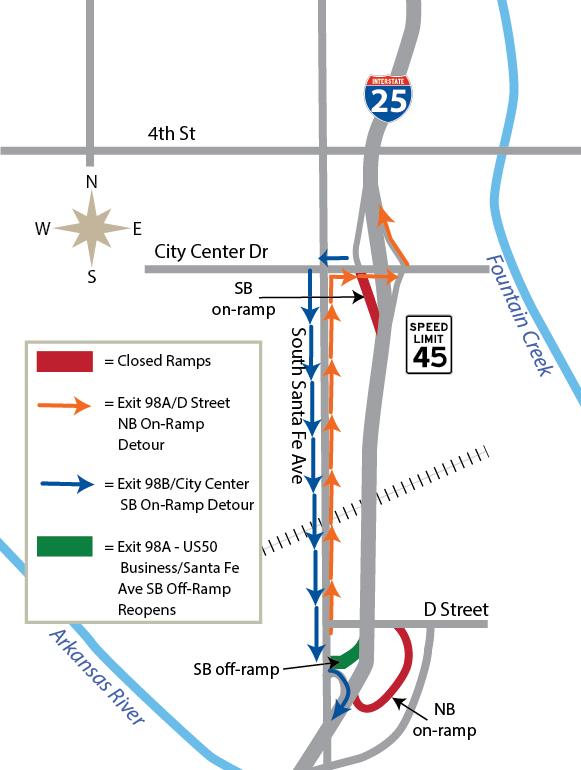 Other Travel Impacts
By 9 a.m. Friday, Nov. 9, crews will close the northbound on-ramp at D Street/exit 98A. It will re-open by the end of November.
On Thursday, Nov. 8, and Friday, Nov. 9, expect daytime lane closures in both directions of I-25 between the Arkansas River and City Center Drive for striping and barrier placement.
By 7 p.m. Friday, Nov. 9, crews will shift northbound I-25 into a temporary configuration to the west.
The southbound on-ramp at City Center Drive/Exit 98B remains closed.
Speed limits remain reduced to 45 mph throughout the project area. Please use caution in the construction zone.
Project Info
The I-25 Ilex Street to City Center Drive project is the first project of the New Pueblo Freeway: the reconstruction of I-25 between City Center Drive (1st Street) and Ilex Street through downtown Pueblo. Construction includes upgrading several bridges south of downtown. The project began in July 2015, and is scheduled to be complete by spring 2019.