3,000 Coloradans Snag Personal Breathalyzers in CDOT Campaign to Prevent DUIs
Oct. 22, 2018 - Colorado First in Nation in BACtrack Breathalyzer use and Sales

STATEWIDE—Empowering Coloradans to practice safe drinking habits and avoid DUIs, CDOT recently completed a summer of impaired-driving education in which more than 3,000 alcohol breathalyzers were sold at a deep discount or given away free.
The "Colorado Blows Before Driving" campaign, in partnership with BACtrack, offered an unprecedented 50 percent discount on breathalyzers exclusively to Colorado residents. Between July and September, BACtrack sold 2,866 breathalyzers. Additionally, in partnership with Responsibility.org, 200 units were distributed at no cost to Coloradans ages 21 to 34, encouraging breathalyzer use among young adults.
More than anywhere else in the country, Colorado is embracing the use of breathalyzers. Colorado BACtrack.com breathalyzer sales in 2017-2018 are the highest in the nation. In addition, for Amazon.com sales, Colorado ranks second per capita in 2017-2018, and higher than any other state in 2016-2017. What's most surprising is that Colorado recorded such high sales even without the discounted or free breathalyzers from CDOT's summer campaigns. BACtrack is the top seller of breathalyzers in the country.
Not only are Coloradans purchasing breathalyzers at an impressive rate, but they're also putting them to use more than any state. Based on anonymous user data from BACtrack's mobile devices, over the last two years (Oct. 1, 2016, to Sept. 30, 2018), Colorado ranks first in per capita breathalyzer use, more than four times the national average.
"We're encouraged that so many Coloradans are choosing to invest in their safety by purchasing breathalyzers," said Sam Cole, CDOT communications manager. "Breathalyzers can help eliminate impaired driving; almost one-third of our state's road fatalities involve an impaired driver. If people are informed of their blood-alcohol content (BAC) while they drink, it will help them make the safe and informed decision to find a sober ride. We hope the new breathalyzer owners will share them with friends and family—especially as we approach the holidays."
Statewide heightened DUI enforcement begins on Friday, Oct. 26, for Halloween weekend festivities.
The 50 percent discount has expired, but BACtrack is still offering a 20 percent discount on personal breathalyzers exclusively to Colorado residents. This discounted price expires Nov. 15. Those interested can visit codot.bactrack.com to purchase a breathalyzer.
CDOT was busy this summer at various events around the state, allowing attendees to test a breathalyzer for themselves. CDOT brought breathalyzer street teams to the Colorado Springs Beer Fest, the Colorado Renaissance Festival, Taste of Colorado, Velorama, Film on the Rocks at Red Rocks and to several Geeks Who Drink trivia nights in Denver, Boulder and Arvada, among other events.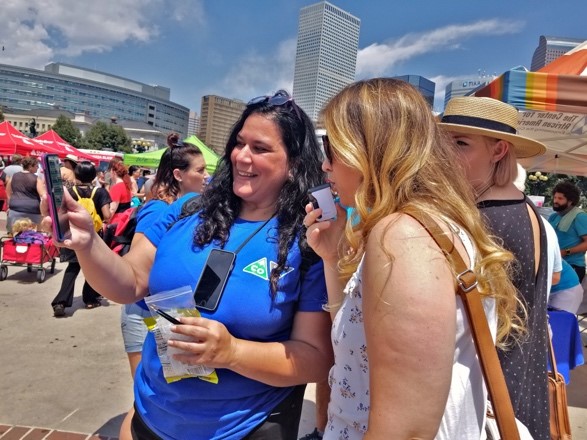 To conclude the summer outreach, CDOT attended a Colorado Rockies game dressed as stadium vendors and tested fans' BACs as they entered Coors Field. Altogether, CDOT conducted approximately 1,200 breathalyzer tests during the summer.
"Using a breathalyzer is a great way to become informed and keep yourself safe while drinking. We're pleased to have CDOT as a partner to help us spread that message in the context of impaired driving," said Keith Nothacker, founder and CEO of BACtrack. "We hope those who purchased a breathalyzer or had the chance to try one continue to use them, and share their experiences with others who could benefit from the devices."
CDOT is working with BACtrack, a leading personal and professional breathalyzer company, to educate the public about making informed decisions when they drink by testing their BAC. Colorado residents can visit codot.bactrack.com to purchase any BACtrack for a 20 percent-off discount. CDOT's summer breathalyzer outreach was also supported by the Foundation for Advancing Alcohol Responsibility (Responsibility.org). The Foundation brings more than 25 years of leadership in the fight against drunk driving and underage drinking.
"We're thrilled to see Coloradans are taking a responsible approach to drinking by purchasing breathalyzers," said Responsibility.org President and CEO Ralph Blackman. "Many people have no idea what the legal BAC limit feels like and how many drinks it takes to get to that legal threshold. Breathalyzers keep people informed of their impairment level and gain a better understanding of the BAC limits to avoid driving impaired."
Breathalyzers are a tool to help drinkers make better decisions, but CDOT recommends always having a safe ride planned before you start drinking. To learn more, visit HeatIsOnColorado.com.