CDOT Announces new Webpage for Southwest Colorado Project
Sept. 5, 2018 - Contractors and Vendors Encouraged to Register Businesses and use Online Tools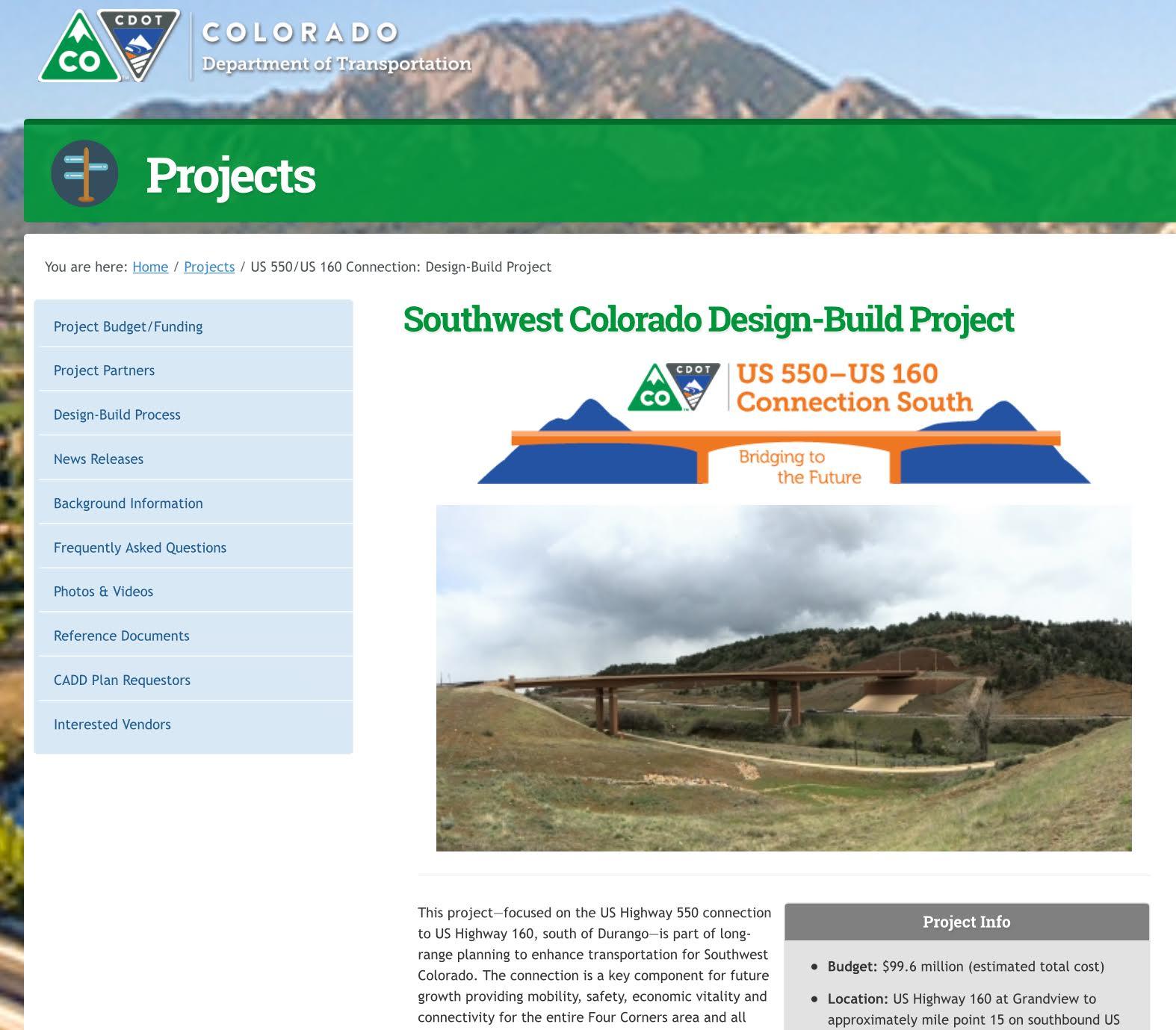 SOUTHWEST COLORADO—CDOT has created a new webpage for a major realignment project on US Highways 550 and US 160.
The webpage, US550-160ConnectionSouth.codot.gov, provides detailed information about the project, which will realign US 550 to the existing US 160 Grandview interchange, eliminating the steep grade and curvy descent of the current US 550 Farmington Hill, just south of Durango.
"This webpage has some excellent interactive features for contractors and vendors interested in getting involved with this project," said CDOT Resident Engineer David Valentinelli. "Companies and businesses can obtain helpful background information from the dynamic timeline, or access and download CADD [computer-aided design and drafting] file documents."
An additional feature helps connect businesses with one another.
"We encourage all types of companies to register their business online. Just click on the 'Interested Vendors' drop-down menu," continued Valentinelli. "This project will require a multitude of services—skills like design, excavation, traffic control and public information, to name a few. This is a way for contractors, subs or vendors to showcase what they can offer."
Other useful information found on the webpage includes:
CDOT expects to select a prime contractor for this approximately $100 million design-buil project by the end of 2019. However, the timeline for final design-build contractor selection may flex depending upon the outcomes of the upcoming ballot measures in November 2018. The design-build process allows CDOT to establish a project scope, goals and design criteria, then select a team base for "best value." This often enables CDOT the flexibility to maximize the scope of work and stretch limited project funding.
Background
The US 550-US 160 Connection South Project, focused on linking US 550 to US 160 at the existing interchange, is part of long-range planning to enhance transportation for Southwest Colorado. The connection is a key component for future growth providing mobility, safety, economic vitality and connectivity for the entire Four Corners area, and all communities within this region.
Stay Informed
Hotline: 970-385-1428
Travel conditions: COtrip.org