I-25/Tomah Road Ramp Closure Postponed to Sept. 17-18
Sept. 14, 2018 -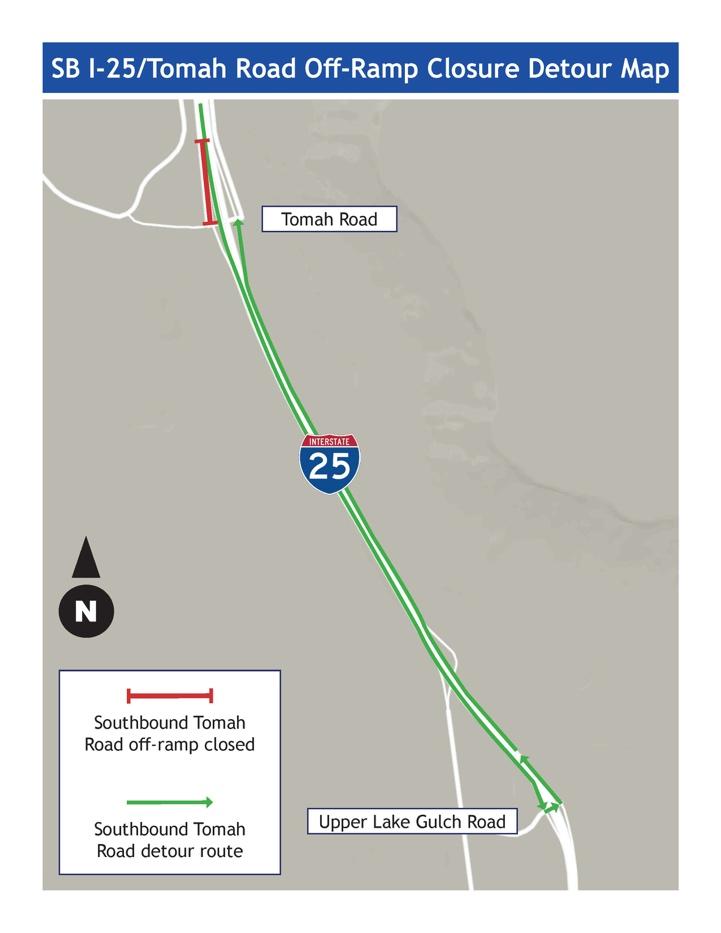 LARKSPUR—Crews have rescheduled an overnight closure of the southbound I-25 off-ramp to the Tomah Road interchange ( Sky View Lane) to 10 p.m. Monday, Sept. 17 to 4 a.m. Tuesday, Sept. 18. The I-25 South Gap project work—originally set to be completed overnight Sunday—has been rescheduled to accommodate Broncos traffic.
Crews will shift traffic to the outside shoulders of a five-mile stretch so they can work safely in the I-25 median between Plum Creek Parkway and  Sky View Lane, which is where Express Lanes will be built. Travelers can expect more overnight single-lane closures for the next several weeks as crews place barrier and restripe to create the work zone.
Sunday's overnight closure will allow crews to safely stripe a new white line on the edge of the road, and place traffic cones near the Tomah Road exit, without the hazard of vehicles using the ramp to exit.
Detour
Drivers will detour about two miles on southbound I-25 to the Upper Lake Gulch Road interchange, where they will exit and get back onto northbound I-25 to reach Tomah Road.
The Spruce Mountain exit between Tomah Road and Upper Lake Gulch Road has a less direct connection to northbound I-25, so the most efficient detour is Upper Lake Gulch Road. Please stay on I-25 and avoid using frontage roads.
Travel Impacts
Throughout construction, crews will close lanes and ramps from 8 p.m. to 5 a.m., when traffic volumes are lowest.
Two lanes of traffic will remain open during the day in both directions on I-25.
Watch for trucks entering and exiting the median, and obey the reduced speed limit of 65 mph in the I-25 construction zone, and 45 mph on the frontage roads.
Ultimately, crews will shift traffic to the outside shoulders in both directions of I-25 between Plum Creek Parkway and

 Sky View Lane

. Drivers along northbound I-25 may start to see this shift as early as Thursday morning, Sept. 20.
Project Info
CDOT is improving 18 miles of I-25 from south of Castle Rock to Monument by widening the road from two to three lanes in each direction. The new lane will operate as an Express Lane, allowing motorists the choice of taking the Express Lane for a faster and more reliable travel time in exchange for a toll, or driving the general-purpose lanes for free. Carpools with three or more people will be able to ride the Express Lane for free. 
Other improvements include widening the shoulders, rebuilding bridges, building new wildlife crossings, resurfacing with new pavement and modernizing technology. 
The cost of the project is $350 million. Substantial completion of the project is expected late 2021, with Express Lanes opening in 2022.