US Highway 84 Honors the Memory of Nolan Olson
Sept. 27, 2018 -

SOUTHWEST COLORADO—On Thursday, Sept. 27, CDOT dedicated US Highway 84 south of Pagosa Springs as the "Nolan Olson Memorial Highway." CDOT Maintenance Operator Nolan Olson died earlier this year after he sustained injuries from being struck by a vehicle while working on a US highway.
Olson's death sheds light on the importance of slowing down and giving undivided attention while driving through work zones.
The crash occurred on Feb. 2, when Olson—a member of the Pagosa Springs maintenance patrol—was filling potholes on US 160 in Southwest Colorado. Olson was severely injured and received treatment for more than a week. Olson succumbed to his injuries and died on Feb. 11.
CDOT unveiled the new memorial signs at a quiet ceremony Thursday, Sept. 27. The event was a small gathering of family and co-workers.
Earlier this year, the Colorado Legislature passed Senate Joint Resolution 18-010 giving US 84 the designation honoring the late Nolan Olson. The legislation was introduced by Rep. Barbara McLachlan, who attended the memorial sign unveiling ceremony.
"Mr. Olson was a hardworking Coloradoan who strived to make our state a better place to live," Rep. McLachlan said. "He and his family contributed so much to Pagosa Springs, Archuleta County and Colorado. I am proud to be a small part of recognizing the role Mr. Olson has in inspiring all of us to work hard and be our best."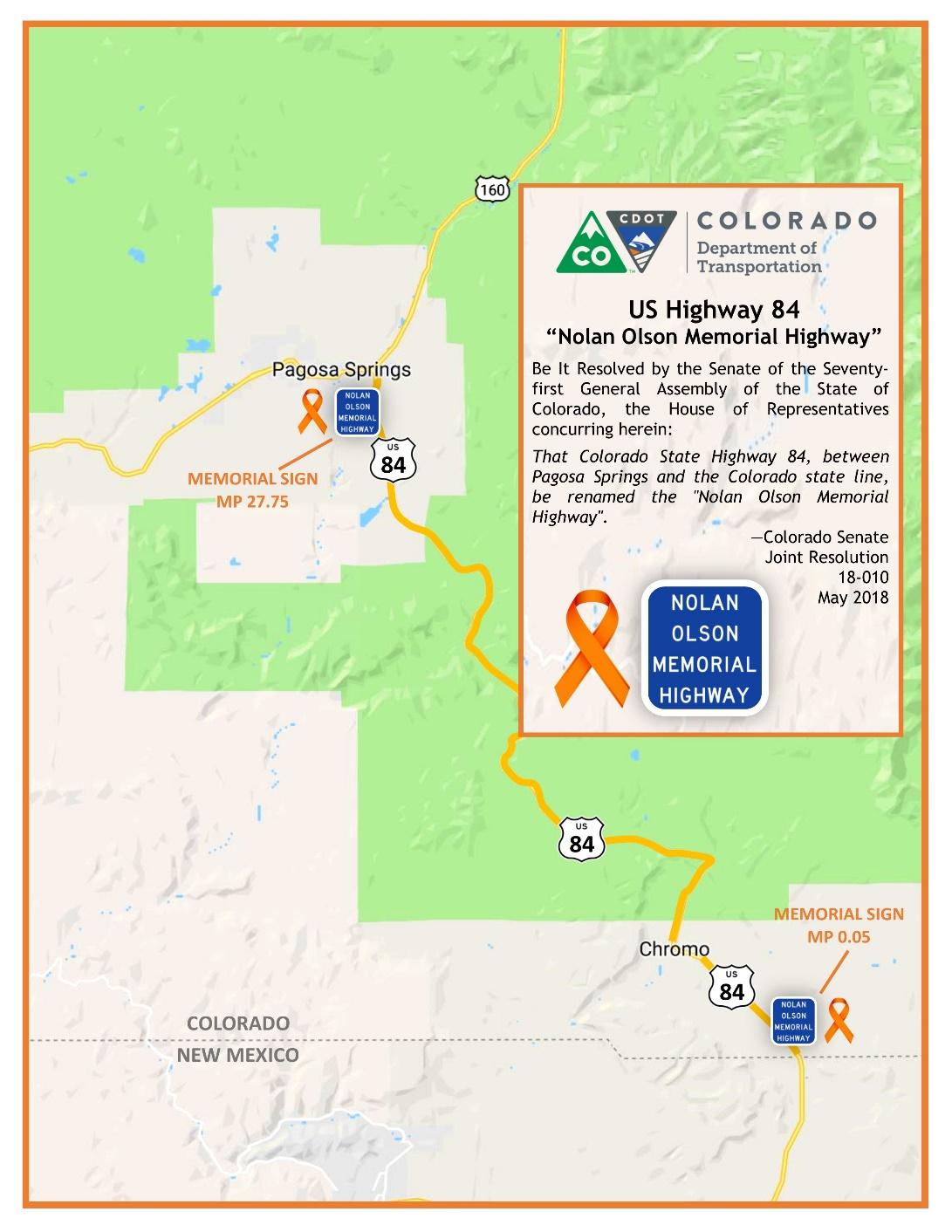 The resolution states:
Be It Resolved by the Senate of the Seventy-first General Assembly of the State of Colorado, the House of Representatives concurring herein: That Colorado State Highway 84, between Pagosa Springs and the Colorado state line, be renamed the "Nolan Olson Memorial Highway."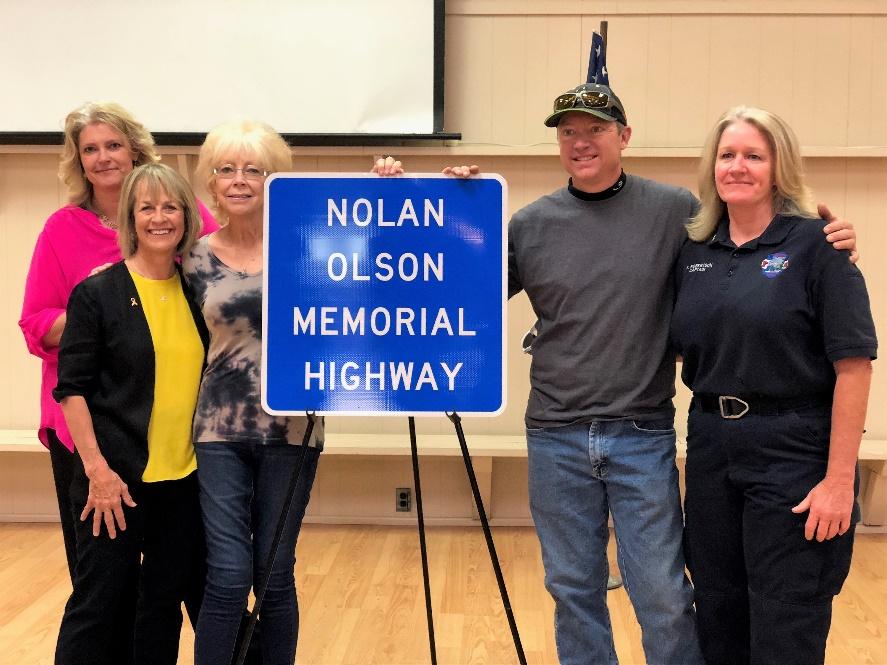 Rep. McLachlan attended the memorial sign unveiling ceremony to share her condolences with the Olson family. She stands second from left. Family members include (from left), Tonya Hamilton, Mrs. Sandi Olson, Aaron Hamilton Kelly Robertson.
US 84 is a short highway, approximately 28 miles long, south of Pagosa Springs. US 84 begins at the New Mexico state line and curves its way north through the rolling hills and mountains toward Pagosa Springs. The highway stops at its north end at the junction of US 160, just to the east of the Pagosa Springs town limits. Two memorial signs have been erected along the highway, one at mile point (MP) 0.05 near the Colorado-New Mexico border, and the other at MP 27.75 near the US 160 junction.
CDOT assures businesses and residents that the renaming of US 84 is an honorary designation only; there is no need to change any addresses or contact information.