Gov. Polis Joins CDOT, CDPHE & CSP to Launch New Safety Initiative
April 8, 2019 - Work Zone Awareness Week reminds all drivers to "Drive Like You Work Here"

DENVER—Gov. Jared Polis today joined the Colorado Department of Transportation, the Colorado Department of Public Health and Environment and the Colorado State Patrol during Work Zone Awareness Week to announce a new statewide safety program.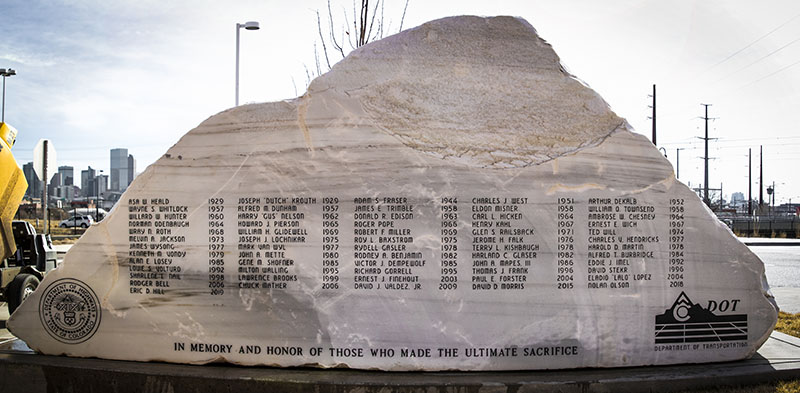 "Safety is more than just a week; it's every day of the year," Polis said. "Every time we get in our vehicles—whether it's a car, SUV, motorcycle or pick-up—it has to be top of mind."
To heighten safety awareness, today CDOT announced its "Whole System Whole Safety" initiative. This project takes a systematic statewide approach to safety, combining the benefits of CDOT's programs that address human factors, physical assets and organizational culture to better support real-time operations.
"The goal is to improve the safety of Colorado's transportation network by reducing the rate and severity of crashes, and improving safety conditions for those traveling by all transportation modes," said CDOT Executive Director Shoshana Lew. "The program has one simple mission: to get everyone home safely."
Whole System Whole Safety sets real goals and achievable results using actual activities that can be done now. This includes additional rumble strips and six-inch striping on roadways—both highly effective, low-cost ways of keeping vehicles on the road. It also includes helping drivers understand the rules of the road, from the Move Over Law to designated passing lanes. Organizationally, CDOT plans to integrate its maintenance and operations divisions to streamline incident command to speed up incident response.
CDOT also kicked off Work Zone Safety Awareness Week at a remembrance ceremony honoring 61 fallen employees lost in the line of duty. Each employee's name is etched into a memorial outside CDOT's headquarters in Denver. Since 2015, three employees have been killed in work zones: Eric Hill from Gypsum; David Morris from Poncha Springs; and Nolan Olson from Pagosa Springs.
"Today we honor and recognize all those who have lost their lives in the line of duty along our highways," Lew said. "Remembrance Day is a time to pause and remember the contributions of Eric, David and Nolan, and their ultimate sacrifice. It's also a reminder for all of us to use caution in work zones. Somebody's life is at stake."
With more people than ever choosing to get out of their cars and walk or bike, pedestrians and bicyclists are also vulnerable. CDOT is committed to building new projects that protect its most vulnerable roadway users. In the coming year, CDOT will encourage more people to use mass transit—one of the safest modes of transportation, and one that will reduce pollution and emissions.
"Traffic crashes place an enormous strain on our health care system," said CDPHE Executive Director Jill Ryan. "Just about every crash is preventable, so we embrace CDOT's efforts to double down on safety and get everyone home to their families."
Despite a three percent dip in 2018, fatalities are up 40 percent since 2010, from 450 to 628. But year-to-date, in 2019, fatalities on Colorado roads have dipped 30 percent and now stand at 87, versus 126 this time last year. CDOT's new safety initiative will work to sustain this forward momentum.
"There is never an excuse for driving impaired or any other behavior that puts others at risk on our roadways," said CSP Chief Matthew Packard. "Our troopers work day and night to remove unsafe drivers from our roads and help motorists in distress."
The top three factors in traffic fatalities each year are impaired driving, excessive speed and not wearing a seat belt. With funding from the National Highway Traffic Safety Administration, CDOT's awareness campaigns and law enforcement efforts help address these issues and others, including distracted driving, child passenger safety and pedestrian safety.
About CDOT
CDOT has approximately 3,000 employees throughout Colorado, and manages more than 23,000 lane miles of highway, and 3,429 bridges. CDOT also manages grant partnerships with a range of other agencies, including metropolitan planning organizations, local governments and airports. It administers Bustang, the state-owned and -operated interregional express service. Gov. Jared Polis has charged CDOT to further build on the state's intermodal mobility options.