Southwest and South-Central Colorado Winter Storm Update and Recap
February 15, 2019 - Southwestern Colorado
5:00 p.m. ― US 550 Red Mountain Pass remains CLOSED. Crews continue to work clearing snow from the highway after triggering slide paths throughout the day. 
2:10 p.m. ― US 550 Coal Bank and Molas Passes were opened.
1:30 p.m. ― CO 145 Lizard Head Pass was fully opened. (After single-lane alternating traffic was allowed at 11:15 a.m.)
9:15 a.m. ― US 50 Monarch Pass was opened.
These mountain passes and corridors experienced heavy wet snowfalls beginning Thursday, Feb. 14. The significant snow accumulations caused several natural avalanches and snow slides, prompting the closure of the highways overnight. No vehicles were caught in any slides. Crews set out to perform avalanche mitigation first thing this morning and worked throughout the day to get highways safely opened.
The weather forecast calls for additional snow storms and moisture in southwest and south-central Colorado over the next few days. Motorists are urged to watch the weather in their area and check COtrip.org for updated road conditions.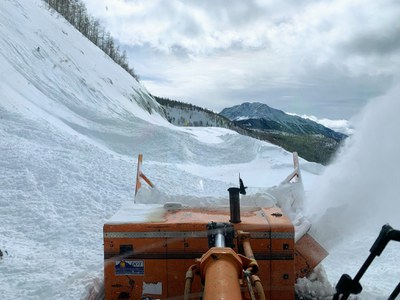 (Yes, there's a road there!) A heavy duty snow blower makes its way through several feet of snow on U.S. 550 Molas Pass, just south of Silverton.