THANK YOU! ― San Luis Valley Project Celebration
November 1, 2019 - Southwestern Colorado
South-Central CDOT Region 5 extends our sincere thanks for your interest and attendance at this week's celebration of three San Luis Valley highway projects. The highway improvements have greatly enhanced the safety and mobility for area travelers. The projects recognized included: 
CO 112 Resurfacing (near Center); CO 159 Resurfacing (Ft. Garland to San Luis); and US 285 Chip Seal (Antonito to Estrella).
At the event, CDOT Resident Engineer, Aurthur Miller noted that the improvement on all three highways will greatly improve safety for motorists. 
"Resurfacing projects are significant in helping us gain a lot of extra life out of an existing roadway. It also improves the friction of the road surface and increases the safety factor by keeping people on the road."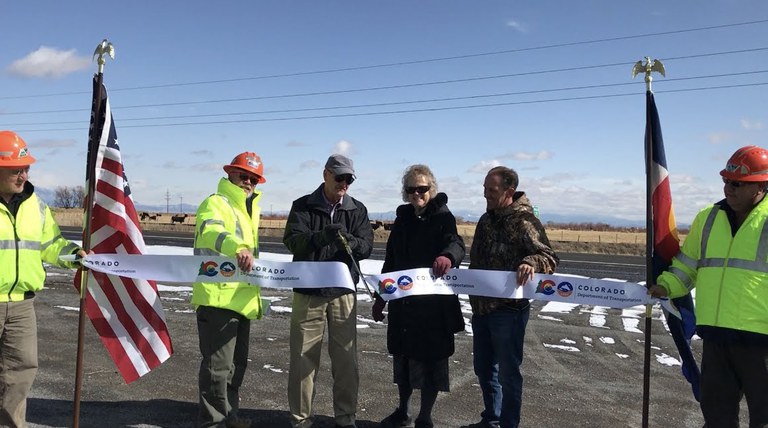 CDOT Program Engineer, Kevin Curry
also discussed the importance of well maintained highways for local economies, "San Luis Valley communities rely on these highway corridors for economic growth and development. The agriculture industry depends upon safe, passable roads to transport goods and products.
 Additionally, 
safe and well maintained roads are important to our tourists who visit the area with its many attractions like the Great Sand Dunes National Park, all the historic communities and landmarks along the scenic and historic byway of Los Caminos Antiguos and the beautiful Sangre de Cristo Mountains."
We appreciate the support of our valuable partners − the Counties of Alamosa, Conejos, Costilla, Rio Grande and Saguache; all the communities within these counties; and our valued contractors and sub-contractors who performed the work on the projects.
Honorable county officials also shared a few words:
Alamosa County Commissioner, Mike Yohn
:
"Being in a rural community, $11 million on projects in one year for the valley, that's big! It really helps the safety and that's what it's all about. When you can save a life, that's what it's all about."
Conejos County Commissioner, Mitchell Jarvies: "I'd also like to thank CDOT for the re-striping on U.S. 285 at Centauri High School. That has been a difficult location, and the improvements have made a big difference and helped for the safety of our kids."    
Alamosa County Commissioner, Helen Sigmond: "Transportation is so important. We thank CDOT for all the work and the planning they do. These projects have rankings and they are built in the order of priority, so appreciate the getting valley projects on list and getting us taken care of."