CDOT Partners with Local Bars to Urge Motorcyclists to Wear Proper Gear
October 1, 2019 - Denver Metro Area, Colorado - 20% of traffic fatalities in 2019 are motorcyclists  
DENVER – As prime riding weather approaches, the Colorado Department of Transportation (CDOT) is encouraging motorcyclists across the state to wear appropriate safety gear when they hit the road this fall. Though motorcycles account for 3% of all registered vehicles in Colorado, they represent 20% of all traffic fatalities to date in 2019.
In an effort to prevent motorcycle fatalities and serious injuries, CDOT is launching a new campaign to reach motorcyclists about the importance of wearing protective gear. In 2019, there have been 85 motorcycle fatalities.  
In the campaign CDOT is working with local bars and motorcycle events to distribute information with catchy phrases about the life-saving benefits of helmets, gloves and other gear. The catchy phrases appear on over 1500 drink coasters and posters at bars and other venues in the state. The coasters, shaped as a helmet and gloves, depict messages like "Don't want to leave a mark? Wear a helmet" and "Clinically proven to prevent road rash. Wear proper riding gear."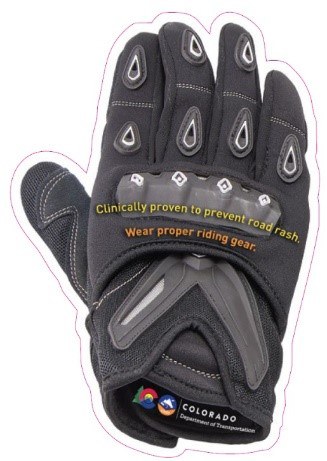 In addition, radio ads will run on Pandora and Spotify and use similar phrases to encourage the use of proper gear while riding. View all campaign assets here.
"Even the best motorcycle riders can be involved in a crash," said CDOT Executive Director Shoshana Lew. "Therefore, CDOT is working to find unique and engaging ways to urge motorcyclists to always wear helmets and other protective gear. We hope this campaign grabs the attention of motorcyclists and helps everyone get home safely."
From 2012 to 2018, motorcyclist fatalities increased more than 30%. Motorcycle fatalities reached a peak of 125 in 2016.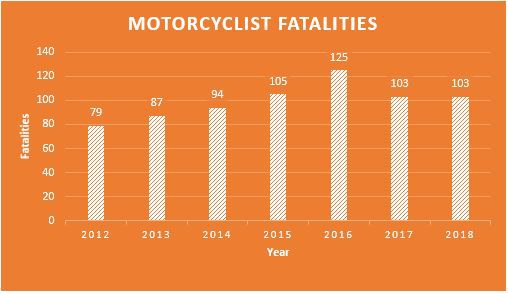 CDOT urges motorcyclists to:
Wear proper gear.
Proper gear includes boots that cover the ankles, riding pants and jacket, gloves, eye protection and a helmet.
Receive professional training.
All motorcyclists should receive professional training. Long time riders should go to training classes for a refresher every few years.
Follow all traffic laws.
All motorcyclists are required to follow the rules of the road. In Colorado, lane splitting is illegal.
Ride sober.
Even one drink can decrease reaction times, coordination, vision, judgement and concentration, all of which are crucial when operating a motorcycle.
This year Governor Polis designated May as Motorcycle Safety Awareness Month and proclaimed Aug. 12 as Motorcyclist Memorial Day.
CDOT motorcycle safety efforts are part of CDOT's Whole System – Whole Safety campaign which aims to reduce fatalities and injuries and "Bring everyone home safely."
WHOLE SYSTEM. WHOLE SAFETY.  
To heighten safety awareness, CDOT recently announced its Whole System — Whole Safety initiative. This project takes a systematic statewide approach to safety combining the benefits of CDOT's programs that address driving behaviors, our built environment and the organization's operations. The goal is to improve the safety of Colorado's transportation network by reducing the rate and severity of crashes and improving the safety of all transportation modes. The program has one simple mission—to get everyone home safely.
ABOUT CDOT
CDOT has approximately 3,000 employees located at its Denver headquarters and in regional offices throughout Colorado and manages more than 23,000 lane miles of highway and 3,429 bridges. CDOT also manages grant partnerships with a range of other agencies, including metropolitan planning organizations, local governments and airports. It also administers Bustang, the state-owned and operated interregional express service. Governor Polis has charged CDOT to further build on the state's intermodal mobility options.