Pedestrian crossing improvements completed  on U.S. Highway 50 in Gunnison
October 14, 2019 - Northwestern Colorado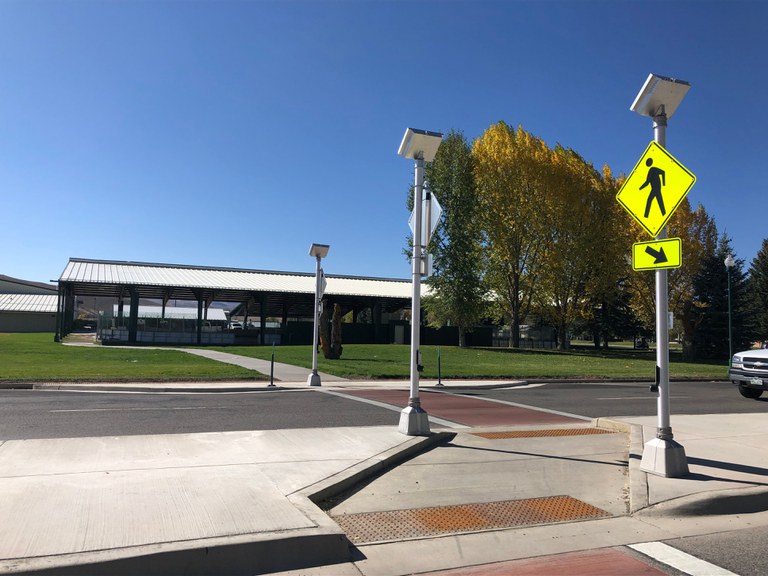 Gunnison County — The City of Gunnison and the Colorado Department of Transportation are pleased to announce the completion of the pedestrian crossing improvements on U.S. Highway 50 in Gunnison.  The project started approximately 3 months ago, at the beginning of July, and was completed on time. Western Gravel Constructors was the contractor selected for the $540,000 project.
As part of CDOT's Whole System Whole Safety initiative, the City of Gunnison's improvement project focused on safety enhancements to the intersections of U.S. 50 at 11th Street and Jorgensen Park. Jorgensen Park and 11th Street are busy intersections with increased pedestrian traffic. The new flashing beacon crosswalk signs will be more effective at increasing driver yielding rates and will add increased driver awareness of crosswalks. The improvements will help reduce the risk of multi-threat crashes on this multi-lane, busy roadway. The raised median area, constructed between opposing lanes of traffic, will help add a safe pedestrian refuge and reduce the delay time for pedestrians waiting for a gap in traffic. The construction of 10 additional Americans with Disabilities Act (ADA) compliant curb ramps will provide functional accessibility to all travelers using our state and U.S. highways.
The project also included the removal of the existing asphalt mat, new concrete crosswalks, improvements to storm drainage, and striping.
WHOLE SYSTEM. WHOLE SAFETY.  
Earlier this year, CDOT announced its Whole System — Whole Safety initiative to heighten safety awareness. This initiative takes a systematic, statewide approach to safety combining the benefits of CDOT's programs that address driving behaviors, our built environment and the organization's operations. The goal is to improve the safety of Colorado's transportation network by reducing the rate and severity of crashes and improving the safety of all transportation modes. The program has one simple mission — get everyone home safely.
ABOUT CDOT
CDOT has approximately 3,000 employees located throughout Colorado, and manages more than 23,000 lane miles of highway and 3,429 bridges. CDOT also manages grant partnerships with a range of other agencies, including metropolitan planning organizations, local governments and airports. It also administers Bustang, the state-owned and operated inter-regional express service. Governor Jared Polis has charged CDOT to further build on the state's inter-modal mobility options.