US 160/550 high bridge project in south Durango limits traffic to one lane in each direction
October 1, 2019 - Southwestern Colorado - Drivers urged to "zipper/late merge"  
With safety in mind, the Colorado Department of Transportation along with American Civil Constructors will decrease traffic to one lane in each direction on the "high bridge" on US 160/550 located between Bodo Park and Walmart. Motorists in the Durango area will experience single lane traffic restrictions at the bridge which will help with construction efforts and will maintain safety for crews and motorists.
"As the construction crew began set up of the work zone last week, it was realized that a one lane restriction (both east- and westbound) would provide a safer environment for workers and drivers," said CDOT Resident Engineer, Jason Fullerton. "CDOT's traffic division quickly assisted with the new configuration which will create a safety buffer for the workers behind the barrier. The extra room will allow for more efficient work during all phases of the project." 
As traffic narrows to one lane at the bridge work zone, CDOT instructs drivers to use both lanes all the way to the merge point. This traffic pattern, also known as a "zipper or late merge," allows for smoother more efficient merging and less stop-and-go traffic. (YouTube video: How to merge in a work zone)
"We know it's a bit counter to what we are accustomed to as drivers, but we urge keeping both lanes of traffic moving all the way up to where the single lane begins. Nobody is taking cuts - be patient and take turns merging." added Fullerton.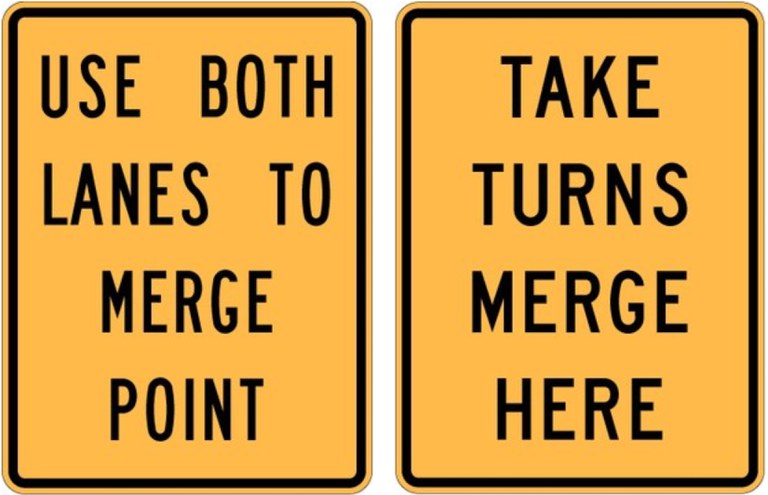 TRAVEL IMPACTS AT U.S. 160/550 HIGH BRIDGE 
Work will continue to take place from 7 a.m. to 7 p.m., Monday through Friday. Although work will take place only during the daytime, the following traffic configuration will be in place day and night (24/7). The project and traffic impacts can be expected through the end of December 2019.
US 160/550 Bridge (also known as the "high bridge" over the Animas River)
Single lanes in each direction will be maintained on the bridge structure.

A "zipper/late merge" configuration will be in place. Use both lanes to the merge point. 

Lanes will be narrowed to a 10 feet width restriction.

Motorists are required to reduce their speed to 40 mph.

Travelers should follow all traffic restrictions, signage and flagging personnel through the work zone.
Highway 3
There will be no acceleration lane access for vehicles turning right off Highway 3 onto U.S. 160/550, north-/westbound.

Vehicles turning right MUST use the traffic light signal at U.S. 160/550, north-/westbound.

To avoid the bridge work zone, travelers may consider using Highway 3 as an alternate route.
Turner Drive in Bodo Park
Right turns off Turner Drive must STOP and yield for east-/southbound access onto US 160/550. No merging is allowed onto the highway. 

Alternate access to U.S. 160/550 can use the Frontage Road and intersection/traffic light signal at Sawyer Drive.

Right turns off US 160/550 are allowed onto Turner Drive.

Right turns off Turner Drive are allowed onto CR 213/La Posta Road.
CDOT also advises drivers to be aware of an additional nighttime striping project that is happening on the north and west side of the bridge project. Paint crews will be performing pavement marking operations at night from the US 160/550 intersection at the DoubleTree Hotel to the north side of the high bridge, from 7 p.m. to 7 a.m. Sundays through Fridays until mid-October.
MAP: TRAFFIC IMPACTS AT HIGH BRIDGE OVER THE ANIMAS RIVER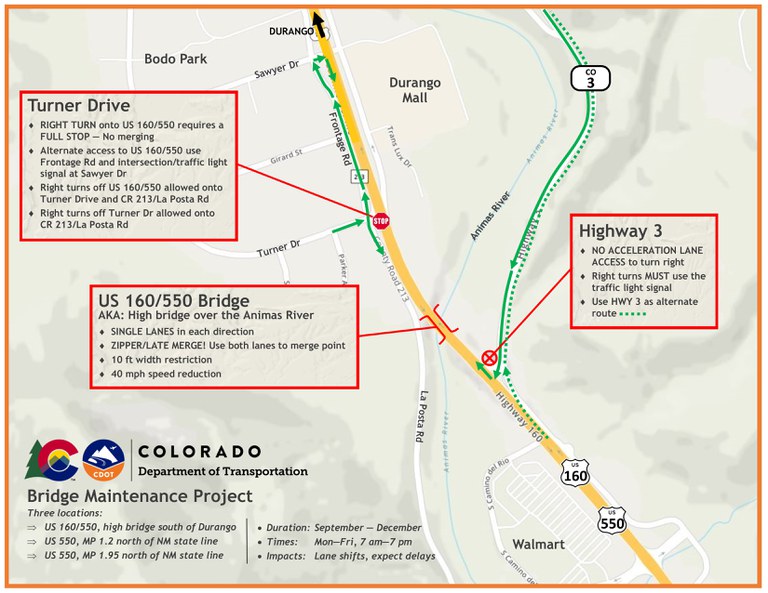 PROJECT INFORMATION 
For additional information about this project, call the project information line at 970-840-8517, email the team at [email protected], or visit the project website at www.codot.gov/projects/southwestern-colorado-bridge-maintenance.
Travelers are urged to "know before you go." Gather information about weather forecasts and anticipated travel impacts and current road conditions prior to hitting the road. CDOT resources include:
REMEMBER: SLOW FOR THE CONE ZONE
The following tips are to help you stay safe while traveling through maintenance and construction work zones.
Do not speed in work zones. Obey the posted speed limits.

Stay Alert! Expect the unexpected.

Watch for workers. Drive with caution.

Don't change lanes unnecessarily.

Avoid using mobile devices such as phones while driving in work zones.

Turn on headlights so that workers and other drivers can see you.

Be especially alert at night while driving in work zones.

Expect delays, especially during peak travel times.

Allow ample space between you and the car in front of you.

Anticipate lane shifts and merge when directed to do so.

Be patient!