CDOT Honoring Fallen Employees on Remembrance Day
April 20, 2020 - Statewide News
Although its headquarters remain closed for most all employees, the Colorado Department of Transportation's 26th annual Remembrance Day will be held virtually on Tuesday, April 21, as part of National Work Zone Awareness Week.
"We will continue to honor the memory of our departed colleagues each and every year, no matter the circumstances," said CDOT Executive Director Shoshana Lew.  "And unfortunately, we again lost another CDOT team member last month after he was injured while doing his job on a state roadway.  We will never rest still until every one of our employees gets home safely to their families and loved ones."
CDOT pays tribute to the 62 employees lost in the line of duty by having the names of their fallen colleagues etched onto the marble memorial outside its Denver headquarters (see photo below).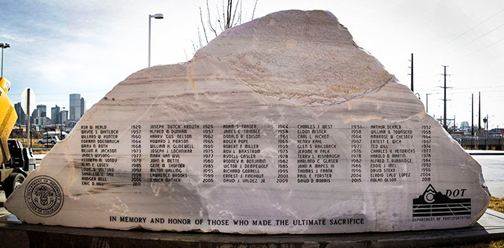 "Together, our organizations work hard and make Colorado a better and safer place," said Colorado State Patrol Chief Matthew Packard.  "Our troopers will continue to do their part to remove unsafe drivers from our roads and work to make construction zones safer for both workers and drivers alike." 
In addition to the virtual Remembrance Day, some of CDOT's largest projects are observing NWZAW in a number of ways:
The 18-mile,

 

I-25 South Gap Project

 

between Monument and Castle Rock is the state's longest construction zone. While safety is always top-of-mind, the project will honor

 

NWZAW

 

through a social media video, coloring contest for Colorado elementary school students (winning design becomes a sticker for hardhats and receives a $50 Scholastic gift card), electronic board safety messages and a billboard near Larkspur.
The

 

Central 70 Project

 

is reconstructing a 10-mile stretch of Interstate 70 between I-25 and Chambers Road, including the lowering of the interstate between Brighton and Colorado boulevards.  It is marking the week with social media posts, text message alerts, reminder messaging in the weekly traffic alert and driver reminder via the electronic message signs.
The

 

I-25 North Express Lanes: Johnstown to Fort Collins Project will increase capacity, improve several interchanges and replace aging bridges. For NWZAW, crews will be encouraged to participate in Wear Orange Day on Wednesday, April 22, and take photos for social media, the project website and email updates.  A video also will be developed regarding safety messages specific to the I-25 North Corridor.
"Remembrance Day is a time to pause and remember the contributions of our fallen coworkers and their ultimate sacrifice," added Lew.  "It's also a reminder for all of us to use caution in work zones.  Somebody's life is at stake."
In Colorado, eight people were killed following a crash in a work zone.  Six were driving through a construction zone and two were part of the work crew.  According to the Federal Highway Administration, in 2018, the last year statistics are available, there were 671 work zone crashes, resulting in 754 fatalities, the majority of which were motorists.  Roadway workers accounted for 124 of those fatalities.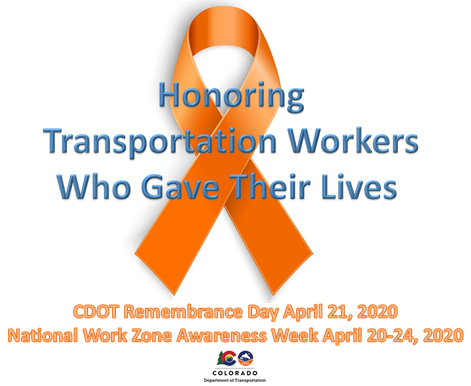 REMEMBER: SLOW FOR THE CONE ZONE
The following tips are to help you stay safe while traveling through maintenance and construction work zones.
Do not speed in work zones. Obey the posted speed limits.
Stay Alert! Expect the unexpected.
Watch for workers. Drive with caution.
Don't change lanes unnecessarily.
Avoid using mobile devices such as phones while driving in work zones.
Turn on headlights so that workers and other drivers can see you.
Be especially alert at night while driving in work zones.
Expect delays, especially during peak travel times.
Allow ample space between you and the car in front of you.
Anticipate lane shifts and merge when directed to do so.
Be patient!
COVID-19
Safe transportation infrastructure is essential for emergency first responders and freight drivers as Colorado navigates the COVID-19 pandemic. With that in mind, construction continues on CDOT projects with social distancing and other measures to reduce COVID-19 exposure on worksites. The Colorado Department of Public Health and Environment announced guidelines for construction activities. Gov. Polis issued an emergency, temporary stay-at-home order for all of Colorado, which went into effect Thursday, March 26. With this order, the public is urged to join the campaign for #DoingMyPartCO and avoid all nonessential travel. With fewer vehicles on the roads, CDOT crews will be able to work more efficiently and safely.
WHOLE SYSTEM. WHOLE SAFETY.
To heighten safety awareness, CDOT announced its Whole System — Whole Safety initiative in 2019.  This project takes a systematic statewide approach to safety. The goal is to improve the safety of the transportation network. The program has one simple mission—to get everyone home safely.
ABOUT CDOT
CDOT has approximately 3,000 employees across the state, and manages more than 23,000 lane miles of highway and 3,429 bridges. CDOT also manages grant partnerships with a range of other agencies, including metropolitan planning organizations, local governments and airports. It also administers Bustang, the state-owned and operated interregional express service. Governor Polis has charged CDOT to further build on the state's intermodal mobility options.  
The Memorial Stone at CDOT Headquarters in Denver.