Emergency repairs underway in the Eisenhower-Johnson Memorial Tunnel
April 24, 2020 - Northwestern Colorado - Repaving project to follow
Summit and Clear Creek Counties — Emergency repairs due to water damage continue to shut down one lane in the eastbound side of the Interstate 70 Eisenhower-Johnson Memorial Tunnel (EJMT).  The lane will be closed 24/7 until repairs are completed, which is expected the latter part of next week. Delays have been minimal due to light traffic volume.  The other eastbound lane through the tunnel remains open to traffic. The emergency repairs are not impacting westbound I-70 through EJMT.  Those lanes are open.
The heavier snow this winter season led to more runoff than usual, resulting in groundwater drainage problems in the south tunnel which was constructed in 1979.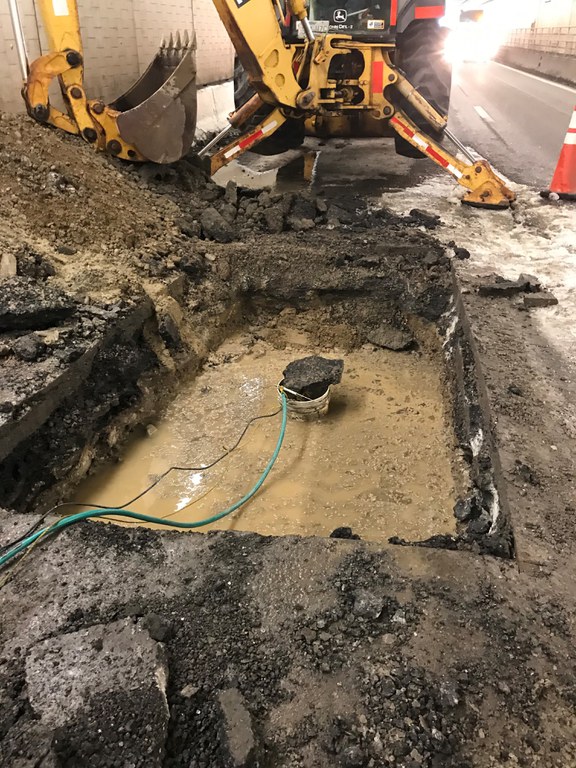 Once emergency repairs are complete, work will begin on a longer term project to resurface the pavement in the EJMT.  Work will include  asphalt removal and paving, concrete improvements, utility repairs and roadway re-striping.  The project will improve driving conditions and safety.
Travel impacts will include day- and nighttime single lane closures in each direction during the month of May through early June and from early September through late October.  Nighttime closures will continue through the summer. 
There will be full bore tunnel closures during the course of the project, with most of those closures expected to occur in the fall.  Full bore tunnel closures will take place at night. During the full-bore closures, traffic will be detoured through the other tunnel. For example, when the eastbound tunnel is closed, traffic will be alternated in both directions via a pilot car in the westbound tunnel. 
Work will occur Sunday night through Friday. 
Project Background
Brannan Sand and Gravel, of Denver, CO, is the prime contractor on this project. Work is expected to be complete by the end of October. 
Project information
Remember: Slow for the Cone Zone
Motorists are encouraged to limit travel to help prevent the spread of COVID-19.  

When traveling, heed the speed limit and slow down in work zones. 

Stay Alert! Expect the unexpected.

Watch for workers. Drive with caution.

Don't change lanes unnecessarily.

Avoid using mobile devices such as phones while driving in work zones.

Turn on headlights so that workers and other drivers can see you.

Be especially alert at night while driving in work zones.

Expect delays, especially during peak travel times.

Allow ample space

between you and the car in front of you.

Anticipate lane shifts and merge when directed to do so.

Be patient!
COVID-19  
Safe transportation infrastructure is essential for emergency first responders and freight drivers as Colorado navigates the COVID-19 pandemic. With that in mind, road maintenance and construction continues on CDOT projects with social distancing and other health safety measures to reduce COVID-19 exposure on the worksite. The Colorado Department of Public Health and Environment announced guidelines for construction activities. The public is urged to join the campaign for #DoingMyPartCO by practicing social distancing, wearing face masks, staying at home when possible, and avoiding nonessential travel. With fewer vehicles on the roads, CDOT crews will be able to work more efficiently and safely.  
Whole System. Whole Safety.

To heighten safety awareness, CDOT recently announced its Whole System — Whole Safety initiative. This project takes a systematic statewide approach to safety combining the benefits of CDOT's programs that address driving behaviors, our built environment and the organization's operations. The goal is to improve the safety of Colorado's transportation network by reducing the rate and severity of crashes and improving the safety of all transportation modes. The program has one simple mission—to get everyone home safely.