Partial demolition of I-70 bridge over Brighton Boulevard Requires weekend closure of Brighton under I-70
February 27, 2020 - Denver Metro Area
DENVER — As part of the Colorado Department of Transportation's Central 70 Project, a full closure of Brighton Boulevard under Interstate 70 is required this weekend so crews can safely demolish part of the existing bridge on the northern section of the interstate. This closure will be in place starting on Friday, Feb. 28 at 10 p.m. and will reopen on Monday, March 2 at 5 a.m. 
In preparation for lowering I-70 between Brighton and Colorado boulevards, the Project team has been rebuilding the Brighton/I-70 interchange over the past year. This includes lowering Brighton Boulevard several feet and realigning on- and off-ramps. 
As with all I-70 bridges on the Central 70 Project, only a portion of the bridge can be removed at a time, since three lanes of traffic in each direction must be maintained during peak travel times. Therefore, all I-70 lanes of traffic will move to the south while the north side of the bridge is demolished and rebuilt; then traffic will switch to the north, and the process will be repeated. During demolition, Brighton Boulevard below I-70 will close for safety reasons.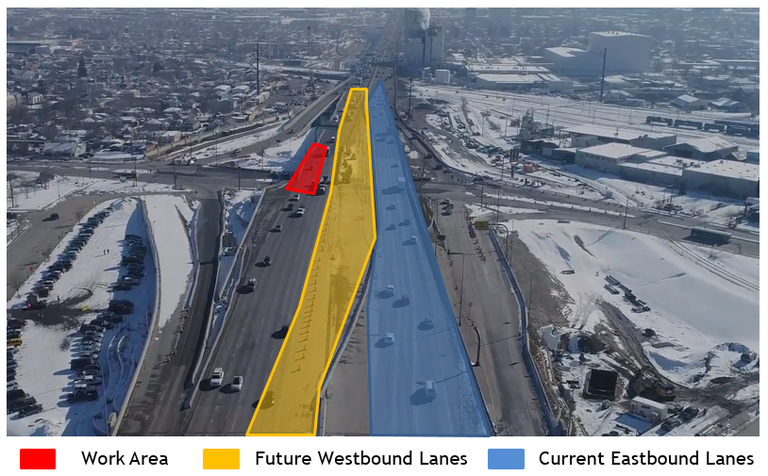 TRAFFIC IMPACTS:
Brighton Boulevard full closure under I-70 – Friday, Feb. 28, 10 p.m. to Monday, March 2, 5 a.m. Motorists will use Washington Street or Steele/Vasquez as an alternate route. 

Lane closures on I-70 will not be required as part of this work. 
Click here to see the future alignment of this interchange (final design may differ slightly from animation).
This work is weather dependent and subject to change. 
Whole System.Whole Safety 
Earlier this year, CDOT announced its Whole System — Whole Safety initiative to heighten safety awareness. This initiative takes a systematic, statewide approach to safety combining the benefits of CDOT's programs that address driving behaviors, our built environment and the organization's operations. The goal is to improve the safety of Colorado's transportation network by reducing the rate and severity of crashes and improving the safety of all transportation modes. The program has one simple mission—to get everyone home safely.
About the Central 70 Project
The Central 70 Project will reconstruct a 10-mile stretch of I-70, add one new Express Lane in each direction, remove the aging 56-year-old viaduct and lower the interstate between Brighton and Colorado boulevards. More information on the Project, including a list of the Project's community commitments, are available at central70.codot.gov.
Stay Informed