Rock blasting closures on CO 119 in Boulder Canyon to end Feb. 6
January 30, 2019 - Northeastern Colorado - Periodic traffic stops still needed for scaling work
BOULDER — The afternoon of Feb. 6 marks the last regularly scheduled daily closure of Colorado Highway 119 in Boulder Canyon, bringing to a close the impactful rock blasting phase of the Boulder Canyon Improvements Project. 
Although the canyon will be open for the remainder of the project, drivers can still expect to encounter travel delays with ongoing efforts to remove loose rocks and material (also known as rock scaling) from the slopes above the highway. Because rock scaling work involves pushing large boulders onto the roadway below to prevent natural rockslides, traffic will be stopped in both directions for several minutes while this work is done and the roadway cleaned up. 
Traffic queues will then be cleared in both directions before vehicles are again stopped to continue scaling work. Drivers should plan for delays of about 20 minutes through the end of February. Crews will work to complete this work as quickly as possible.   
Rock blasting and excavation work began in March 2019, requiring four-hour closures of the canyon every Monday through Thursday. These closures allowed the project to blast approximately 52,000 cubic yards of rock from three rock faces – more than 4,300 semi-truck loads -- to make CO 119 a safer, more reliable highway during future flood events. 
"As engineers and contractors, we rely on technical expertise and experience to estimate schedules and duration of impact. This project was unique because the geology of the rock did not respond as anticipated, resulting in extended closures and impact to the residents, commuters, businesses and tourist.  For that I would like to say thank you for the community members in Nederland and Boulder who provided constructive feedback, patience, and understanding throughout these extended closures and to the project team who were committed to respond and make these impacts as tolerable as possible.  We should all celebrate the accomplishment of this major milestone," said Heather Paddock, Regional Transportation Director for the Colorado of Transportation in the northeast region of the state.
Since the daily closures began, project team members have performed 47 blasts and installed 1,500 linear feet of rock reinforcing bolts to stabilize the canyon walls.  
Ultimately, this project will minimize the impacts of future floods by maximizing protected emergency routes so residents can get out and emergency responders can get in.
What's Next
In addition to rock scaling work in February and March, Boulder Canyon drivers can expect single-lane closures to resume in April for river armoring and roadway reconstruction work. These single-lanes will be ongoing throughout the summer and fall.
Drivers should anticipate later this spring four to five days of 4-hour full closures will be required to complete the pedestrian path extension for Boulder County. 
Finally, although the majority of construction is scheduled to be complete late 2020, there is the possibility that weather will prevent the completion of the paving work later this year. Paving operations require certain temperatures to ensure the quality of the asphalt. Project officials predict that some paving will need to be completed in spring 2021. This work will require single-lane closures. 
Drivers should continue to check the project website, email updates and hotline for the most up-to-date travel information. 
TRAVEL IMPACTS 
Local detours remain available. From Boulder, a northern alternate route can be taken via CO 7, US 36 and CO 72. A southern alternate route is available via CO 93 and CO 72. Please note, motorists taking the southern alternate route should be aware of a current project on CO 72 in Coal Creek Canyon, between Plainview Road (mile point 12.3) and Pinecliffe (MP 24.6). Expect lane shifts and short delays at this work zone.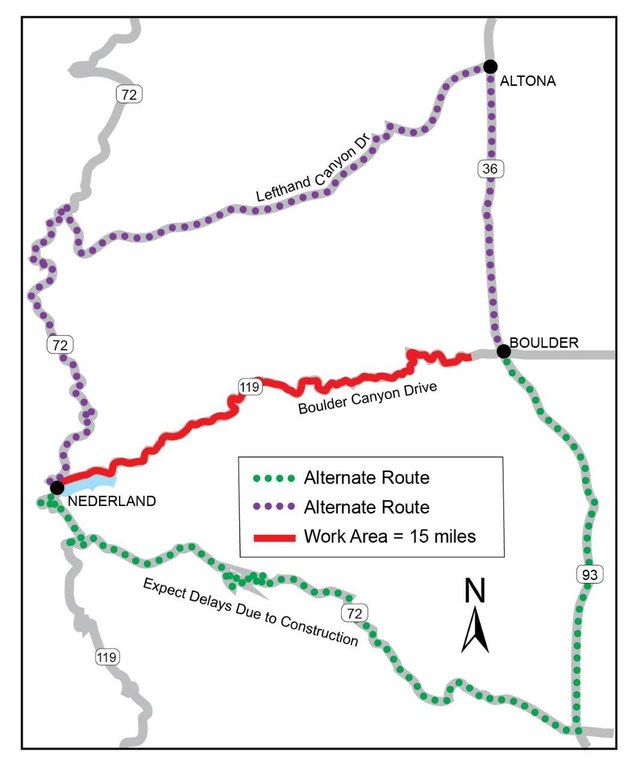 Anyone wanting to receive text alerts about this project and the closure can text CO119 to 21000.
STAY INFORMED 
Travelers can obtain information about this closure and construction project by: 
REMEMBER: SLOW FOR THE CONE ZONE
The following tips are to help you stay safe while traveling through maintenance and construction work zones.
Do not speed in work zones. Obey the posted speed limits.

Stay Alert! Expect the unexpected.

Watch for workers. Drive with caution.

Don't change lanes unnecessarily.

Avoid using mobile devices such as phones while driving in work zones.

Turn on headlights so that workers and other drivers can see you.

Be especially alert at night while driving in work zones.

Expect delays, especially during peak travel times.

Allow ample space between you and the car in front of you.

Anticipate lane shifts and merge when directed to do so.

Be patient!
WHOLE SYSTEM. WHOLE SAFETY.  
In early 2019, CDOT announced its Whole System — Whole Safety initiative to heighten safety awareness. This initiative takes a systematic, statewide approach to safety combining the benefits of CDOT's programs that address driving behaviors, our built environment and the organization's operations. The goal is to improve the safety of Colorado's transportation network by reducing the rate and severity of crashes and improving the safety of all transportation modes. The program has one simple mission—to get everyone home safely. 
ABOUT CDOT
CDOT has approximately 3,000 employees located at its Denver headquarters and in regional offices throughout Colorado, and manages more than 23,000 lane miles of highway and 3,429 bridges. CDOT also manages grant partnerships with a range of other agencies, including metropolitan planning organizations, local governments and airports. It also administers Bustang, the state-owned and operated interregional express service. Gov. Polis has charged CDOT to further build on the state's intermodal mobility options.