CDOT resumes CO 82 paving in Glenwood Springs, traffic impacts expected
May 26, 2020 - Northwestern Colorado
GARFIELD COUNTY – As part of "Whole System-Whole Safety" program improvements for the Colorado Highway 82 corridor project, CO 82 southbound/eastbound (towards Aspen) motorists should anticipate significant travel impacts in Glenwood Springs associated with asphalt paving on Monday, June 1 through Sunday, June 7. 
GLENWOOD SPRINGS PROJECT AREA AND WORK HOURS
Southbound/eastbound lane closures will be in effect in Glenwood Springs on CO 82 between 24th Street and the southern city limits (see map). The west side of the 27th Street and CO 82 intersection will also be closed for asphalt removal and paving. For alternate 27th Street access, motorists should use S. Grand Ave. at 23rd Street or Co Rd 154 at Buffalo Valley.
Work hours, lane closures and reduced speeds will be in effect daily from approximately 9 a.m. to dusk. Significant delays are anticipated. Plan extra travel time especially during the morning and afternoon travel peaks.
These closures are required for construction crews to remove and replace asphalt on the two eastbound CO 82 travel lanes between 24th Street and the southern Glenwood Springs city limits and asphalt on the west side of the intersection of CO 82 and 27th Street. Work is weather dependent and subject to change.
WEST INTERSECTION AT 27TH STREET AND CO 82
Monday, June 1 through Wednesday, June 3, various closures will be required at the west side of the intersection of 27th Street and CO 82. The southbound right turn from CO 82 onto 27th Street will remain open. On Saturday, June 6 and Sunday, June 7, additional delays are anticipated for crews to install roadway striping. Motorists are recommended to use 8th Street as the impact will change daily. Whenever possible, crews will reopen lanes.
CO 82 AND CO 133 ASPHALT WORK
Construction crews will also be performing asphalt milling and paving work on eastbound CO 82 just east of the CO 82 intersection with CO 133 at Carbondale. This work will require lane closures from 9 a.m. to dusk on Tuesday, June 2 and Friday, June 5.
TENTATIVE SCHEDULE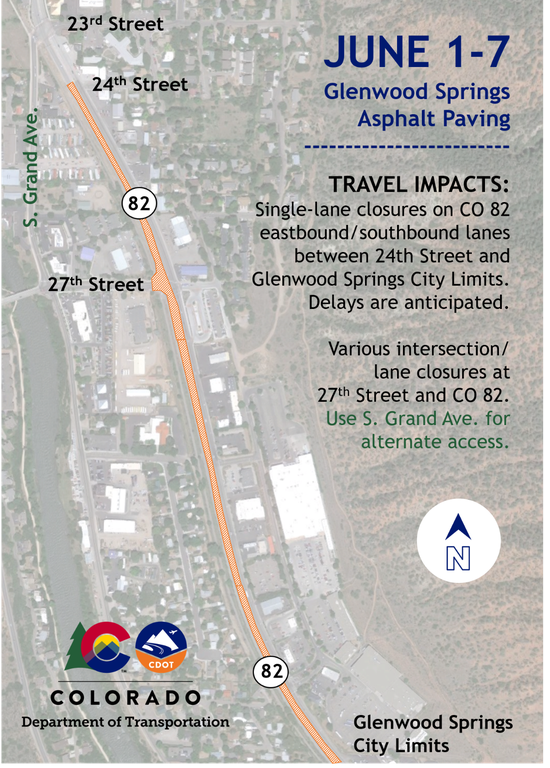 PROJECT INFORMATION
For more information, please contact public information via email, [email protected], or phone, 970-924-0644.
For information about other CDOT projects the public may log on to CDOT'S traveler information website at www.cotrip.org or call 511 from anywhere in the state.
STAY INFORMED
COVID-19
Safe transportation infrastructure is essential for emergency first responders and freight drivers as Colorado navigates the COVID-19 pandemic. With that in mind, construction continues on CDOT projects with social distancing and other measures to reduce COVID-19 exposure on the worksite. The Colorado Department of Public Health and Environment announced guidelines for construction activities. Gov. Polis issued an emergency, temporary stay-at-home order for all of Colorado, which went into effect Thursday, March 26. With this order, the public is urged to join the campaign for #DoingMyPartCO and avoid all nonessential travel. With fewer vehicles on the roads, CDOT crews will be able to work more efficiently and safely.
REMEMBER: SLOW FOR THE CONE ZONE
The following tips are to help you stay safe while traveling through maintenance and construction work zones.
WHOLE SYSTEM. WHOLE SAFETY.  
In early 2019, CDOT announced its Whole System — Whole Safety initiative to heighten safety awareness. This initiative takes a systematic, statewide approach to safety combining the benefits of CDOT's programs that address driving behaviors, our built environment, and the organization's operations. The goal is to improve the safety of Colorado's transportation network by reducing the rate and severity of crashes and improving the safety of all transportation modes. The program has one simple mission—to get everyone home safely.
ABOUT CDOT
CDOT has approximately 3,000 employees located throughout Colorado and manages more than 23,000 lane miles of highway and 3,429 bridges. CDOT also manages grant partnerships with a range of other agencies, including metropolitan planning organizations, local governments, and airports. It also administers Bustang, the state-owned and operated interregional express service. Governor Polis has charged CDOT to further build on the state's intermodal mobility options.