CO 82 Independence Pass will close on Friday for the season
November 12, 2020 - Northwestern Colorado
LAKE & PITKIN COUNTIES – Independence Pass on Colorado Highway 82 will close on Friday, Nov. 13 at 7 p.m. for the season. At that time, Colorado Department of Transportation crews will close gates near Aspen and Twin Lakes. The safety closure is to keep maintenance equipment operators and the traveling public safe during the winter season. Plowing steep switchbacks on CO 82 on either side of the pass is not safe during winter months, and sections of the roadway are exposed to significant avalanche hazard. The alternate route to Aspen is I-70 to Glenwood Springs, then CO 82 to Aspen. CDOT typically reopens the pass on the Thursday prior to the Memorial Day holiday weekend, weather permitting. Please see below for safe winter driving tips.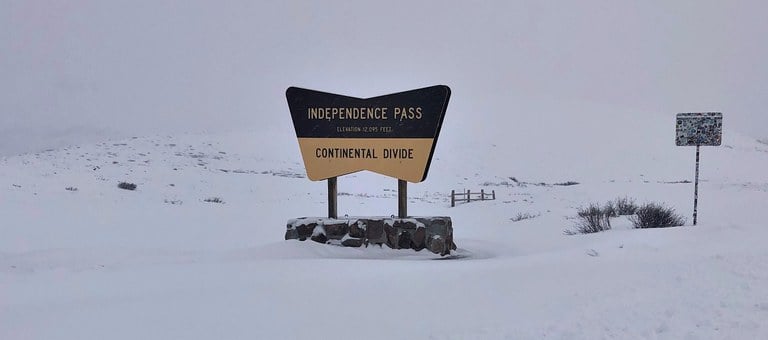 INDEPENDENCE PASS
Independence pass usually closes in November for the winter season. Dates for closures in previous years are: 
2011:

Nov. 2

2012:

Nov. 9

2013:

Nov. 4

2014:

Nov. 12

2015:

Nov. 4

2016:

Nov. 17

2017:

Nov. 17

2018:

Nov. 5

2019: Oct. 28



Independence Pass is a Colorado Scenic and Historic Byway that is maintained by CDOT. It is the highest paved state highway in Colorado, crossing the Continental Divide at 12,095 feet. Though it is a paved road, it is also narrow and curvy on several stretches and therefore difficult to traverse in poor weather. The pass also has steep drop-offs in places along the route. Several areas of the roadway can only accommodate a single car width, so drivers must use caution and pay close attention when confronted with oncoming traffic.
The summit of Independence Pass is located 18 miles west of Twin Lakes and 19 miles east of Aspen and crosses the Continental Divide over the Sawatch Range. The Pass travels through 32 miles of mountainous terrain. It winds through the San Isabel National Forest on the east and White River National Forest on the west side of the Divide.
During the winter months, heavy snowfall at the highest elevations of the pass makes it impossible to travel. Independence Pass is generally open during the summer months, from Memorial Day through November, depending on weather conditions.


CHAIN & TRACTION LAWS 
CDOT urges travelers to be aware of chain and traction law codes before heading out on the roadway.
Code 18/Commercial Chain Law: Commercial vehicles and trucks must have chains. Vehicles without chains can often lose traction, causing traffic delays and sometimes road closures. For the safety of the traveling public, it's critical to use chains to be in compliance with Colorado's chain law.

Code 15/Passenger Traction Law: All motorists are required to either have an all-wheel or four-wheel drive vehicle, or (for two-wheel drive vehicles) snow tires or all-weather tires with a mud/snow designation. Tread depth on all tires must be at least 3/16" regardless of vehicle type. Vehicles that do not meet these criteria must carry chain devices or alternative traction devices such as an AutoSock. The law focuses on passenger vehicles, as commercial vehicles have their own restrictions. It is unlawful to proceed when a state highway is closed or to proceed when a restriction is in effect without the required traction equipment. Violators will be given a citation, which comes with a $100 fine and $32 surcharge. That jumps to a $500 fine with a $156 surcharge if a violation results in the closure of one or more traffic lanes.

Code 16/Passenger Chain Law: All passenger vehicles need chains, except for 4WD and AWD vehicles with all-weather tires with 3/16 inch tread depth.
KNOW BEFORE YOU GO
Travelers are urged to "know before you go." Gather information about weather forecasts and anticipated travel impacts and current road conditions prior to hitting the road. CDOT resources include:
COVID-19 
Safe transportation infrastructure is essential for emergency first responders and freight drivers as Colorado navigates the COVID-19 pandemic. With that in mind, construction continues on CDOT projects with social distancing and other health safety measures to reduce COVID-19 exposure on the worksite. The Colorado Department of Public Health and Environment announced guidelines for construction activities. The public is urged to join the campaign for #DoingMyPartCO and practice social distancing, wear face masks, stay at home when possible, and avoid nonessential travel. With fewer vehicles on the roads, CDOT crews will be able to work more efficiently and safely.
WHOLE SYSTEM. WHOLE SAFETY. 
In early 2019, CDOT announced its Whole System — Whole Safety initiative to heighten safety awareness. This initiative takes a systematic statewide approach to safety combining the benefits of CDOT's programs that address driving behaviors, our built environment and the organization's operations. The goal is to improve the safety of Colorado's transportation network by reducing the rate and severity of crashes and improving the safety of all transportation modes. The program has one simple mission—to get everyone home safely.
ABOUT CDOT 
CDOT has approximately 3,000 employees located throughout Colorado, and manages more than 23,000 lane miles of highway and 3,429 bridges. CDOT also manages grant partnerships with a range of other agencies, including metropolitan planning organizations, local governments and airports. It also administers Bustang, the state-owned and operated inter-regional express service. Gov. Jared Polis has charged CDOT to further build on the state's multimodal mobility options.  
#  #  #