I-70 Glenwood Canyon recovery work shifts to Colorado River
December 27, 2021 - Northwestern Colorado - Repairs on eastbound traffic lanes complete and rock removal continues.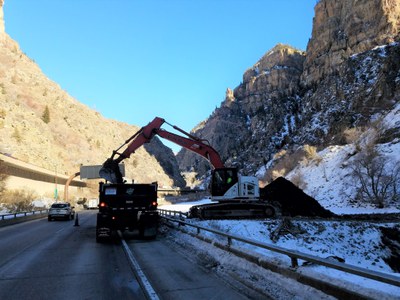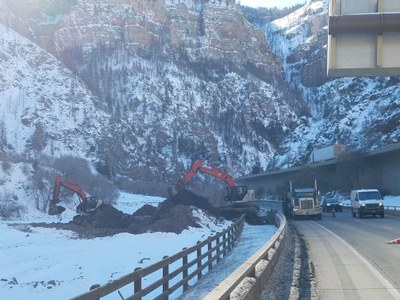 Glenwood Canyon - Road repairs on Interstate 70 in Glenwood Canyon are complete, and work is now shifting from road repair to removing material from the Colorado River ahead of the spring run off season. Removing material will significantly mitigate—or reduce—the risk of spring flooding. The Federal Highway Administration has concurred that mitigating the risk of runoff is critical to protecting the interstate and will reimburse the state's costs pursuant to the emergency relief program supporting the repairs to I-70 over the past several months.
Crews are now preparing to remove large material piles from the river, which were created in summer 2021 by mudslides and other material flows. The river recovery work is the next step as CDOT continues to prepare I-70, the Glenwood Canyon recreation path and other infrastructure in the canyon for potential material flows and rockfall activity in spring 2022. Crews continue to conduct rock removal from the canyon walls and rockfall fences above I-70. All work in Glenwood Canyon is weather permitting and may have delays due to winter conditions.
Though two lanes are now functional in each direction of I-70 at locations that were damaged, motorists should expect an eastbound lane closure after 8 a.m. This is because a lane closure is necessary to haul material out of the river. Motorists should anticipate traffic will generally operate normally between 6:00 to 8:00 a.m. every day, with lane closures going into effect after 8 a.m., in order to reduce traffic impacts on the morning commute. The eastbound lane closure will primarily affect one mile of roadway where material flow was most severe, roughly Mile Points 123.5-124.5.
One overnight closure may be necessary for crane operations, in order to mobilize equipment into the river. Night work will take place only as needed to ensure adequate material is removed prior to spring runoff to protect the interstate. Crews will coordinate to minimize closures as much as possible, and will monitor slowdowns and other traffic impacts.
There will be other occasional, intermittent traffic impacts in both the westbound and eastbound directions. Periodic one lane westbound closures will be needed to perform rockfall mitigation work. Occasional I-70 traffic holds will be necessary to allow crews to access, repair and clean out damaged rockfall fences on the canyon walls above I-70. Holds will be for both directions of traffic and will last 20-30 minutes. These required holds are expected to be occasional, and not daily. Please see below for detailed information about traffic impacts.
Two contractors have been selected to perform river recovery operations, and they will work together to minimize their traffic footprint and streamline operations.
"Over the last several months, crews have worked hard to repair the roadway itself—including repairing damage to both westbound and eastbound structures at Blue Gulch and elsewhere. Now, the focus of the work turns to removing material from the Colorado River while continuing rockfall mitigation and other resiliency efforts to strengthen the area for the future," said CDOT Executive Director Shoshana Lew. "We are pleased to have two contractors on board to help with this important effort, and appreciative of their careful planning to work together and minimize impacts to the traveling public."
Lawrence Construction will continue work with debris off haul from the Blue Gulch (MP 123.5) and Wagon Gulch (MP 124.5) material pile locations. Lawrence has already been mobilized in the canyon for roadway infrastructure repairs at Blue Gulch and has begun off-haul operations from Wagon Gulch. IHC Scott has been selected for material removal at two locations in the Colorado River: Unnamed (MP 124) and Devils Hole (MP 124.4). Removal will also take place at Deadman Gulch (MP 122.8) and Maneater (MP 121.8) this winter at a later date. Please see below for a map of the material locations.
The current rockfall removal project will continue into 2022. Crews continue to remove rock caught by rockfall fencing, repair fencing and remove loose rock from the canyon walls. Midwest Rockfall, Inc. is the contractor on the rock fence repairs.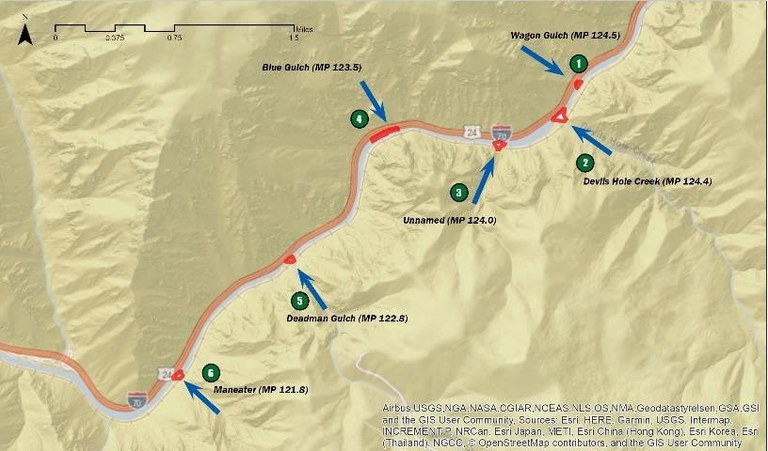 Anticipated Traffic Impacts
Eastbound right lane closures will be in effect Monday-Friday from 8 a.m.-dusk each day.
Contractors will work together to use the same eastbound right lane closure from Mile Point 123.5-124.5 in order to limit traffic impacts. Four of the largest material flows are in this section.
Traffic control will be set up and taken down each day.
Traffic control will not be in place from 6-8 a.m. each day to avoid affecting commuter traffic.
River recovery work is anticipated to last until April of 2022.
Work is contingent on weather forecasts.
Project Information
For additional information about this project:
Travelers are urged to "know before you go." Gather information about weather forecasts and anticipated travel impacts and current road conditions prior to hitting the road. CDOT resources include:
Road conditions and travel information: COtrip.org
Download the COtrip Planner app: bit.ly/3DYCDOH
Sign up for project or travel alerts: bit.ly/COalerts
See scheduled construction lane closures: bit.ly/3rO1bHk
Connect with @ColoradoDOT on social media: Twitter, Facebook, Instagram and YouTube.
Remember: Slow For The Cone Zone
The following tips are to help you stay safe while traveling through maintenance and construction work zones.
Do not speed in work zones. Obey the posted speed limits.
Stay Alert! Expect the unexpected.
Watch for workers. Drive with caution.
Don't change lanes unnecessarily.
Avoid using mobile devices such as phones while driving in work zones.
Turn on headlights so that workers and other drivers can see you.
Be especially alert at night while driving in work zones.
Expect delays, especially during peak travel times.
Allow ample space between you and the car in front of you.
Anticipate lane shifts and merge when directed to do so.
Be patient!
Download the COtrip App!
The new FREE COtrip Planner mobile app was designed to meet the growing trend of information on mobile and tablet devices for the traveling public. The COtrip Planner app provides statewide, real-time traffic information, and works on mobile devices that operate on the iOS and Android platforms. Visit the Google Play Store (Android devices) or the Apple Store (iOS devices) to download!