Aviation Fuel Tax
Financial Dashboards - January 2016
...
The State of Colorado was the last State in the Nation to establish a dedicated aviation branch of state government. In 1989 the Division of Aeronautics and the Colorado Aeronautical Board was created to support, develop and maintain the Colorado Aviation System through taxes collected on aviation fuel sold within the state. There are no general funds used to meet the needs within the Colorado Aviation System, the needs are funded solely through the taxes collected by those actually using the aviation system.

More information pertaining the Colorado Aviation Fund, including how aviation fuel tax is collected and distributed back into the Colorado Aviation System, please download the latest White Paper sponsored by the Colorado Airport Operators Association.

The Colorado Aviation Fund - White Paper
Aviation Fuel Tax Disbursements
Aviation Fuel Tax Disbursements are made based on the formula of $.04 per gallon on aviation gasoline and jet fuel and 65% of the sales taxes collected on jet fuel used for commercial operations.  Moneys are reimbursed monthly and are based on reporting from the airports and verification by the Colorado Department of Revenue of taxes received into the Aviation Fund.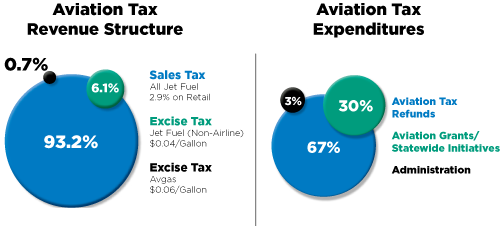 Fuel Tax Form
You can now download the fuel tax form and email it back to our office once it is completed.
*Please email your completed fuel tax form to: [email protected]
Fillable & Savable Fuel Tax Form (MS Excel)
Printable Read-Only Fuel Tax Form (Adobe Acrobat Reader)

You may also contact the Acting Business Manager, Michael Krochalis at the Division Offices at 303-512-5259.

Fuel Tax Disbursement Reports by Fiscal Year
FY 2015 new!