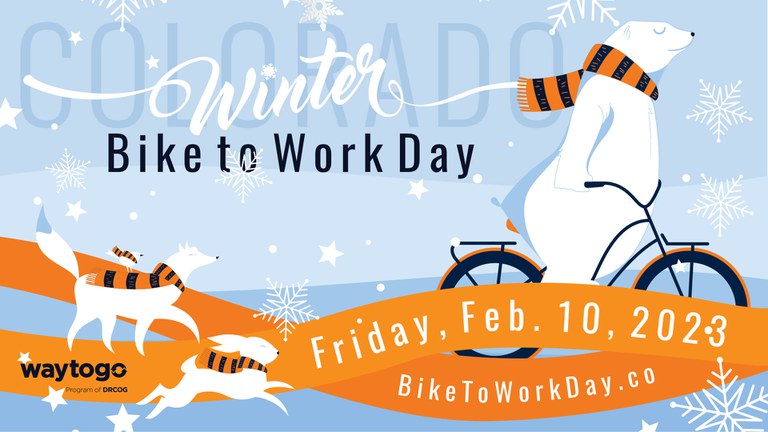 Winter Bike to Work Day
Friday, February 10, 2023




Join cyclists across Colorado - and around the world - for the 2023 Winter Bike to Work Day! One of the great things about Colorado is that you can bicycle all year round. Now's your chance to try a winter ride on International Winter Bike to Work Day! Be sure to do a safety check before you ride, wear a helmet and always follow the rules of the road. Be active, have some fun and be safe. Happy biking!

Winter Bike to Work Day is an annual tradition for seasoned cyclists and encourages them to brave the elements and ride to work on their bikes. Bike to Work Day is a semi-annual event (hosted in Winter and Summer) organized by Way to Go, a program of the Denver Regional Council of Governments, in partnership with seven regional transportation management associations. Each Bike to Work Day, we encourage commuters in the Denver region to bike to work, helping them save money on their commutes, improve their health and lower stress levels — all while reducing traffic congestion and improving air quality.
If you plan to ride or want to host a station, sign up at biketoworkday.co! 
---
Frequently Asked Questions
Inclement Weather – No problem, try another day. Since we aren't serving breakfast, it's less of a big deal for people to ride on another day. Our objective is to get people realizing that just because it's winter, it doesn't mean they have to abandon their bikes.
Schedule Conflicts - Picking another day also works for people who may want to ride, but have a conflict. Getting them to ride on another day is just as good.
Gear – Bicycle gear needs to be reflective and bicycles need headlights, due to the limited daylight. In addition, you need to dress for the temperature and moisture.
Check Road/Trail and Weather Conditions – Winter days can bounce between 57 and -5 below, plus they can change drastically between the morning and afternoon. So prepare and check the weather and road conditions before you head out for the morning commute.
---
Resources
Check out the resources below for more helpful tips and tricks to make your riding experience more comfortable and fun.
---
Events