Your Transportation Plan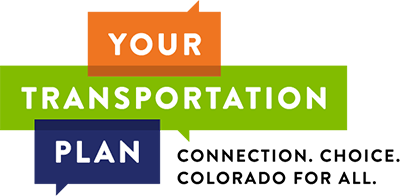 MIDPOINT REPORT COMING SOON 


The first public input phase for Your Transportation Plan closed on Sept. 3, 2019. Soon we will release a midpoint report detailing where we've been and what we've heard, providing a breakdown of statewide, regional and county results. To request that the report be emailed to you when it is available, please reach out to: [email protected]
This summer we're taking a fresh look at our investment priorities and asking people across Colorado what matters to their lives and what transportation can do to get them there. CDOT is bringing planning efforts together to create "Your Transportation Plan" that identifies a 10-year strategic pipeline of projects, inclusive of all modes, informed both by a data-driven needs assessment and public and stakeholder input. Click here to learn more.  

LEARN MORE ABOUT TRANSPORTATION


How planning helps CDOT prioritize our resources and plan for the future.



WHAT YOU TOLD US LAST TIME


CDOT 2040 Transporation Plan.