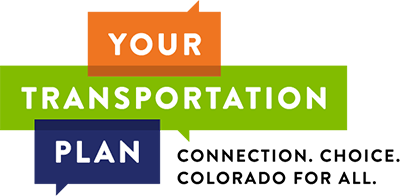 YOUR TRANSPORTATION PLAN MIDPOINT REPORT  


In May 2019, CDOT embarked on an effort to refresh our transportation plan and priorities based on firsthand input from residents across the state. Thousands of people weighed in, and now we are pleased to share a midpoint report detailing where we've been and what we've heard.

En mayo del 2019, el CDOT inició esfuerzos para actualizar nuestro plan de transporte y prioridades, en base a los aportes recibidos directamente de los residentes de todo el estado. Miles de personas opinaron y ahora ns complace compartir el informe intermedio que detalla los lugares donde estuvimos y comentarios qe recibimos.
This summer we're taking a fresh look at our investment priorities and asking people across Colorado what matters to their lives and what transportation can do to get them there. CDOT is bringing planning efforts together to create "Your Transportation Plan" that identifies a 10-year strategic pipeline of projects, inclusive of all modes, informed both by a data-driven needs assessment and public and stakeholder input. Click here to learn more.  

LEARN MORE ABOUT TRANSPORTATION


How planning helps CDOT prioritize our resources and plan for the future.



WHAT YOU TOLD US LAST TIME


CDOT 2040 Transporation Plan.