Military Access, Mobility & Safety Improvement Project
Project Facts
Goal: Military Access, Mobility & Safety Improvement Project will improve safety, efficiency, economic vitality, and reinforce strategic mobility throughout west and south Colorado Springs.
Cost: $159 million, with contributions from Colorado Department of Transportation, El Paso County, Pikes Peak Rural Transportation Authority, and a federal BUILD grant
Contractor: SEMA Construction, Inc.
Timeline: The MAMSIP projects will be completed BY 2024.
Location: El Paso County, Colorado Springs, CO 
This extensive safety and the mobility-improvement project will focus on strategically enhancing connectivity and accessibility at several military bases and facilities in and around Colorado Springs.
Project Information
Military Access, Mobility & Safety Improvement Project (MAMSIP) will deliver more efficient and safer mobility along I-25, Colorado Highway 94, South Academy Boulevard, and Charter Oak Ranch Road, enabling economic stability and development. The delivery of MAMSIP will strengthen and enhance the redundancy of strategic movement between the nationally significant El Paso County military installations of Fort Carson, Peterson Air Force Base, Cheyenne Mountain Station, and Schriever Air Force Base.
These corridors are critical for the mobility of the residents of the Pikes Peak region, while I-25 serves as the backbone of commercial freight movement for the state of Colorado and the CanAm Corridor stretching from Mexico to Canada. Individually, the implementation of each of the four projects will lead to more efficient and safer vehicular movement along these corridors.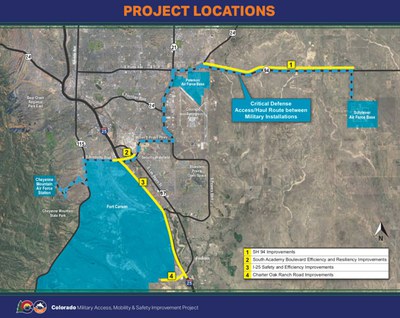 MAMSIP is partially funded by the $18.350 million BUILD grant award from the US Department of Transportation.
The four improvement components are:
CO 94 Improvements
South Academy Boulevard Widening and Resiliency
I-25 Safety Improvements
Charter Oak Ranch Road
Project Benefits
Safety and efficiency improvements, and bridge replacements on Interstate-25 (I‐25), backbone of the region's passenger, commercial, and military mobility;
Safety and efficiency improvements in the addition of passing lanes, turn lanes, road widening and the installation of fiber on Colorado Highway 94 (CO 94), which connects Schriever AFB with Peterson Air Force Base and central Colorado Springs;
Capacity upgrades and resiliency improvements to South Academy Boulevard, a major commuter arterial which also links Peterson Air Force Base and Schriever Air Force Base with I‐25 and Fort Carson; and
Road reconstruction generating safety and efficiency improvements for Charter Oak Ranch Road, entry point to Fort Carson's Gate 19 from the I‐25 Corridor.
The objective of these four project components are to improve the safety and efficiency performance of crucial road corridors in the Pikes Peak region. Implementation of these projects will enhance accessibility and connectivity between several of the region's nationally significant military installations (also the region's largest employers) ensuring greater efficiency and safety of military personnel and equipment while also strengthening redundancy of strategic mobility.