Drugged Driving

The Cannabis Conversation: Campaign Update
In 2018, CDOT introduced The Cannabis Conversation – a statewide traffic safety campaign that aimed to engage Coloradans in a meaningful discussion about a complex issue: marijuana and driving.
Colorado continues to see cannabis-involved traffic incidents that result in serious consequences. Our goal in the first year of the campaign was to gain a deeper understanding of the public's attitudes, perspectives, trusted messengers and behaviors surrounding marijuana-impaired driving. Through a public survey, outreach at events, public meetings and focus groups, we gathered behavior and opinion data from more than 15,000 Coloradans.
So what did we learn and where are we now? Using what we learned in 2018, CDOT is now working with our partners and the public to identify solutions for how we can keep Colorado's roads safe in an environment with prominent routine marijuana use. We're also using what we learned to design a comprehensive public awareness campaign for 2020 aimed at reducing drug-impaired driving, which will be honed and evaluated based on feedback from the public.
---
Campaign Timeline and Accomplishments
The following timeline shows the activities and progress of The Cannabis Conversation since Phase 1 launched in early 2018. We'll be sharing future opportunities to get involved with the campaign here as Phase 2 moves forward.
Click on a marker below to learn more about each activity.
---
Campaign Launches with Media Event & Creative Testing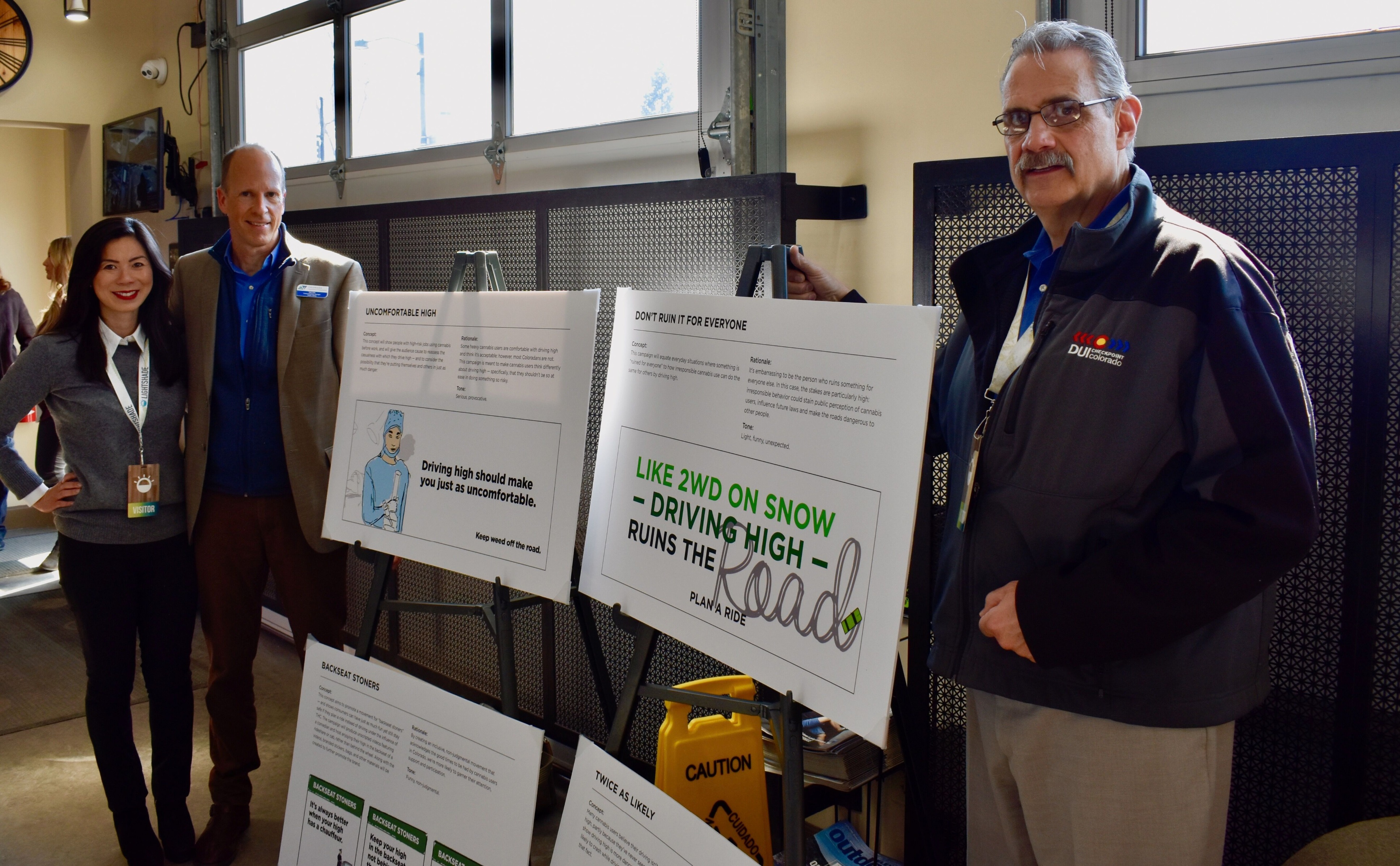 In March, CDOT and its partners officially kicked off the 2019continuation of The Cannabis Conversation with a media launch event at Lightshade Dispensary. Media was invited to get an inside look at some of the creative concepts CDOT is working on for a marijuana-impaired driving campaign and speak to representatives from our team, the Colorado State Patrol, the Marijuana Industry Group and Lightshade. Meanwhile, as part of our goal to engage the public in a collaborative process to develop CDOT's future education campaign, we were also wrapping up preliminary creative message testing with a group of online survey participants who were recruited to provide feedback used to refine these initial concepts. We know there is no easy answer to this issue, which is why we're taking a collaborative, innovative approach to exploring and researching all possibilities with our communities. Keep an eye on this space for event updates and ways you can get involved in The Cannabis Conversation. Click here to read more about media testing.
2018 Research Summary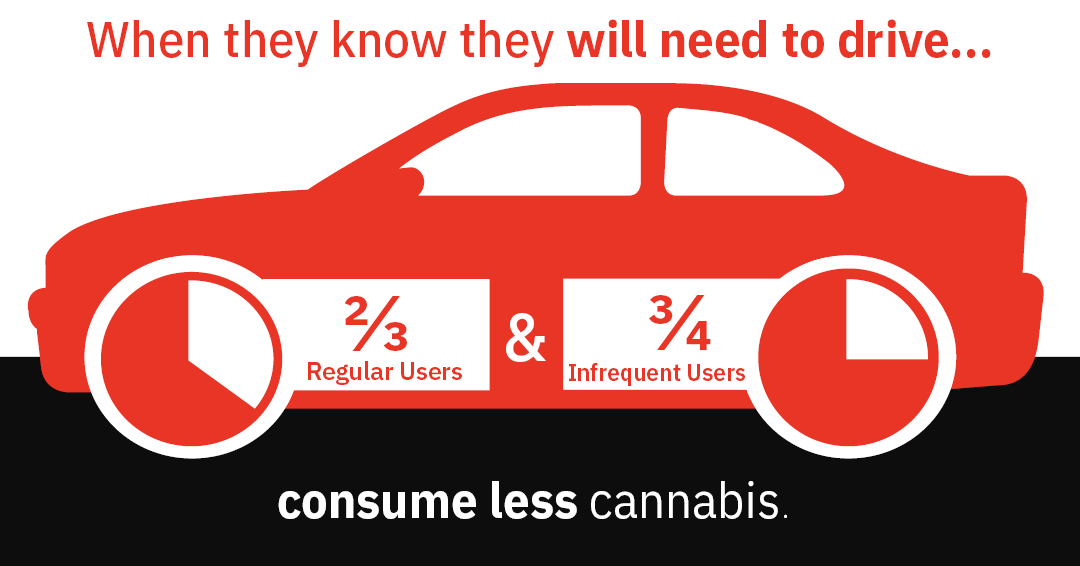 In 2018, CDOT conducted two studies as part of The Cannabis Conversation, ultimately engaging thousands of Coloradans from across the state. We asked marijuana users and non-users to give us their candid opinions on cannabis use, norms, and beliefs, as well as driving under the influence of cannabis. Click here to read the Research Summary.
CDOT Sparks Up Phase 2 of The Cannabis Conversation
It's been a few months since you last heard from The Cannabis Conversation as we've been busy behind the scenes working to analyze feedback from more than 15,000 people who took part in the campaign last year. We learned a tremendous amount from this process about how Coloradans feel about marijuana and driving – and now, we're turning the focus of our outreach in 2019 to finding creative solutions to this complicated issue by working with our partners and the public. Click here to learn more about Phase 2.
---
Colorado's Drugged Driving Laws
Under Colorado law, drivers with five nanograms of active tetrahydrocannabinol (THC) in their blood can be prosecuted for driving under the influence (DUI). However, because there is no roadside device to detect THC, law enforcement officers—many trained as drug recognition experts (DREs)—base arrests on observed impairment. Even people who use marijuana for medicinal purposes can be arrested for DUI.
Consuming any amount of marijuana before driving puts you at risk for DUI, which can cost more than $13,500, in addition to jail time and loss of license.
Many Colorado law enforcement officers are trained to detect drug impairment. On average, more than 60 people are arrested each day in Colorado for DUI, including drugs, alcohol or a combination of both.
Marijuana Impairment
Like alcohol, cannabis has measurable physiological effects that impair the ability to drive and react quickly in critical situations. National Highway Traffic Safety Administration (NHTSA) studies have shown marijuana impairs critical abilities needed to drive safely, including:
Slowed reaction time
Difficulties in road tracking and lane-position variability
Decreased, divided attention
Impaired cognitive performance
Impaired executive functions, including route planning, decision-making, and risk-taking or a combination of both
From 2017 to 2018, the Colorado State Patrol (CPS) noted:
A 25 percent increase in marijuana DUI citations
A 112 percent increase in DUI citations involving both marijuana and alcohol.
In 2018, more than 20 percent of all DUI citations by CPS involved marijuana.
Note: Substance is based on trained trooper perception and may not reflect results from toxicology tests.
Swipe table to see more content
Regardless of the impairing substance, the skills needed to drive safely are negatively impacted by many drugs, including cannabis. Marijuana can impair reaction time, judgment, motor skills and perception of time and distance.
Colorado law enforcement officers are trained in the detection of impairment of alcohol and drugs, and many are specially trained drug recognition experts (DRE). These officers have the ability to detect physical signs of drug impairment. DREs are viewed as one of the most effective law enforcement tools in efforts to reduce drugged driving. From 2012 to 2014, there was a 68 percent increase in the number of drug recognition experts trained in Colorado.
If you're heading out and plan on consuming cannabis, take the time to plan ahead for a sober ride. RTD public transit, taxis, ride-hail services (and probably a friend or two) are all accessible right from your smartphone.
Cannabis Conversation Campaign Partners
The Cannabis Conversation is always looking for more partners. If your organization or community group wants to get involved, please contact Sam Cole, CDOT Communications Manager, at [email protected].