Drugged Driving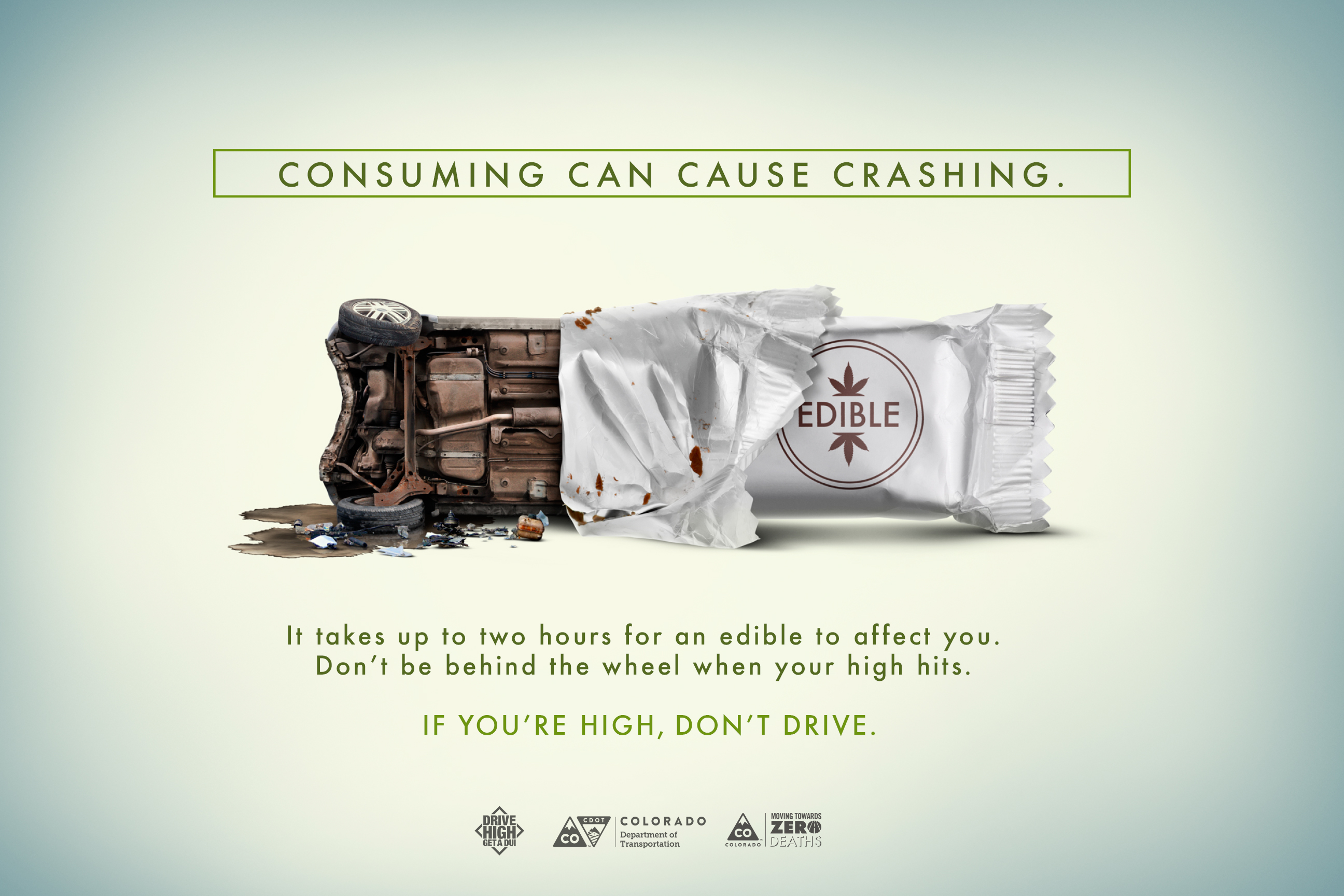 Driving under the influence of any drugs is illegal, and just as deadly and dangerous as driving drunk. If you drive impaired by drugs—even if they're legal drugs like prescriptions and marijuana—you can be arrested for DUI. Through The Heat Is On campaign, CDOT pairs impaired driving and DUI prevention education with heightened enforcement.
In response to the legalization of recreational marijuana, CDOT launched a marijuana-impaired driving educational campaign, which features downloadable campaign materials.
---
Colorado Drugged Driving Statistics
2012:
23,519 drug and alcohol evaluations collected by the Colorado Department of Human Services
1,045, or nearly 5 percent, involved marijuana.
2013:
103 fatalities involving a drugged driver
36 of the 288 drivers tested for drugs had cannabis only in their system.
See more drugged driving statistics.
---
Law Enforcement Can Spot the Signs.
Colorado law enforcement officers are trained in the detection of impairment of alcohol and drugs, and many are specially trained drug recognition experts (DRE). These officers have the ability to detect physical signs of drug impairment. DREs are viewed as one of the most effective law enforcement tools in efforts to reduce drugged driving.
DREs also use chemical tests for drugs. Colorado's Express Consent Law requires any driver to consent to a chemical test if a police officer has reasonable grounds to believe the person is driving under the influence, or their ability to operate a motor vehicle is impaired because of alcohol, drugs or both. Any driver who refuses to take a chemical test will immediately lose his/her driver's license and will be classified as a persistent drunk driver. Consequences of refusal include revocation of a driver's license for one year, mandatory ignition interlock for two years, and alcohol education and therapy classes as specified by law.
---
Marijuana Legalization and Impaired Driving
Marijuana affects reaction time, short-term memory, hand-eye coordination, concentration, and perception of time and distance. Getting high and getting behind the wheel of a car will get you arrested for a DUI; this law hasn't changed with the January 2014 legalization of marijuana.
As with alcohol, there is an established impairment level in Colorado: five nanograms of active tetrahydrocannabinol (THC)—the active psychoactive component of marijuana—per milliliter of whole blood.
CDOT has been working alongside the marijuana industry, and other state and local agencies to develop policies and education efforts to inform marijuana users about the dangers of driving while impaired. See some frequently asked questions about the law and driving.
Use the quick links at the left to get more information on the drugged driving campaign in Colorado.
---
Lyft
Lyft is a ride-sharing service that will dispatch the nearest available driver to your current location based on your phone's GPS. Simply download the mobile app to request a ride with the tap of a button.
Promo Code: CDOTRideSafe
If you're new to Lyft, sign up with the promo code CDOTRideSafe for a $20 credit on your first ride. Once you download the app, create an account and enter the code in the Payment section. Or, have a link to the app sent directly to your phone.
---
UBER
Uber uses your phone's GPS to detect your location and connects you with the nearest available driver. Get picked up anywhere—even if you don't know the exact address.
Promo Code: NODUICO
Receive $20 off your first ride. To claim your discounted ride, sign up for an Uber account by downloading the app to your iPhone or Android, and enter code NODUICO under Promotions. Or, start an account.