4/20 Safe Driving Pledge: MADD and Native Roots Unite Cannabis Industry and Traffic Safety
Mothers Against Drunk Driving (MADD), Colorado Department of Transportation (CDOT) and cannabis industry leaders including Native Roots, Wana Brands, Terrapin Care Station, Marijuana Industry Group and kindColorado unite around a safe driving pledge for the 4/20 holiday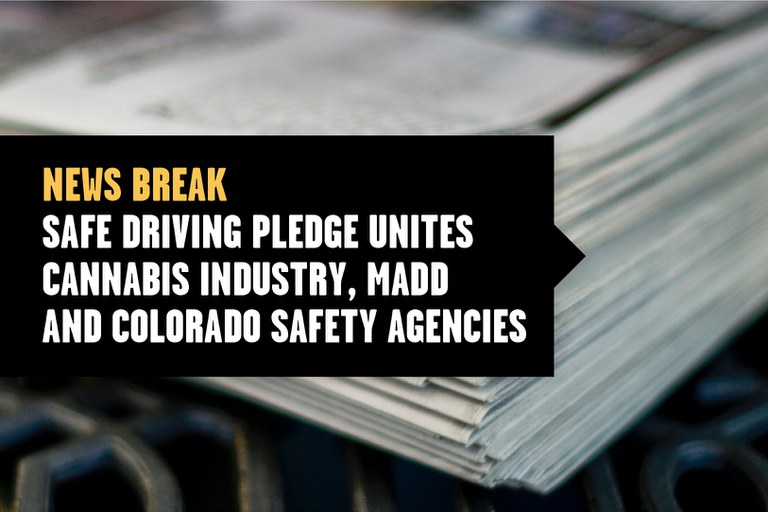 DENVER (April 12, 2022) – Each year on April 20, cannabis enthusiasts across Colorado and the country come together to recognize this unofficial holiday. With 40 states legalizing recreational or medical cannabis, the date has grown in popularity, and with it, attention to the increase in impaired driving, DUI arrests and fatalities. A coalition of industry leaders, spearheaded by Native Roots along with the Marijuana Industry Group, Wana Brands, kindColorado and Terrapin Care Station, is uniting with Mothers Against Drunk Driving (MADD) and Colorado Department of Transportation (CDOT) to ask the public to take a 4/20 safe driving pledge before the annual holiday.
"We're asking that everyone do their part to save lives on our roads. I know firsthand that driving under the influence can end in tragedy," said Polli Small, victim/survivor and MADD volunteer. "Our son Ethan died an instant, violent death, and our lives changed forever—all because of one person's choice to drive impaired. Please make the smart choice to plan ahead for a safe ride home each and every time."
A January report from the Colorado Division of Criminal Justice found that, of the 6,071 cases in 2019 with toxicology screens for marijuana, 52% tested positive for any cannabinoid, including Delta 9-THC (the primary psychoactive component of cannabis). Men in the 21-34 age range have the highest rates of DUI arrests. Further, a recent report from CDOT found that nearly 37% of 2021 fatalities were the result of an impaired driver, up 44% from 2019. Statistics show the majority of DUIs occur on Friday, Saturday and Sunday. 
"As an industry, we have come so far to secure the right to legally consume cannabis," said Liz Zukowski, Policy & Public Affairs Manager at Native Roots, a Colorado dispensary chain with 20 locations. "On average, we see a 48% increase in sales from our daily average during the days around 4/20, and we want to encourage everyone celebrating to have fun and be safe. Make a safe driving plan before you start your celebrations. Take the high road - don't drive high."
An annual survey conducted by the Colorado Department of Public Health & Environment and sponsored by the Centers for Disease Control shows nearly 18% of Adult Marijuana Consumers drove within 2-3 hours of cannabis consumption in 2020. Cannabis impairs reaction time with effects lasting anywhere from two to 10 hours or longer. The only thing that can counteract the effects of cannabis is time. 
"Even if you've only had one beer and half an edible, don't drive. If you feel different, you drive different. Get a rideshare, call a friend, or use public transportation.  It's not worth the risk," said Glenn Davis, CDOT Manager of  Highway Safety. "If we work together, we can reverse these trends and save lives."
Since cannabis was legalized in the state, law enforcement has significantly enhanced its ability to keep Coloradans safe:
A majority of Colorado state troopers have specialized training in drug detection, known as ARIDE (Advanced Roadside Impaired Driving Enforcement).
On April 14, CDOT will graduate 18 new Drug Recognition Experts (DREs) who can assist law enforcement officers in evaluating an impaired driver. This will bring the total number of DREs on Colorado roads to 168. 
Currently, the Colorado legislature is exploring new technologies to assess the impairment of motorists by substances other than alcohol during roadside testing. No testing device is currently allowed by Colorado statute or approved by law enforcement.
"Public safety is our top priority, and we're proud to partner with MADD, Colorado health and safety agencies and cannabis industry partners in urging Colorado cannabis consumers not to drive impaired on 4/20 or any other day of the year," said Tiffany Goldman, Board Chair of Marijuana Industry Group. "Have fun, be responsible and plan ahead — your safety and the safety of our communities depend on it."