News Break: Latest DRE training teaches law enforcement to recognize impairment from multiple drugs
CDOT builds force of drug impairment experts as new class launches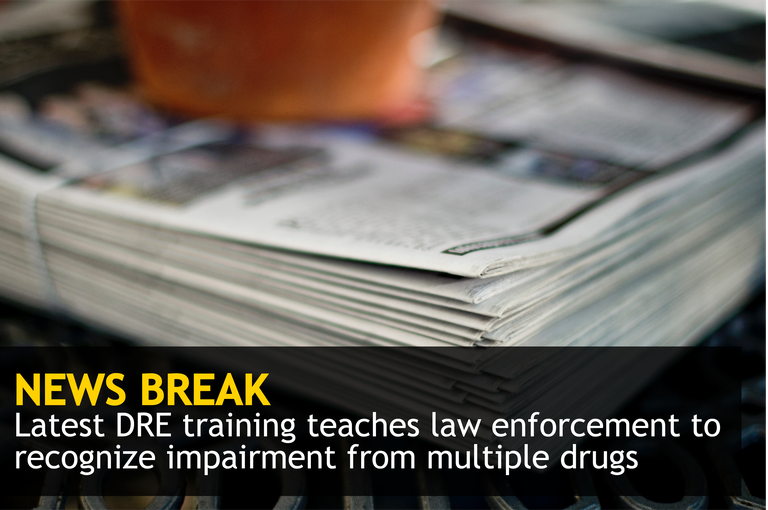 Statewide — Cannabis, Fentanyl, methamphetamine, alcohol. What do all of these substances have in common? They can impair your ability to drive. This week and next, the Colorado Department of Transportation will train law enforcement officers from across the state to better investigate and recognize drug impairment through Drug Recognition Expert (DRE) certification training. 
"Drugs, alcohol or any combination of the two is a recipe for disaster and our law enforcement on the road need the skills to identify who is and isn't impaired," said CDOT's Office of Transportation Safety Director Darrell Lingk. "Through advanced training, our ability to identify impairment has increased dramatically from 20 years ago." 
While alcohol remains the most common substance found in fatal crashes involving an impaired driver, fatal crashes and DUI arrests involving multiple impairing substances are not uncommon. 
The Colorado Division of Criminal Justice (DCJ) published a report in January 2022 analyzing more than 26,000 impaired driving cases that were filed in Colorado in 2019, following the cases from arrest through final court outcome. The DCJ report found:
45% of drivers tested positive for multiple substances. The most common combination of drugs detected was alcohol and Delta 9-THC, which is the primary psychoactive component of cannabis and may indicate recent use. 

68% of individuals with detected Delta-9 THC also had some other substance present, which was most often alcohol. 

More detailed drug testing began in 2019 to include a full drug panel. The change has revealed the extent to which other drugs (beyond alcohol) are present. This includes the detection of stimulants, such as cocaine and methamphetamine. This explains why, from 2016-2019, DUI cases with positive results for stimulants rose by 36%. The new testing protocol also reveals the extent to which drivers are combining multiple substances. 
"Despite consistent education and various transportation options, such as rideshares, impaired driving remains a top causal factor for fatal crashes in Colorado," stated Col. Matthew Packard, chief of the Colorado State Patrol. "By investing in specialized training on the behavioral and physiological detection of drug impairment, we hope to bolster law enforcement's ability to effectively combat drug-impaired driving and ultimately save lives."
The DRE School is a nine-day, intensive training that provides law enforcement officers the knowledge, skills, and abilities to determine whether vehicle operators are impaired by one or multiple drugs. Officers also learn how to document the impairment and present a case in a courtroom setting.
The training will take place from Jan. 9 to Jan. 20. Participating agencies include: Alamosa PD, Arvada PD, Bent County Sheriff's Office, Carbondale PD, Colorado State Patrol (CSP) Colorado Springs, CSP Florence, CSP Fruita, CSP Glenwood, CSP Larimer, CSP Pueblo, Fountain PD, Fort Collins PD, Glendale PD, Mesa County Sheriff's Office, Monument PD, and Pueblo PD. "Wet labs," mock roadside impairment investigations where subjects drink alcohol and are screened by law enforcement, will occur on Jan. 9 at Greenwood Village City Hall, 6060 S. Quebec St., and on Jan. 13 at at the Lone Tree Municipal Building, 9220 Kimmer Dr. All other days will be classroom training at Embassy Suites Denver Tech Center Hotel, 10250 E. Costilla Ave. The labs will run from approximately 2:30 p.m. to 5 p.m. both days.
2022 was a record-setting year for fatalities on Colorado roads with 736 fatalities according to preliminary data, 37% of which involved an impaired driver. 
After alcohol, CDOT data shows the top drugs detected in drivers involved in fatal crashes are cannabis (26%), methamphetamine (8%), amphetamine (7%) and cocaine (5%). The drug categories DREs are trained to identify are Central Nervous System (CNS) Depressants, CNS Stimulants, Hallucinogens, Dissociative Anesthetics, Narcotic Analgesics, Inhalants, and Cannabis.  
Sixteen law enforcement officers from communities across the state will participate in the DRE academy. The goal of the program is to train law enforcement officers to successfully identify drug impairment and accurately determine the category of drugs causing such impairment. Ultimately, officers need to be able to judge between legal use and a level of dangerous impairment.
"There are so many variables involved with impairment from one or multiple drugs — DRE certification is an advanced level training," said Glenn Davis of the CDOT Highway Safety Office. "All officers initially get some basic impairment investigation training. Many more with an interest in traffic safety move on to Advanced Roadside Impaired Driving Enforcement training or ARIDE, which is a prerequisite for becoming a DRE."
Officers who attain DRE status are incredibly valuable to their peers and in helping other agencies. Colorado currently has 146 Drug Recognition Experts across 22 countries with the goal of reaching 200+ in the near future. 
Indicators of impairment can include pupil size, eye tracking behavior, the way the subject speaks, heart rate, cognitive ability and the ability to complete divided attention tasks. The DRE process takes approximately one hour to complete and includes the following:
An assessment of the person's appearance and behavior. 

A record of vital signs and a precise observation of the person's automatic responses and reactions. 

A psychophysical test to evaluate the person's judgment, information processing ability, coordination and various other characteristics. 

A systematic evaluation of everything about the person that could indicate the influence of drugs.
CDOT surveys of the general population also show that some drug consumers, largely cannabis users, don't think they can get a DUI or that officers can't tell they're high. They can on both accounts. The overwhelming majority of DUI charges tracked in the DCJ report from last year received either a guilty or a deferred judgment finding (88%).
Ultimately, CDOT wants to remind drivers that no matter what impairing substance you're consuming — legal or illegal — don't get behind the wheel. You are putting yourself and others in danger. It's not worth the risk. 
For more information on marijuana-impaired driving visit our campaign homepage.