Rooted in research: data, statistics and research insights
CDOT's most recent initiative, The Cannabis Conversation, engaged with the public and stakeholders over two years to learn more about cannabis-impaired driving behaviors, attitudes and beliefs — and seek stakeholder-generated solutions for how to keep Colorado's roads safe. After surveying more than 18,000 Coloradans and gathering input from the marijuana industry, law enforcement, local government, prevention groups, and healthcare organizations, CDOT identified these primary challenges:
Lack of education about marijuana impairment and driving
A false perception that driving high isn't dangerous, and there's little chance of being pulled over
Lack of understanding for how different consumption methods affect impairment
A lack of trust in empirical data showing driving high is a problem nationwide
Research conducted by CDOT, AAA, the Colorado Department of Public Safety, and CDPHE provides insight on the issue of cannabis-impaired driving and the need for impactful awareness and education campaigns.
The more often people consumed cannabis, the less dangerous they considered driving high to be. And the more often they consumed, the safer they felt to drive.
-CDOT Cannabis Conversation Report 
Nearly 70% of Americans think it is unlikely that a driver will be caught by police for driving while impaired by marijuana. (AAA)
According to a AAA survey, groups most likely to drive within one hour of consumption:

Millennials (~14%) 
Gen-Z (10%)
Men (8%) 
Women (5%)

In 2019 in Colorado, there were 49 cannabis-involved fatalities with drivers who tested positive for 5ng or greater of Delta-9 THC. (CDOT, Fatality Analysis Reporting System)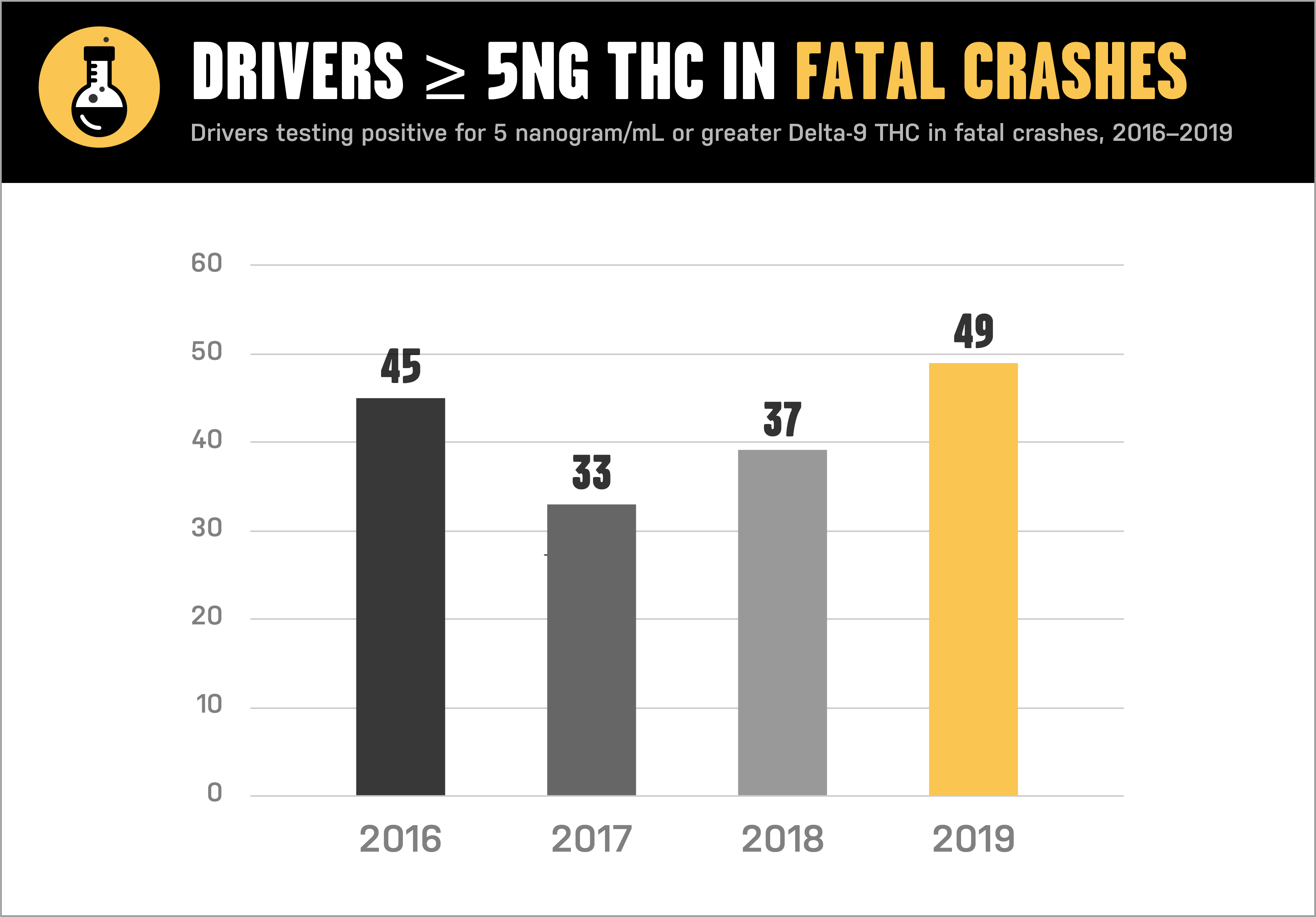 Colorado Department of Transportation, Data Intelligence Group, Toxicology Data (2020).
---
Source: Colorado Department of Public Health and Environment, Behavioral Risk Factor Surveillance System

Note: 

+/- 3.2% confidence interval for % reporting driving
---