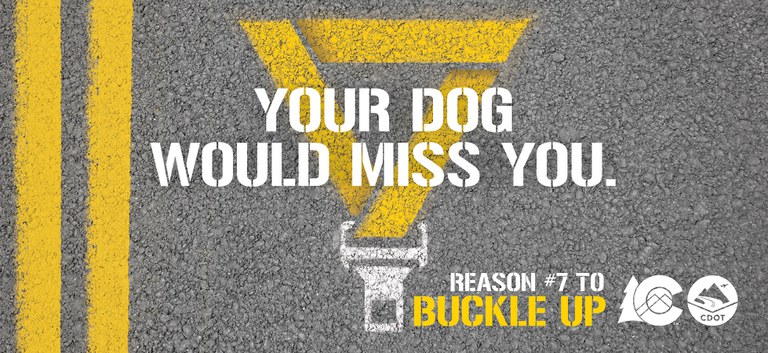 Colorado has a seat belt problem. Despite the proven safety benefit of seat belts—they reduce the risk of injury or death in a crash by 50% (NHTSA)—14% of Coloradans choose not to buckle up.
Unfortunately, this translates into many preventable deaths on our roadways. In 2020, 612 people, including pedestrians, were killed on Colorado roads. Of those killed, 365 were in passenger vehicles and 203 or 56% were unbuckled at the time of the crash. This is a seven percent increase from 189 unbuckled fatalities in 2019.
Reasons
CDOT wants to reframe the thinking behind staying safe: Everyone who wears a seat belt has their own reasons for doing it, so we are starting a discussion and a statewide campaign to save lives. CDOT launched the campaign, "Reasons", and is asking people from all walks of life to talk about their own reasons for buckling up. Serious reasons. Big reasons. Little reasons. Funny reasons. All leading up to one big reason — there is so much of life to live for.
The campaign features social media, billboards, video ads and stencil installations throughout Colorado featuring countless reasons for buckling up, such as "Your dog would miss you", "That vacation is so close", and "You're not out of dad jokes yet." With people returning to the road in larger quantities, CDOT hopes lighthearted, relevant safety messages will connect with Coloradans and change behavior.
CDOT is also engaging with Coloradans in an unexpected way: placing custom sidewalk art in high foot-traffic areas across the Front Range. These temporary messages, stenciled on various sidewalks and parking lots, will remind drivers that they have many reasons to buckle up.
Always prepare for the unexpected on our roadways and make sure every person in your vehicle buckles up every time, every trip. Each year, hundreds of unbuckled injuries and fatalities occur on Colorado roads. With an average of 120,000 crashes each year, there is a 1 in 33 chance that you will be in a car crash. Despite our best intentions, we are all at risk when on the road. Buckle up.
---
Educate
Colorado's seat belt use rate is 86.3 percent — well below the national use average of 90 percent.
In 2020, 203 unbuckled drivers and passengers were killed in crashes in the state, accounting for more than half of the 365 total passenger vehicle deaths.
In 2017, an estimated 70 lives could have been saved if everyone in Colorado had buckled up.
Seat belts reduce the risk of injury or death in a crash by 50 percent.
In 2018, five of the six counties with the lowest seat belt use in Colorado were rural.
Adults — Colorado has a secondary enforcement law for adult drivers and front-seat passengers. Drivers can be ticketed for violating the seat belt law if they are stopped for another traffic violation.
Teens — Colorado's Graduated Drivers Licensing (GDL) law requires all drivers under 18 and their passengers, regardless of their age, to wear seat belts. GDL is a primary enforcement, meaning teens can be pulled over solely for not wearing a seat belt or having passengers without seat belts.
Children — Colorado's Child Passenger Safety law is a primary enforcement, meaning the driver can be stopped and ticketed if an officer sees an unrestrained or improperly restrained child under age 16 in the vehicle.