Federal Government Liaison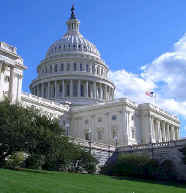 The Federal Government Liaison provides support to both internal and external stakeholders and is responsible for outreach efforts with Colorado's Congressional Delegation and their staff as well as representatives of federal government agencies on behalf of CDOT.   Because federal transportation authorization bills delineate how state Departments' of Transportation must allocate their share of federal transportation funds, the Federal Liaison works with CDOT's partners in Congress to ensure Colorado's transportation programs are considered in the optimum light and advises the Executive Director, Executive Management Team and the Transportation Commission on the federal processes.
For specific questions, please contact Ron Papsdorf, Federal Liaison at (303) 757-9105 [email protected].
CDOT at a Glance
* Maintains, repairs and plows over 23,000 total lane miles of highway
* Maintains 3,447 bridges
* Oversees 28 billion miles of vehicle travel annually
* Plows about 6 million lane miles each year
* Spends $69 million annually on snow removal
* Keeps over 35 mountains passes open year-round
* Monitors 278 of 522 avalanche paths
* Administers about $11 million in federal grants for transit operators and $41 million in federal aviation grants for airports
* Manages over $5 million in federal grants for safe driving programs