Approve Contractor Utilization Plan
Approve contractor Utilization Plan training guides & process map for Primes, DBEs, project oversight, and CDOT Civil Rights for design-bid-build construction projects.
Design-Bid-Build Construction Projects
Training Guides
All training materials listed below are in development and will be uploaded upon completion. Training guides correspond to step numbers in the process map. 
3-1 Complete Form 1414 (Anticipated Participation Plan) -

Prime

3-3 Complete Section 1 of Form 1415 (DBE Commitment Confirmation) for all DBEs listed on Form 1414 -

Prime 

3-4 Complete Section 2 of Form 1415 - 

DBE 

3-5 Complete Form 1416 (Good Faith Effort Report)

-

Prime

3-6 Complete Utilization Plan in B2GNow system

- Prime
3-2 Review Form 1414 and send notice to apparent low responsive bidder to complete Utilization Plan in B2GNow on the day of bidding

3-7 Review submitted Utilization Plan and associated Form(s) 1415 and 1416

3-8 Approve Utilization Plan in B2GNow

3-9 Conduct Good Faith Effort Review
State email address required in order to access Civil Rights documents
Process Map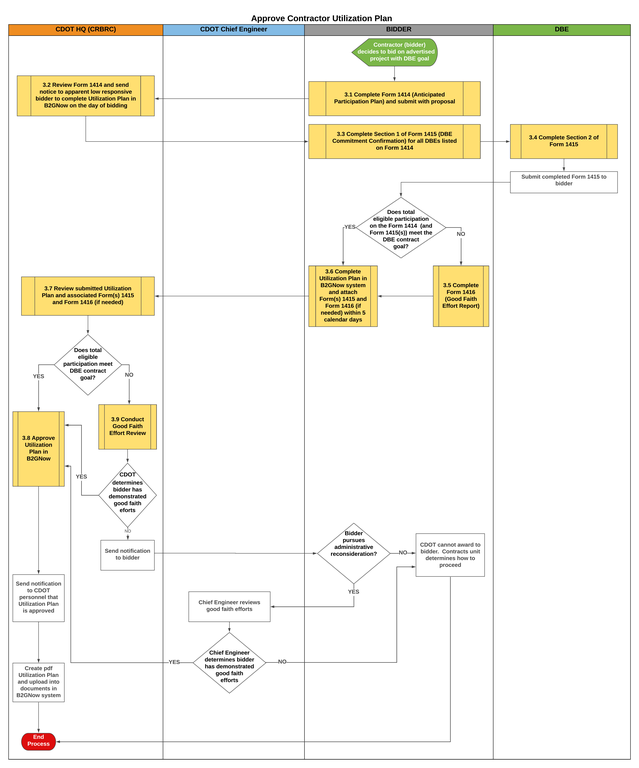 Download PDF of Approve Contractor Utilization Plan process map (print-friendly)
Text version of Approve Contractor Utilization Plan process map under development.